Facing the challenge of capturing operations data the company simplified and streamlined key processes.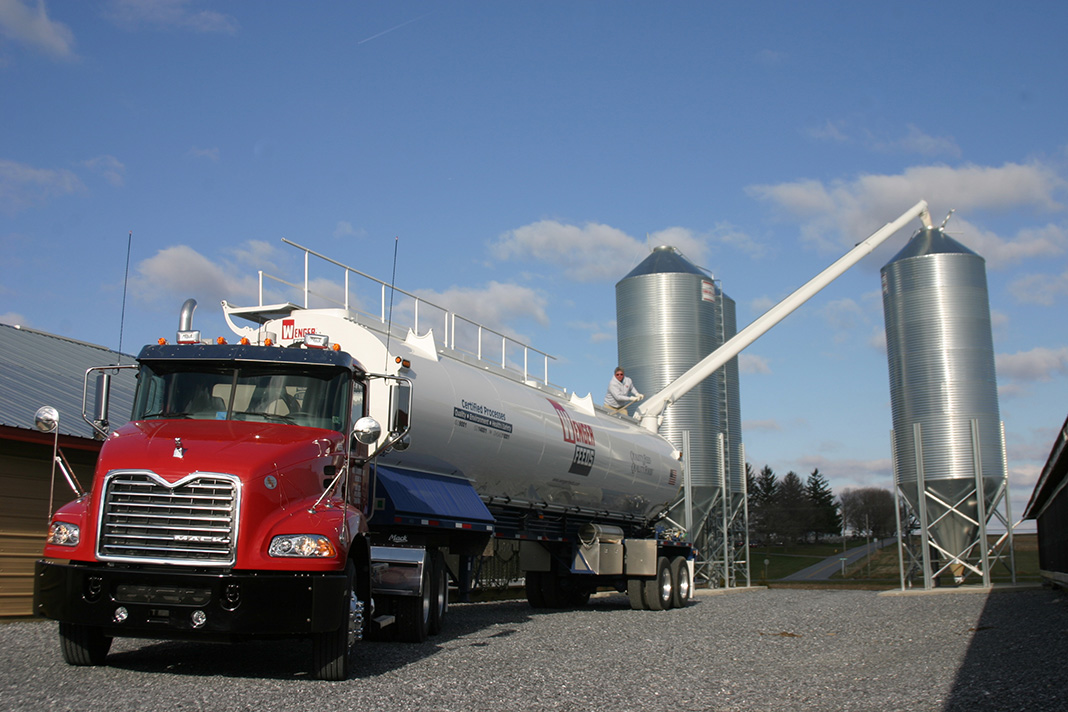 Based in Rheems, Pennsylvania, The Wenger Group is a comprehensive agricultural company offering feed, ingredients, eggs and egg marketing, flock services, and pullet growing. The Wenger Group includes Wenger Feeds, Nutrify, Dutchland Farms and Risser Grain.
Wenger faced the challenge of capturing operations data timely and consistently. Records produced from manufacturing processes were stored in various locations making routing and accountability difficult. This also limited access to information, and resulted in documents being difficult to find, making audits a time-intensive and stressful process. To improve process visibility, both paper and electronic records were compiled into spreadsheets, however, the compilation was also time-intensive, and required follow-up with multiple locations.
The company needed a way to simplify and streamline key processes, including feed delivery. Delivery tickets at the feed mills were billed based on product weight, and weight required validation prior to invoicing. The company was relying on paper copies of the delivery tickets — which could take days or weeks after the product was shipped to reach the office — so invoices sent out would often require credits once the weight was verified by the paper copy. Using Laserfiche, Wenger employees are now able to scan delivery tickets at each mill, which are available in Laserfiche within 24 hours for verification. Processing time for invoicing has gone from six hours to just three. Eliminating the manual, paper components of the process has benefited the quality, customer service, and transportation departments, and warranty costs have decreased as customer confidence has increased.
Wenger also used Laserfiche to digitize and automate its ISO procedural library. Keeping the content up-to-date is essential to maintaining quality product and a safe work environment. The company converted the procedural content from SharePoint into versioned folders in Laserfiche to streamline the tracking of document changes. Management of a procedure is now handled by a workflow that evaluates dates, checks out documents, and notifies owners of review time. Workflow also keeps the review/update timeframe from dragging on by escalating notifications to managers if deadlines are missed.
Additionally, Wenger took the Laserfiche mobile app to the farm. Service technicians can now review veterinary health plans with farmers, get their sign off electronically and submit plans for veterinary approval. The contract veterinarian reviews the agreements and approves them remotely, which notifies the farmer and technician.
Wenger has seen a lot of benefits from the automation. Laserfiche has increased customer satisfaction and reduced the amount of staff time needed to address administrative issues. By scanning and processing delivery tickets within a day of delivery, the company reduced the number of credits issued. This is a direct positive impact on customers resulting in fewer calls for invoicing issues and more timely generation of invoices after delivery. Issues are now resolved in 24 hours as opposed to the three to seven days it took before. Laserfiche was instrumental in streamlining the invoicing process from 6.5 hours/day to three hours per day by having the delivery tickets immediately available.
Time savings related to Wenger's management of ISO documentation in Laserfiche allows the Wenger system administrator the opportunity to focus on meeting ISO requirements instead keeping track of emails.
On top of these significant time savings, the improvements have enabled the system administrator to support additional Food Safety Modernization Act reporting requirements.