The growing digital economy continues to take hold around the globe and constantly introduces new challenges for manufacturers. As consumers, it is mind boggling how many tasks can now be completed via our smartphones including scheduling a car ride, booking a flight, buying products or watching a film. Enabled by new technologies, social media and powerful mobile devices, customers gain instant access to information and now expect manufacturing companies to create more personalized and digitally connected products. As a result, manufacturers are pressured, more than ever before, to create innovative, digitally enabled products with value added services that deliver top line revenue growth and bottom line cost savings.
Are you ready for a digital transformation?
There are numerous books, articles and other sources of information that provide an understanding of the new digital technologies transforming the global economy. Additionally, there are various definitions and terms including Industry 4.0. "The Second Machine Age," "The Fourth Industrial Revolution," "Smart Factories," and more. All of this information and rapid change is causing complexity for manufacturers as they make decisions in creating stronger customer relationships, boosting product innovation, maximizing production efficiency and improving profit margins. The good news is that many manufacturers have already made great strides in their digital efforts without realizing it. So, where should manufacturers focus efforts, if a strategic digital plan is not already in place?
To progress a manufacturer's digital transformation for success in today's economy, here are three areas to strongly consider:
1. Increase Demand Planning Accuracy
Many situations can affect future product demand including seasonal trends, customer buying patterns, unexpected weather events and competitive product innovation. Historically, many manufacturing firms have created forecasting processes with information that includes outdated demand patterns. In the digital economy, it's essential that firms access real-time customer and consumer behavior to illuminate changing patterns and adjust supply chain responses to better meet customer expectations. With the technology available today and quicker access to information, more precise demand tracking and monitoring allows for appropriate and timely adjustments to better meet customer demands and lower inventory levels.
2. Improve Global Supply Chain Performance
Adopting a comprehensive view of the global supply chain, from raw material suppliers, transportation partners, retailers and others, manufacturers can maximize supply chain performance. According to AT Kearney, "Supply chain managers see greater transparency leading to better decision making as the main benefit of going digital." Quicker access to possible supply chain disruptions can determine if products are available when and where customers require. Additionally, customer relationships can be further strengthened by digitally collecting and sharing supply chain information like inventory availability and shipment status. With greater capabilities, supply chain trading partners gain enhanced data access, collaboration and analytics resulting in lower costs and improved product availability.
3. Develop Digitally Connected Products
Manufacturing executives should be aware that digitally connected products will impact the way products and services are sold along with improving operations. A good first step to consider is the use of Internet of Things (IoT) for obtaining greater insight into asset utilization. Manufactures should then consider digitally connecting end products to provide their customers expert predictive services including predictive maintenance capabilities. As a result, leading organizations in this digital transformation can use new data to gain deeper insights and make real-time operational decisions along with creating new value for their customer's operations.
So, how far along is your organization's digital transformation? Maybe at the point of considering or deploying rapid response ERP and other enterprise systems? Or, considering advanced technologies like machine learning, blockchain, data lakes or other initiatives? Now is the time to consider digital innovations for improving production efficiency, maximizing global supply chain performance and becoming an Effective Enterprise.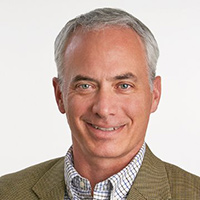 About Author Brent Dawkins:
Brent is QAD's Director of Product Marketing with over 20 years of manufacturing and supply chain experience. In his spare time, you can find him hiking the Rocky Mountains of Colorado, coaching youth hockey or enjoying time with family.