Digital technology has become a true disruptor of the historical processes used for supply chain decision-making and value generation. The technology to enable a network-based approach to planning and execution around demand, supply, logistics, and fulfillment has moved past the early adopter phase and is now becoming mainstream for organizations looking to generate untapped value from their trading partners and processes.
At the recent Gartner Supply Chain conference, an analyst pointed out that to remain competitive in the future you have to move beyond enabling a digital supply chain or value chain and into a digital ecosystem across your trading network. As part of this digital shift, companies in 2020 will continue to look for the technology to make things simple, ranging from process automation and autonomous decision-making to artificial intelligence (AI) and machine learning (ML) based insights, offered up through a cognitive workflow.
Based on the success of early business network pioneers like Uber, Airbnb, Alibaba, and Facebook, why are so many companies struggling to enable a digital ecosystem within their supply chain networks? Because their business is running on an architecture designed to be enterprise-centric and monolithic, rather than network-centric, real-time, autonomous, and agile.
As we look to next year, companies in all industries need to find new leverage beyond the enterprise in order to both compete and deliver results. This new leverage point is real today for many companies and is being delivered through their network of trading partners, both inbound from supply, and outbound to customers. It is through these trade relationships that results can be significantly enhanced. The concept has caught on as major industry and analyst groups like McKinsey, Gartner and IDC have recently published reports on the business advantages of Supply Chain Networks.
Unfortunately, most companies find themselves unable to generate these Network-based results because their business operating system (BOS) was designed looking inward at the enterprise and thus over the years the technology supporting the related business processes and decision-making was also designed to be enterprise-centric. An enterprise-based technology platform is not capable of enabling a Network-based BOS. Those that have tried ended up with a customized monolith that was expensive to build/maintain and only delivered partial results.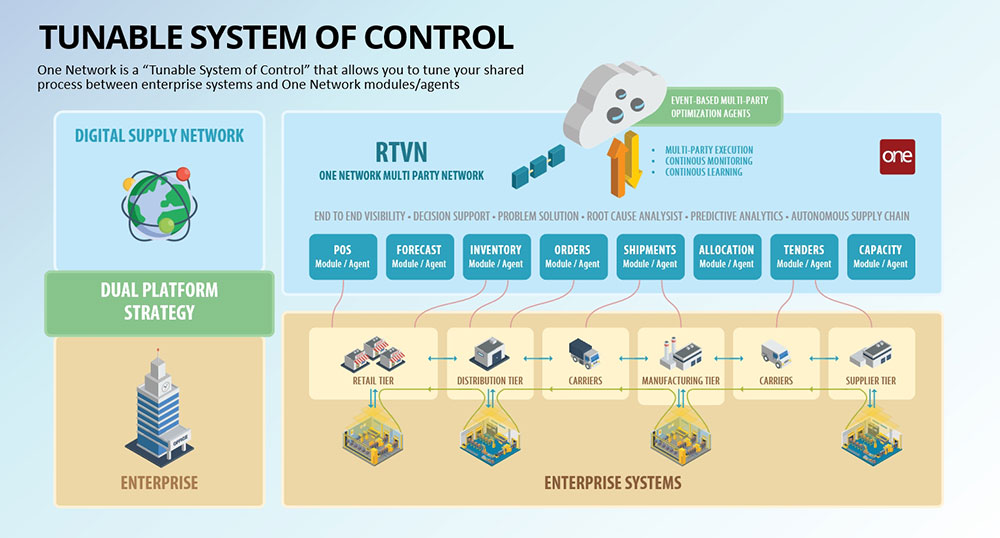 Think about what happens at the workflow level when using Enterprise-centric technology rather than Network-centric to run a Network BOS. The planning to execution workflow – both within the enterprise and across the Network tiers – employs multiple disconnected algorithms and optimization engines. This requires armies of planners to cover all the touch points and implement inventory buffers to cushion and absorb the obvious conflicts that will arise between trading partners.
What ensues is the potential value realization is trapped within the Network due to sub optimization. And even worse, the stale data that is being used for decision-making across trading partners is never addressed given the technology being used isn't capable of leveraging real-time data or enabling multi-party transactions. This all results in a set of over simplified, aggregate and gross average level decision-making capabilities. Worse, it results in poor performance given the increased inventory, capacity, transportation and logistics costs required to buffer for all variances, not to mention poor order fill rates and associated customer service levels.
With clarity across the Network supported by real-time data and collaboration, decision-making can finally hit center stage. Within the Network you can apply two levels of AI capabilities. The first being robotic process automation (RPA), and the second would be various forms of math or statistical algorithms used in decision-making. This includes using rule-based engines to make decisions around alternate sourcing or substitute parts; heuristics for use in supply/demand netting; algorithms for use in optimizing to objectives like revenue, cost, or profit; machine learning that we use when extending the data model to include new vectors such as weather and traffic patterns; and finally deep learning for true pattern recognition.
A Dual Platform strategy enables you to leverage the Network and the old systems simultaneously. When adopting this new architectural approach, existing ERP systems remain in the background, aggregating financial performance given the finance modules are already configured for this purpose and most likely weren't corrupted by the earlier attempts to extend the enterprise platform into the Network.
However, the Network BOS is now taking the lead, operating in the cloud and enabling all planning, operations, orders, logistics and fulfillment across all trading partners. The financially-related inputs and outputs of these trading transactions can easily flow from the cloud to the financial modules in the enterprise ERP system. Leveraging a Dual Platform approach in the coming year, you can solve three major problems – how to gain competitive advantage in today's marketplace; how to eliminate the tremendous costs of maintaining and migrating the current ERP monolith, and how to gain the flexibility required to take advantage of new market opportunities.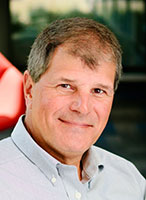 About the Author
Joe Bellini is COO at One Network Enterprises, provider of an AI-enabled business network platform that enables all trading partners to manage, optimize and automate complex business processes in real time. To learn more, visit www.onenetwork.com or follow ONE at https://twitter.com/onenetwork.