Volume 21
| Issue 4
| Year 2018
Click here to read the complete illustrated article as originally published or scroll down to read the text article.
Jamaica continues to make great strides in enhancing its reputation as a top Caribbean investment destination. This is in keeping with the long term national development plan dubbed Vision 2030 – "Jamaica, the choice of place to live, work, raise families and do business".
For many years, Jamaica's business environment was steeped in bureaucracy and not conducive to developing or attracting new businesses and international investors seeking opportunities in the region's largest English-speaking economy. Armed with this knowledge, the Jamaica Promotions Corporation (JAMPRO) has been coordinating various initiatives across Government to improve efficiency and effectiveness in facilitating investment projects and activities.
To this end, in 2017, JAMPRO reviewed its three-year business plan and established new strategies to promote business, build global partnerships and transform the business environment. The agency is now in the process of transforming the business environment and getting to top 10 in the World Bank's Doing Business Report, which will include a number of new initiatives around technology, such as allowing investors to start a business online, and apply for and track their applications for building permits through the Application Management and Data Automation (AMANDA) system. Additionally, JAMPRO is working on the creation of a single national business portal which will allow persons to transact all their business online with the Government.
Jamaica Great Investment Location
Jamaica's strength as an investment location is under-girded by a number of factors, including its large English-speaking population, competitive wages, accessibility to a diverse labour pool, and its ideal location for trading with the rest of the Western Hemisphere, including the United States (US), combined with the fact that the country is blessed with an abundance of natural resources, favourable market access and well-developed infrastructure.
With near shore access to the US, low attrition rates and high labour force availability among secondary and university graduates, Jamaica provides great value to businesses looking for a Business Process Outsourcing (BPO) destination. However, while Jamaica remains an attractive destination for BPO, there are also significant opportunities for investment in tourism, manufacturing, agriculture, logistics and energy.
The country's strength in the area of tourism is well-known with Jamaica consistently attracting over 4 million stopover and cruise visitors in recent years. The island offers a blend of culture, natural beauty and diverse attractions, providing opportunities in specialised areas such as ecotourism, health, heritage, entertainment and culture tourism. New hotels continue to be established by local entrepreneurs as well as international hotel brands from Spain, Mexico and the United States.
Jamaica Expands Borders to Attract Increased Investments in Logistics
Turning to the area of global shipping and logistics, Jamaica is poised to take advantage of the window of opportunity to position itself as a global shipping and logistics hub, leveraging the expected increase in cargo passing through the expanded Panama Canal to regional transshipment points.
Jamaica's position can be significantly beneficial in offering real advantages to global supply chain businesses seeking new opportunities in the maritime, air, manufacturing, logistics and other related industries. This creates opportunities in materials management, distribution services (national and global), consolidation/ deconsolidation, inventory management, shipment scheduling, order processing, assembly, packing, labelling and other maritime ancillary services.
This strategic position is supported by Jamaica's robust modern ICT platform. Already, the cargo community is benefiting from ASYCUDA, implemented by Jamaica Customs Agency, based on UNCTAD's latest version of ASYCUDA World, as well as a Port Community System (PCS) being developed by the Port Authority of Jamaica in partnership with the Shipping Association of Jamaica. Together, the ASYCUDA and the PCS systems will form the basis of Jamaica's single electronic window for trade, which will also allow for Government approvals to be issued for trade licences and permits. This enables intelligent, secure and reliable exchange of information, connecting public and private stakeholders in order to improve the competitive position of Jamaica's sea and airport communities.
In furtherance of its public-private partnership initiatives, the Port Authority of Jamaica (PAJ) in 2016, signed a 30-year concession agreement with Kingston Freeport Terminals Limited (KFTL), a subsidiary of CMA CGM, to operate the government-owned Kingston Container Terminal. Since then, KFTL has spent some $500 million to upgrade the facility, including the dredging of the Kingston Harbor to accommodate post-Panamax vessels carrying up to 13,000 TEU (20-feet equivalent unit) containers. The Port is ideally suited and has a geographic advantage to connect large commercial markets in North, Central and South America totaling over 800 million consumers.
Among the enhancements in process at KFTL are the extension of the berth, the purchase of quay cranes and migration to the use of the latest Navis port operating system. Chief Operating Officer of KFTL Simon Farhat, notes that once the enhancements are finished and the port's performance has improved, a number of other liner services such as Mediterranean Shipping Company and Maersk will begin to offer services at the port of Kingston.
Within the next 18 months, Jamaica will also have an additional capacity of 500,000 squarefeet of warehouse space as Kingston Wharves Ltd., a privately held full-service logistics facility in the Port of Kingston, makes major investments to expand its container and vehicle handling capabilities. Kingston Wharves has invested $180 million in logistics center that will be situated on 80- acres and will include an auto processing facility and 300,000 square-feet of warehousing of which 100,000 square feet will house the chilled refrigeration facility. Grantley Stephenson, CEO of Kingston Wharves sees auto processing as a major potential growth area for his company and as a job creator for Jamaica and envisions the auto center as a hub for preparing vehicles for consumers throughout the Caribbean and Central America.
In addition to these private sector-led developments, the Port Authority of Jamaica will build a 200,000 square-feet facility targeting the logistics and manufacturing sectors. The privatization of the Norman Manley International Airport in Kingston and the planned construction of a Special Economic Zone in Caymanas, west of Kingston, will round out the development of the country's multi-modal logistics vision.
The passage of modern Special Economic Zones legislation in 2016 has stimulated new interest in the construction of industrial parks in Jamaica. Building on the country's clear logistics advantages, the government's vision includes attracting international manufacturers to conduct last mile customization from a base near to the port. With the final phase of a feasibility study on the siting of the SEZ at Caymanas, the government is looking to attract new industry clusters, which will benefit from the country's long history in manufacturing a diverse range of chemicals, construction materials, agro-processing and automotive products.
New Frontiers in Energy Sustainability and Efficiency
Underpinning the new thrust in logistics and manufacturing is the game changing introduction of Liquefied Natural Gas (LNG) as a major fuel source for two of the island's power plants. The conversion of the two major power plants will bring stability, efficiency and predictability to the country's energy generation and distribution. Add to that, the government's stated policy to have 30 percent of energy needs supplied by alternative energy by 2030 and Jamaica becomes one of the greenest locations in the region. Alternative energy investments have accelerated in recent years, including two wind farms, Wigton Wind Farms and Blue Mountain Renewables and two solar farms, WRB and French-owned, Neoen. Feasibility studies on ocean cooling facilities are also ongoing and new opportunities in waste to energy are expected to emerge in the short term with the publication of the country's Integrated Resource Plan.
All these opportunities were underscored at the recently held triennial Jamaica Investment Forum organized by JAMPRO, Jamaica's economic development agency, which focused on Jamaica's mission to become the Caribbean's Business Hub, with a vibrant economy based on logistics, outsourcing, energy, tourism, agriculture and manufacturing.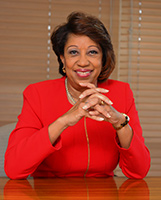 Diane Edwards is the President of Jamaica Promotions Corporation (JAMPRO) – the national investment and export promotion agency. Possessing a wealth of knowledge and experience in international marketing and business development, Ms. Edwards is committed to building Jamaica's business brand through increased customer focus and effective marketing communications programmes. Prior to leading JAMPRO, she served as General Manager and Director of J. Wray & Nephew UK Ltd., where she successfully grew the UK Company's turnover by 77 percent over 10 years. Ms. Edwards holds an MBA from New York's Pace University, a Masters in International Relations from Institut d'Etudes Politiques de Paris and is fluent in English, French, Spanish and German.