The United States has a pretty strong job market right now. With lots of open jobs and opportunities for professionals to join organizations, job-seekers can be a little more particular about the nitty-gritty details of a new position. Millennials, the demographic that's becoming most prominent in the labor force, reportedly expect their employer to impact social issues in their community — which is to say that more companies are considering offering volunteer time off.
Community is important, as is helping others who are less fortunate. Companies that offer volunteer time off as a benefit show they care about their community — both the one they're building inside the walls of their office and the community their organization is a part of.
Being a part of a team, organization, club, or anything that makes you feel like there's group chemistry is really good for your mental health. Studies show people who feel like they belong are more resilient and can recover from hardships quicker. By implementing a volunteer time off policy, employers can enable their workforce to make new connections and foster better relationships, which will in turn foster a sense of community.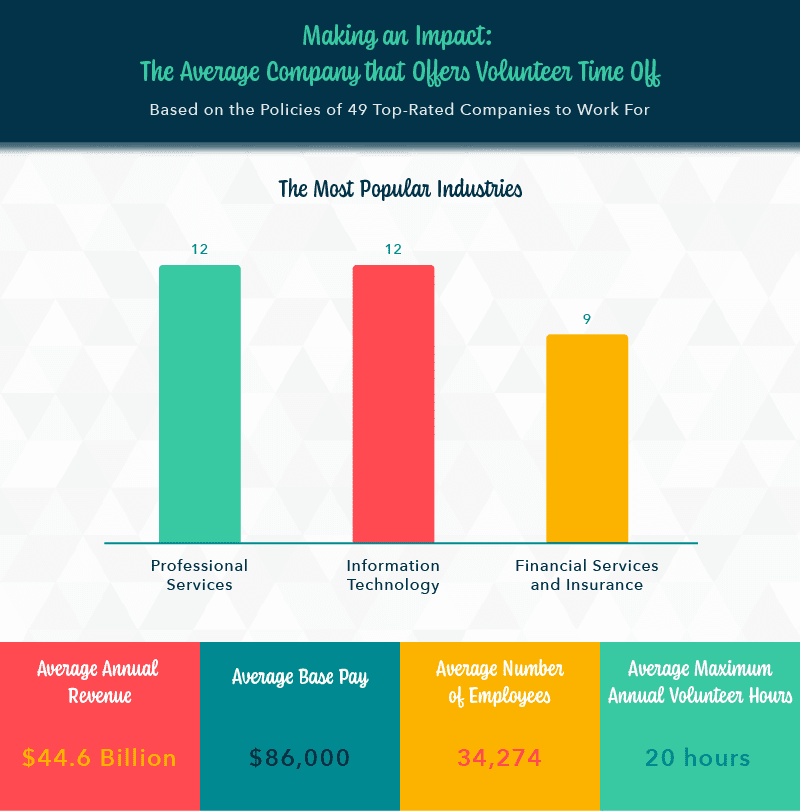 What you can expect in a VTO policy
Although many companies choose to do different things with their volunteer time off policies, there are a few components which are similar. For the most part, the amount of time companies gave their employees off for volunteer-based activities is close to 20 hours. That means on average, companies are offering 2.5 days of time off each year.
VTO policies will also define the types of activities that will qualify under the policy. There are a variety of different kinds of charitable work and organizations that champion them, from tax-exempt to charities — but most VTO policies require the volunteer activities be done for a certain type of service work.
Policies that are effective are explicit, concise, and clear about what employees can and cannot do under the guise of volunteer time off.
What do VTO policies look like?
Offering VTO is a unique way to attract new talent. To get a better sense of what types of policies companies who offer VTO have established, United Way of the National Capital Area, took a deep dive into the VTO policies of 49 companies rated best to work for. The analysis delves into trends among the 49 company policies.
The industries of the 49 companies in the analysis are fairly varied. From retail to healthcare, many different organizations offer VTO. The full list of industries represented in the top places to work who offer VTO includes:
Biotechnology & Pharmaceuticals
Construction & Real Estate
Education & Training
Electronics
Financial Services & Insurance
Healthcare
Hospitality
Information Technology
Manufacturing & Production
Professional services
Retail
Telecommunications
Transportation
Even though there are many industries represented, there are three that stand out in terms of consistently offering VTO. The top three industries offering VTO are professional services, information technology, and financial services/insurance. Nearly 25% of the companies offering VTO come from the professional services industry — and they're not the only ones. Another 25% of the companies who offer VTO come from the information technology industry.
The analysis on VTO by United Way did a great job of outlining what types of workplaces offer time off for volunteering as a benefit. It's clear there are a few industries where employers are making additional efforts to get their employees out and impacting the community, but it also makes sense as these industries are led by massive companies — such as SaS in NC, Salesforce in CA, and even Stryker in MI.
Larger companies such as those with an average of over 34,000 employees may have an easier time implementing VTO policies than small companies who do not have an HR or legal department. Additionally, the average annual revenue of the companies offering VTO hovers over $44,600,000,000 whereas the average base pay for employees is $86,000.
When will my employer start a VTO policy?
These numbers tell us that VTO policies may be costly for smaller companies. It may be easier for a smaller company to simply close up shop for the day and meet up in the community to do volunteer work together.
But with that being said, there's evidence to show that more and more employers are implementing similar policies to the ones described above. The rate that they're being implemented has only increased over the last few years.
Regardless of whether an employer offers VTO as a benefit, there are other ways companies can impact their communities. Corporate social responsibility is on the rise and companies looking to attract young talent could implement volunteer time off as a way to influence and impact the candidates applying for open positions across all industries.
Harrison Miller is a seasoned writer covering topics anywhere from business, local news, and lifestyle.
Contact: harrisonmiller89@gmail.com