Volume 10
| Issue 3
| Year 2007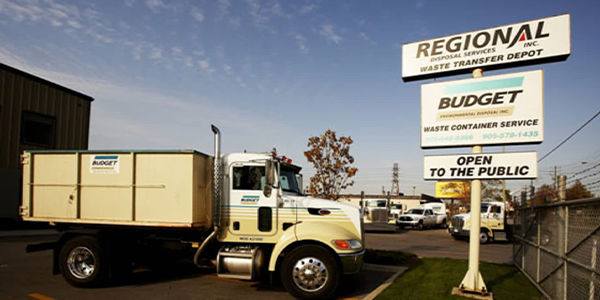 A successful business can't afford to waste opportunity. For one rapidly growing Canadian company, waste is the opportunity.
Budget Waste, Inc. (BWI) started up in 2001 as a local roll-off waste hauling company serving Calgary, Alberta and surrounding area markets. Today, thanks to an aggressive acquisition strategy, BWI and its 150 employees provide a suite of interrelated waste management and recycling services for a range of commercial and residential customers in western Canada and is well positioned to expand further throughout North America.
"Our president and CEO, Jim Can, saw the market potential for waste management opportunities created by the tremendous growth taking place in Alberta," explains Mike Kolankowski, vice president of strategic growth. "The first of these was taking the company public in 2005 to raise capital to acquire companies to expand our services and offer 'one-stop shopping' for residential and commercial customers. The advantages are the convenience of a single bill for multiple services with centralized customer service and the cost-efficiencies of a sole provider that significantly reduces administrative overhead and paperwork. The effective integration of companies under the BWI umbrella enables us to surpass customer expectations for quality of service at a pricing strategy that is at or slightly below the market average price."
The strategy was initiated in 2006 with the acquisition of nine companies and growth continues at a remarkable pace. Today, BWI is a leading waste and recycling solutions provider in Alberta and, most recently, in Edmonton, but is poised to expand further not only in Canada, but the United States. These solutions encompass a variety of services including small and large roll-off and front-end waste containers, portable toilet services, recycling pick-up and management programs, vacuum truck service, hydro-vac service, portable fencing, water truck services, and curbside waste pickup. Markets include residential, municipal and commercial; the latter encompasses industrial, construction, homebuilding, and oil field customers.
According to Kolankowski, one key factor fueling BWI's expansion is the healthy economic state in its home turf of Alberta. "We are in something of boom time. The industrial base is thriving, particularly the oil business, which in turn is good not only for commercial construction, but for residential homebuilding as more jobs are created and it becomes more desirable for people to live and work here."
Indeed, province-provided statistics show that, over the past 10 years, Alberta has the highest economic growth rate in Canada of 4.3 percent. In 2006 alone, the economy grew by an estimated 7 percent. Between 1995 and 2005, the manufacturing base more than doubled to $60.3 billion. In 2005, Alberta investment per capita was $18,403, more than double the national average. Approximately 465,600 new jobs were created between 1996 and 2006; average annual employment increased by 86,300 in 2006 alone.
As Can notes in a discussion with CEOCFOinterviews.com, "The construction industry is at its peak in Canada and specifically in Calgary. The economy is booming now and the waste industry as it stands, and especially with recycling, is one of the hottest markets. In the past, most companies were not environmentally friendly, but a lot of the companies are now looking into it. If you compare landfill tipping fees to recycling in other areas of the country, it is very expensive, so recycling is going to be the area to be in."
Cross-Selling
The unique advantage of BWI in such an opportune market is its ability to cross-sell. "A construction company contacts us because it needs debris removed from a work site. Well, we can do that. We can also provide them with porta potties and temporary fencing and we can offer a way to take some material out of the waste stream and recycle it," Kolankowski notes. "Or, let's say you're a BWI residential customer, and you're starting a restaurant, so you call us to see if we can haul your business trash as well. Which we can, and, by the way, did you happen to know we can recycle your glass bottles and plastic and aluminum cans?"
He further points out, "A single solution that effectively manages all your waste issues is much more cost-efficient than dealing with multiple vendors. There's only one bill, one point-of-contact, one overall comprehensive plan to solve the problem. Depending on how big the project is, that can save you thousands of dollars, not to mention reduced hassles and headaches having to deal with several different companies trying to get your garbage pickup from this one, fencing from someone else, containers even somewhere else."
But to provide truly seamless cross-functional services, BWI faces the challenge of how to effectively integrate the diverse practices and culture of formerly independent companies. There are two important ingredients to accomplish this.
"The companies we look to acquire are typically entrepreneurships, so by their very nature they are already 'lean and mean' without unnecessary layers of management and bureaucracy to deal with," Kolankowski explains. "The company owners are enthusiastic about becoming part of BWI; in fact, in many cases they originally approached us about being acquired. So there's already a firm commitment to become part of our vision."
He emphasizes that "secondly, and just as importantly, we don't try to impose some preconceived notion of how these companies should work. They have been successful and we want to learn from them what they do that makes them successful. Once we build that knowledge base, then we can not only better assimilate the company into our overall structure, but we can apply the best practices we've learned to our other operations, while consolidating certain functions to achieve synergies and economies of scale. The aim is for all the companies to evolve into a single cohesive identity where they all share the same billing systems and other standard operating practices. That's not the sort of thing that happens overnight and you have to have the patience not to rush things and the willingness to learn."
That learning curve is about two years, Kolankowski says. "An additional benefit is that the original entrepreneurs usually agree to join our senior management staff, which helps provide continuity even as we move forward." Indeed, Kolankowski was a founder of a BWI-acquired company, AllWaste Systems Ltd., which develops and manages a range of recycling projects.
Expanding Solutions
One thing that is helping establish the BWI identity is its commitment to customer service. Speaking with CEOCFOinterviews.com, Can says, "Many times large corporations use automated systems and it is very frustrating. When people have a certain problem or concern, they would like to speak to someone. Our customer service department is internal; we do not have it automated so you actually speak to someone live. If there is a concern, you can deal with us directly and that is what makes us very different versus talking to an automated system outside the country somewhere and you have no idea who you are talking to and they certainly can't relate to your problem. That makes a substantial difference in our approach. Our customers appreciate that."
BWI's stated intention is to become the largest waste hauling and management solutions provider in North America. Towards that end, BWI has expressed the goal of expanding into new territories every three months. Such dramatic ambitions will be realized through a combination of organic growth and continued acquisition.
"Our head office is in Calgary, and there's a great deal of opportunity in Alberta itself. Our first organic expansion has been into Edmonton, which is about 300 kilometers from here," Kolankowski points out. "The reason we're able to move so quickly into a new geographic area is the range of services we can offer, and the range of services is the result of the companies we've acquired. So, the backbone of the strategy remains to grow aggressively by improving our capabilities and our reach through acquisitions. And, as we grow, we become all that much more attractive to those niche entrepreneurships looking to take their business to the next level with a bigger company that can offer more resources."
The company is also constantly re-evaluating and upgrading its capabilities. "We're investing in new technology to make both our services and our internal operations more efficient," Kolankowski says. For example, we just recently initiated a fleet enhancement program to meet increased demand and to improve turnaround times, reduce operating costs and improve overall customer satisfaction. Recent additions to our fleet of 125 vehicles include new front load, crane, side load residential, roll off, and hydro vac trucks. These newer vehicles offer improved efficiencies in mileage, servicing, operator comfort and safety."
Looking ahead, Kolankowski notes that BWI's rapid expansion is likely to cross borders. "We are looking to eventually move into the United States; in fact we've already been in discussions with some brokerage houses about businesses that could fit into our mix. As with all our acquisitions, we intend to grow where the potential exists to maximize value for our customers and our shareholders."
Kolankowski emphasizes the company's commitment to the shareholders of BWI. "We've performed very well in the stock market for the past two years, and the last six months have been particularly outstanding. Our plan is to continue our path of extraordinary growth and focus on customer needs to bring our stockholders outstanding value as a reward for the confidence they have placed in BWI as a company and its vision of what we intend to become. With increasing environmental regulation in North America, coupled with general public awareness about waste and its effect on the environment, BWI offers distinctive services that can help companies better manage their waste issues cost-efficiently in complete compliance with all legal and green issues."