Volume 3
| Issue 1
| Year 2007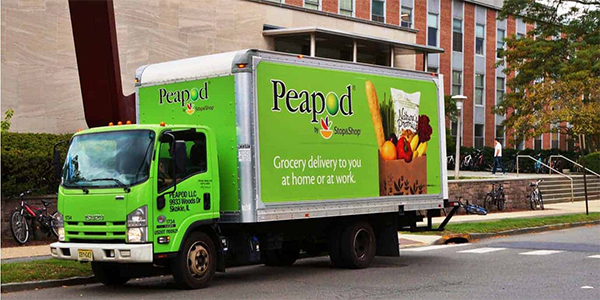 They may have noticed the car with the giant peapods spinning around town and they may have raised their eyebrows to the men dressed as very big peapods, standing outside local stores, hawking their grocery shopping business. But they definitely noticed when, in a matter of weeks, 400 customers in and around Evanston, Ill., signed up for home delivery supermarket service.
In the days when the Internet had little impact on our lives other than being a big universe of twinkling information bytes the Parkinson brothers were thinking big. The year was 1989 and the two entrepreneurs were visionary enough to believe that people would latch on to their idea: order groceries online and have these delivered to the doorstep for a minimal fee. The service was called Peapod. Jewel Supermarket paid mild attention to the Parkinsons' venture, but was amenable enough, letting the brothers hawk their service right outside Jewel's stores.
"First we went through one Jewel store – we demonstrated our software and showed customers our product. In 1989-90 nobody was shopping online; it was a weird concept," Thomas Parkinson recalls. On weekends Thomas and brother Andrew donned peapod costumes and greeted prospective customers outside COMP USA, trying to lure people away from the physical supermarket aisles into their online cyber-market.
Little by little the men dressed as giant vegetables persuaded the public that what they offered was really a
very efficient way of shopping. And when they signed up 400 households, Jewel suddenly beamed very brightly towards the pair, and their proposal for an online grocery service. And the momentum continued to build: Thomas and Andrew increased their presence, joining with more Jewel supermarkets to fill customers' orders. And their little investment in peapod gear paid off in a
big way: Peapod, headquartered in Skokie, Ill., has experienced 20-25 percent growth a year since and the concept of online shopping, now a ubiquitous Internet service, is seen by some as an absolute necessity.
But what to call it?
At the outset, when the brothers were hunting around for a name, Andrew came up with a brilliant idea: Why not call the business IPOD (Information and Product on Demand)? But Thomas couldn't visualize it. "It didn't have any meaning for me," he said. (Peapod has since become aware that Apple Computer is claiming to be the sole owner of anything POD related). And because much of the vernacular of Peapod's business is tied up in the word pod, the grocery operation probably would not be the same if all the derivatives of pod were suddenly deemed off limits.
"We call our employees podsters; the delivery vehicles are podmobiles," says Thomas, the company's senior vice president and chief technology officer, adding that instead of spelling people with an "eo" they prefer to use "peaple."
Thomas came up with the alternative Peapod. "I thought Peapod was a friendly name – I wanted children to like it," he remembers.
The brothers combined their backgrounds in consumer product marketing (Andrew was a brand manager with Procter & Gamble and Kraft) and technology expertise (Thomas was the founder of a software company), to make Peapod a "lifestyle solution for busy families."
In the early days Andrew and wife, Elizabeth, picked out the food based on a customer's order and Thomas delivered the groceries in a 1976 Honda Civic that he recalls was just about big enough to handle two orders. The delivery area was strictly in and around Evanston. Following the enthusiastic reception in this area, however, by 1991 the company had expanded services to Chicago's surrounding suburbs. By 1993 Peapod had launched service in San Francisco with Safeway and in 1995, following its first advertising campaign, the company gained 4,600 members. (Until this time, Peapod built its customer base largely through word of mouth.) Thomas soon traded his Civic for a company van and the company's driver base grew.
The business had its share of bumps in the beginning; as an example: tissue. All the differently colored tissues in all their various boxes were delivered to a supermarket all mixed up but under the same UPC code. Because of this the pickers were continuously selecting the wrong tissue color, a problem with customers adamant about getting the right colored tissue. So Peapod had to work out its own code to ensure accuracy – called UPC for "U Picked Correctly."
In March 2000 the momentum ebbed a bit when a venture capital deal fell through, but Peapod's partnership with Stop 'n Shop, owned by Royal Ahold, precipitated an agreement whereby Royal Ahold agreed to purchase 51 percent of Peapod for $73 million. In 2001, the company purchased the remaining shares for $30 million. With its new parent able to take a lot of burden off of Peapod's shoulders, the company could now focus on perfecting its service. In 2001 it began servicing communities in Virginia and Maryland, partnering with Giant Food. Peapod further pursued a "bricks-and-clicks strategy," engaging in exclusive relationships with Ahold U.S.A. grocers – Stop & Shop and Giant Food – which helped to plan growth in markets in which these grocers had a presence.
Two other milestones occurred in 2003: Peapod replaced its Niles, Ill., warehouse with a 75,000-square foot, climate-controlled distribution center (a former Streamline.com facility) in Lake Zurich, Ill. And in July that same year, it delivered its five millionth order, to a customer in Chicago. Peapod today is the country's leading Internet grocer, serving 18 U.S. markets.
The personal touch
Along the company tried very hard to convince people that Peapod's shoppers could effectively be the hands, eyes and nose of the customer's, and, indeed, was able to win over its minions on the strength of its word.
Working in one of the company's two state-of-the-art freestanding warehouses or in any of 16 smaller warerooms (in the Stop & Shop markets), Peapod personal shoppers are trained to select quality meats and seafood and to improve the ritual of hand-picking, squeezing and smelling perishables. Customers can even provide directives for some picks, for example, for yellow or green bananas and thin or thick-sliced deli meats.
"The biggest hurdle was convincing consumers they could shop online and still maintain control over the quality of their picks," says Andrew Parkinson, 49, who is today Peapod's president and general manager. "That's been Peapod's cornerstone all along."
Once assembled, customer orders are carefully packed in bags and special temperature-controlled, crush-proof containers. The company's Stay Fresh delivery system exceeds food safety standards
and maintains products at their optimum temperature and freshness, from the distribution center all the way to a customer's front door.
"Our warehouses and warerooms maintain different climate zones for each food category," says Andrew. "It is quality assurance that frozen items like ice cream will arrive rock-hard but that delicate perishables like produce won't."
Once orders are fulfilled, Peapod trucks fan out to make deliveries into neighborhoods around the country. For fees ranging from $6.95-$9.95, most customers can place orders for delivery as soon as next-day (normally within a two-hour window) or even days or weeks in advance.
"We have a really cool transportation system that figures the best route after the groceries are ordered," Thomas, 47, explains. The virtual system places the groceries on a truck, finds where the truck needs to go and in what order the groceries need to be shipped. The order is retrieved through scanners the shoppers use to locate items throughout the warehouse. The physical driver uses GPS to get to the delivery point, where the customer pays by credit card or other electronic means.
Changed forever
Peapod, quite simply, answered our needs before we really were able to vocalize what we needed, and then it delivered the goods right to our doorstep. Peapod calls itself "a smart supermarket experience" for a range of consumers: dual career couples stocking up on basics for their families, time-starved professionals seeking the convenience of prepared foods, epicures in search of natural, organic and specialty fare, new parents with a need for baby products or personal health and beauty aids, singles who prefer to not have to lug heavy shopping bags and even office managers who want to offer their employees snacks
without wasting staff time shopping in stores. In a nutshell, its clientele could quite literally include every one of us at some point in our lives.
As the company plans expansion into Long Island, which Thomas describes as "a huge market for us" it continues its
philosophy of bringing to the customer the highest levels of integrity and service. As Thomas explains it: "We want to
continually amaze and delight every one of our customers."