September 9, 2019
The rate at which companies are forced to adopt new technology may look different across various industries. However, the time is coming for all firms to adapt and embrace the technological developments of Industry 4.0 in order to survive. By getting ahead of the technology wave, businesses can stand apart from competition by having a sophisticated portfolio of products and services for their clientele.
When preparing your organization for the disruption process, company executives must first have a clear understanding of where their business and people stand on the disruption maturity curve. After determining this, a company can take steps to incorporate new technology into their existing processes.
How Comfortable Is Your Organization with Disruption?
The adoption process will look different for each company, and may even look different across each business line of a particular company. For example, one business line may be the company's oldest and least advanced. It may be the most profitable, or it might be the flagship business unit, but it is also the most at risk for disruption. Because of these factors, the leadership of this unit may be most resistant to innovation. On the other hand, a newer line of business may be more technologically advanced, and the leadership may be more open to innovation. So when deciding where to push innovation, the company must balance where the investment in innovation is likely to have the biggest impact (i.e., the older business line), and where it will be the easiest to implement (i.e., the newer business line or the team most capable). To make meaningful change, business leaders must have a clear understanding of the disruption their organization is facing and ensure that all business units are represented during the adoption process.
A holistic view of the entire business is required during this examination. Otherwise, you run the risk of taking a fragmented approach, leaving some parts of your organization out during the assessment and change processes. A company's chief executive officer and chief human resource officer are the two people who will be instrumental in leading adoption of new technology. These two executives should be able to take both a high-level and in-depth look into where their organization stands as compared to competitors.
When assessing your organization's disruption readiness, there are four stages you could fall into:
Denial: Leaders either unaware of Industry 4.0, or in denial that it is affecting their industry
Bewilderment: Leaders are aware of Industry 4.0 but don't know how to approach it
Reluctant Acceptance: Leaders may adopt minor technological advancements to different areas of the business, but have no overall strategy
Embrace disruption: Leaders believe they must adapt in order to survive; it will be a risky transition but it is more risky to delay and deny
What Will Solve Your Organization's Biggest Problem?
Once company executives have an understanding of how comfortable their organization is with change, they can begin to consider which part of their business will need the most attention and resources dedicated to it throughout the adoption process.
This is the stage where innovation comes into play. When implementing new technology, companies have the opportunity to develop new business models as well as drastically adjust the traditional ways of doing business. A prime example of this is how leading gig economy companies operate. For the majority of them, the technology processes they have put in place have opened the door for new business models which meet demands customers may previously not even have known they had.
However, organizations must be careful to ensure that they do not surpass their stakeholder's level of disruption readiness. That is, coming to market with a new technology-forward product that is too sophisticated for your customers could be detrimental to both your bottom line and reputation.
Over Communicate
The adoption of new technology can take years to complete. While some smaller introductions, such as implementing a new pricing tool, may be a quick fix, the larger technology executions, like incorporating machine learning into an old supply chain model, will require significant capital and time. Communication, therefore, becomes key. Leadership needs to ensure that the process doesn't stall and there is no confusion around what changes are being introduced and why. This is especially important since different groups within today's workforce have different levels of comfortableness with technology and change. Some are comfortable with new technology and they are not afraid of getting to know it. Others may take more time to understand the same technology.
Track Results
Since the adoption process of new technology is time-intensive, rather than just tracking outcome metrics, which could only become available months or years down the road, organizations should be mindful of their process metrics as well. This means, for example, keeping an eye on how many new contracts have been made since implementing a new pricing tool or the decrease in human errors since adding AI technology into the workforce. By taking a transformative, holistic look at results, leaders will be able to better determine which changes have helped their organizations profitability, and which may be dead-ends.
Conclusion
Industry 4.0 is here. Indeed, the pace of change in business – and the world – is so profound that we can see it in real time. For example, in a few short years we saw WeWork launch, disrupt an entire industry, announce an IPO, and publicly modify its target valuation before even launching the IPO. This is real change in real time. If companies aren't adapting their businesses, innovating, and adopting new business models and new technology, they will be on the losing end of disruption. The skills, and thus the talent, needed to lead organizations through Industry 4.0 are different.
Sometimes it isn't a matter of seeing the future, but a matter of noticing that the future has already arrived.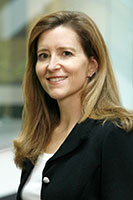 Lisa Walker brings two decades of experience in executive search and senior industrial roles to DHR International.
Prior to joining DHR International, Lisa served as the Founder and Managing Director of Leadership Capital Advisors, a boutique retained executive search firm, where she was responsible for building revenue and infrastructure as well as managing entrepreneurial growth. Previously, Lisa was a Senior Partner with Korn/Ferry International and a Partner with Heidrick & Struggles. At Korn/Ferry, Lisa initiated, built and led the Global Sustainability practice, including co-authoring white papers, driving brand positioning, and delivering incremental revenue in new markets. She repeated the practice development when she initiated the Global Agribusiness practice. Lisa has experience leading general management and key functional searches for clients seeking marketing, strategy, business development, technology and operations expertise. She specializes in commercialization roles and has built her reputation identifying talent with an emphasis on performance, potential, and culture fit.
Prior to entering executive search, Lisa was with BP Amoco, Air BP, as Chief Marketing Officer for the international jet fuel business. Lisa has also served as Director of Marketing Strategy for Amoco, where she developed the retail service station strategic plan resulting in an integrated business strategy for gasoline, convenience store, auto repair, quick serve restaurant, and site real estate. She led special projects to deliver a new small lot convenience store model, market-specific operating plans, product slate management, and channel strategies.
Earlier in her career, Lisa served as a Management Consultant with Bain & Company and A.T. Kearney in strategy, marketing and operations in their Chicago offices. Lisa began her career as an Engineer at Honeywell Corporation, working in design and manufacturing with Honeywell's solid state electronics division in Colorado Springs and Minneapolis.
Lisa earned her Master's of Business Administration in Finance and Economics from the University of Chicago, and her Bachelor's of Science degree in Chemical Engineering from Cornell University. Lisa has been honored by The White House as "a Champion of Change for her outstanding leadership in entrepreneurial mentoring, counseling, and training." She serves on the Board of the University of Chicago Laboratory School, Cornell University Engineering College Council, the University of Chicago Medicine Kovler Diabetes Center, and the Women's Board of the University of Chicago.
Get in Touch
312.631.2271
312.972.0580
lwalker@ldhrinternational.com