As worker's compensation laws vary from state to state it's important for the employer to research the best rate for the best coverage.
Worker's compensation is a legal requirement in 45 States, with North Dakota, Ohio, Washington, and Wyoming using a State Fund system instead. Texas is the only state that does not have a state fund or a worker's compensation requirement, except for construction or government employees.
13 States only require you to have worker's compensation the moment you hire more staff. The average range is 3 – 5. All other states require worker's compensation as a basis the moment you begin your company and list yourself as an employee.
Example Updates to Worker's Compensation
Worker's compensation law changes will vary from state to state. They are often changed to reflect one of two things.
Improved clarity for worker's and industries
Update wage caps and compensation
Eliminated Classifications
Multiple classifications were eliminated in the 2020 update to worker's compensation. They were instead reassigned to a broader category for more straightforward processing and understanding. Motels (9050 (2)), for example, have been reassigned to 9050 Hotels, Motels, or Short-Term Residential Housing. All eliminated classifications have been reassigned, either to the parent classification (rather than subdivisions) or to new parent classifications.
Eliminated Defenses
In several states, a few employer defenses have been eliminated in the 2020 update of worker's compensation. Understanding employer defense is critical to avoid being liable and negligent as an employer.
New Parent Classifications
The only true new parent classification is 8010, which covers stores that sell hardware, electrical, or plumbing supplies.
Improved Clarity
5606, 5610, and 8227 apply to contractors, and construction was updated to improve clarity when filling out worker's compensation forms. Other industries and classifications were further amended to provide clarity and expand coverage. For example, wine tasting bars are now included under the Food Packaging and Processing Industry Group.
Decrease to the Audit Threshold
Audit of Payroll changes have taken effect as of January 1, 2020, in California, meaning that the audit threshold has decreased from $13,000 to $10,500.
Eligibility Threshold Has Been Reduced
In California, the eligibility threshold to receive worker's compensation has been reduced from $10,000 to $9,700.
Increase in Maximum Rate for Benefits
In New Jersey and Pennsylvania, the 2020 weekly average wage (SAWW) has been increased. In New Jersey, the increase has risen to $945 per week maximum, and in Pennsylvania has increased to $1081 per week. A range between 20 – 75% of SAWW is capped and added on top of the worker's compensation, which is still based on 70% of the worker's average earnings.
SAWW has been updated in New York as well. Salary threshold changes in New York have been increased to $1,125 per week.
Understanding Worker's Compensation in Your State
Each state carries unique changes to worker's compensation as well as the financial pay-out to employees. Hiring lawyers who specialize in worker's compensation in your country is essential to improve the process and to provide yourself or your employees with adequate financial coverage during their recovery or to support a new disability.
That is why it is best to skip the headache of attempting to detangle worker's compensation – especially if your business falls into a grey area in classification – and to instead bring on lawyers to either your case or to your employees. If you wish to learn more about how legal help is necessary when filing for worker's compensation, then you will want to click here.
Ensuring Your Employees Understand
An excellent way to ensure that your employees are aware of their rights regarding worker's compensation it can be useful to create a cheat-sheet that outlines the changes in layman's terms. This is particularly helpful in traditionally dangerous industries where workers interact with heavy machinery regularly.
By providing an updated run-down of the changes, your employees can provide them with essential information that they will need if they are ever injured on the job. It will also showcase your commitment to your workers and their health, meaning you can expect increased loyalty and dedication from every one of them.
Worker's Compensation Insurance Providers
Not every provider is made equal, which is why on top of knowing the legal minimums for your state, it is also worthwhile to explore the insurance programs offered by the top providers in your country. Some might be the best overall, and others might be ideal for medical coverage networks, or multinational business rates.
Exploring your options can ensure that your employees have ample coverage, and you, as the employer are paying the best rate, you can be for your state and coverage.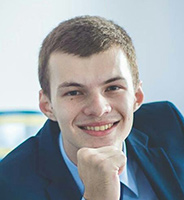 James Daniels is a freelance writer, business enthusiast, a bit of a tech buff, and an overall geek. He is also an avid reader, who can while away hours reading and knowing about the latest gadgets and tech, whilst offering views and opinions on these topics.