By Tim Burne, CEO at Plastic Logic
From smartphones and wearables to digital signage and industrial terminals, display technology of all shapes and sizes feature heavily in our everyday lives.
However, given how much time the average person engages with screens at home, at work or on the move (more than 400 minutes a day, which is nearly 40% of our awake hours), it's surprising that so many applications and product categories feature a very similar looking set of 'me-too' products. Why, in so many cases, is product design, and in particular the choice of display, always being approached through the same very limited 'glass' ceiling?
Product displays can be a creative canvas for innovation, unlocking new streams of competitive advantage and product differentiation. So, this begs the question – why aren't more designers and engineers looking to step outside their comfort zones and innovate with different display technologies (such as e-paper) as a potential way to stand out from the crowd, make products more enticing to customers and ultimately disrupt the status quo?
Engineering frustrations with the display supply chain
We set out to answer these questions by surveying 115 professional electronics engineers specifically involved in the outline specification or physical design of electronic products featuring integrated displays.
One area that our findings shine a spotlight on are the frustrations that engineers are experiencing with the display supply chain and the impact this is having on product design and stifling innovation.
49% of the engineers we surveyed claim to struggle with prototyping because of display sample availability, while a further 37% find it difficult to match unusual display requirements with what's available from suppliers. 55% of engineers also find it a challenge to get development kits to operate quickly when integrating displays into their product.
These barriers that engineers are experiencing when sourcing and evaluating displays could explain why only 20% actually conduct a rigorous assessment of display technologies as part of design projects and why one in ten admit to never refreshing the display technology in their products — all this, despite engineers' claims that 'innovating new product features' is a unanimous priority.
The road to disruption and innovation…
To overcome this barrier to innovation in product design and to diminish the frustrations that engineers are experiencing with the supply chain, display vendors and manufacturers must make displays as easy to source and evaluate as possible. If displays become more accessible, then it's reasonable to hypothesize that there's also a greater chance that engineers will be more open to refreshing the display technology in their product sets.
New and experimental display materials like e-paper has real potential to support engineers in their pressure to innovate. In our survey engineers rated ruggedness (37%), outdoor readability (31%), and power consumption (30%) as the three most critical elements of display specification all of which are qualities boasted by e-paper. It's clear that access to and experimenting with technologies like e-paper could make a world of difference in product design.
From my perspective as a display vendor/manufacturer, if we're going to be successful in stimulating experimentation with display technologies like e-paper and encouraging more focus on display innovation then it's crucial we aren't creating unnecessary barriers in the supply chain and making things harder for the engineers.
The display supply chain plays a pivotal role in helping engineers step outside their comfort zones and innovate with different display technologies. It's important that engineers work with a strong and supportive partner to avoid design and supply chain frustrations and to commit to genuine experimentation, both as a creative measure and to address the issues that come with a 'me-too' set of products. With the help of a trusted supply chain partner, the barriers affiliated with prototyping due to display sample availability should also diminish and engineers will be better-placed to evolve a great concept into a disruptive, market-leading product or service in this incredibly competitive marketplace.
The full findings of our research are examined in Plastic Logic's State of Display report, which highlights the importance of pushing beyond comfort zones, fighting compromise and convention, encouraging an open-minded and an informed approach to display selection. That's ultimately how brands distinguish themselves in their marketplace: by making products more enticing and usable for their customers, and ultimately disrupting the status quo.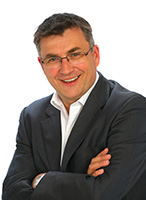 Tim Burne joined Plastic Logic Germany as Chief Strategy Officer in September 2013, but less than 18 months later, he took on the position of CEO.
Tim has a proven track record in restructuring organisations to meet market demand and stakeholder expectations, as well as building and managing both domestic and international sales, engineering and operations teams from his previous roles at Sangoma Technologies and Sharedband.
Since becoming CEO, Tim has worked closely with his board of directors on the smart restructuring of Plastic Logic's Dresden factory. He has also created a new leadership team to build and position the company as a design and manufacturing powerhouse.