Volume 23
| Issue 3
| Year 2020
Click here to read the complete illustrated article as originally published or continue below to read the text article.
Building a factory from the ground up is a complicated undertaking, made even more so during a pandemic. "We've faced a number of tremendous challenges," notes Mark Brazeal, Vice President of Administration for Mazda Toyota Manufacturing (MTM), regarding the joint venture's construction of a $2.3 billion facility in Huntsville, Ala. expected to be operational sometime in 2021. "I'm very proud of all the teamwork, both within the company as well as in working with state and local agencies, that has enabled us to move forward during unprecedented conditions."
While Toyota has an engine assembly plant in Huntsville, Brazeal notes that MTM conducted a thorough site selection process to pick the best location. "It came down to Huntsville and an area in North Carolina. We went with Huntsville because of the strong support of state and local partners as well as the quality of the community and its strong labor pool," he says.
Even before COVID-19 forced everyone to re-evaluate safety protocols and general business conduct, MTM had to make several course corrections. One of the first led to a temporary halt in site prep work to protect the habitat of the rare pygmy sunfish, which only lives in a six mile portion of streams that could have been threatened by ongoing construction.
"We worked with the Center for Biological Diversity to study and monitor the habitat," Brazeal says. "An advisory committee was established to develop improvements and best practices necessary to protect the sunfish and its habitat during construction. This included our investing $4 million in an environmental protection fund." Eleven hundred acres in the construction corridor surrounding the pygmy habitat was subsequently purchased by a land trust program administered by Alabama Department of Conservation and National Resources.
Meeting Demand for SUVs
Yet another adjustment to the project was to invest an additional $830 million in what had initially been announced as a $1.6 billion project.
"The plant will have the capacity to produce 300,000 vehicles a year, split evenly between a new Mazda crossover and a new Toyota SUV," Brazeal says. "The original intent for Toyota, however, was to produce the subcompact Corolla. Given that the North American market overwhelmingly prefers SUV-type vehicles, the decision was made to instead produce a new Toyota SUV. The additional investment was necessary to make the design change."
Neither vehicle has been officially announced, and details are unavailable of exactly how they will differentiate themselves in a marketplace. However, Brazeal notes that, "I think consumers will find a lot to like in what both vehicles will have to offer."
While it is generally standard for a new auto assembly plant to initially begin production with one line and then add an additional line when needed, MTM will operate a separate lines for each model. However, considerable flexibility is planned to attain competitive advantage. Team members will be cross-trained to work on either model, with the ability to shift model production to the other line whenever demand may warrant.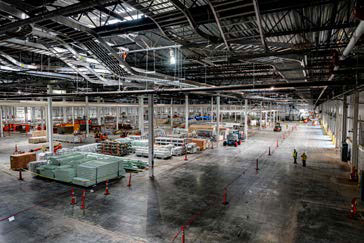 "Considerable strategic planning went into designing processes that will make us as efficient as possible, in particular adoption of kaizen methodologies," Brazeal points out. Equally important is the recruiting and training of team members. The plant itself is expected to create 4,000 new jobs, 800 of which are currently onboarded, with an additional 2,000 new jobs created in the surrounding supply chain. While some administrative personnel are drawn from the parent company (Brazeal, for example, is a Toyota veteran), the majority of staffing will be drawn locally.
"We already have a co-op program in place with two community colleges to hire graduates with advanced manufacturing technical degrees," Brazeal says. "We're also working closely with the Alabama Industrial Development Training (AIDT) an agency of the state Commerce Department to recruit talent."
MTM has also developed an assessment center to test the ability of candidates to perform specific job functions. To date, a number of production positions have been filled and hiring will continue happen in a phased approach and will take place over a two-year period, based on volume and requirements, from now through 2022.
Staying Safe
"When Alabama issued a series of protocols and guidelines in response to the pandemic, we stopped construction for two weeks, but without demobilizing any of the workforce, "Brazeal says. "During that time we assessed our procedures to determine how we could safely continue work, stay in accordance with not only the state guidelines but also the recommendations of the Center for Disease Control (CDC). We collaborated to re-evaluate how we could per form a range of job tasks. For example, there were certain tasks that were being done by two people, so we had to develop new methods so they could be performed safely by one person or through social distancing."
Another issue was global travel restrictions. "A lot of our machines are coming from overseas, as are the installers," Brazeal says. "So that had to be put on hold. Fortunately, once the restrictions were lifted, we were able to work with government authorities to get the necessary visas and were now mostly continuing as scheduled."
He adds, "Despite the pandemic and its impact on the economy, the North American demand for SUV-type vehicles remains strong. We're all looking forward to building a new SUV and crossover with world-class quality using cutting-edge technologies and cross-functional teams dedicated to achieve innovative solutions and continuous improvement. We look forward to start getting underway later in 2021. Even with all the challenges we've encountered and overcome, the MTM team has always been up to developing turn on the dime strategies to keep us moving forward. "