Showing employees their employer values their feedback builds a culture of listening, trust, and action that workers want to be a part of.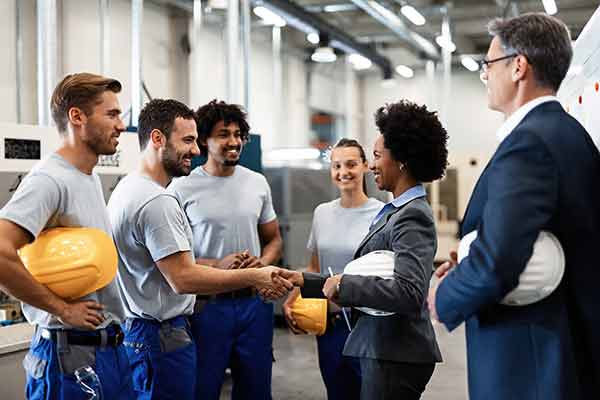 By Todd Pernicek
Manufacturing is experiencing historic labor shortages, but demand isn't slowing down. Staffing shortages have sparked other concerns about safety, burnout, and turnover. Now is the time to transform workplace culture to create a place workers want to be instead of walking out the door.
Organizations often concentrate on efficiency and other performance measures. But focusing only on efficiency leads to a drop in engagement, causing turnover and burnout. Focusing on boosting engagement leads to stronger performance, improves employee wellbeing, and reduces turnover and burnout.
In pursuit of Manufacturing 4.0 and addressing the Manufacturing Leadership Council's list of Critical Issues, organizations need to toss the traditional mindset out the window and flip the table on feedback. That means measuring, understanding, and acting on workplace culture to create an engaging experience.
Measure
Manufacturing organizations know all about metrics, measuring everything from productivity and volume to safety incidents. While manufacturers are measuring some HR metrics, like time and cost of filling positions, most aren't measuring significant metrics that impact employee, team, and business success: their culture and engagement metrics.
Culture is a popular human resources term right now but can be confusing because it seems intangible. Culture is ingrained in how work gets done at the organization. It's important to remember that workplace culture exists even if leadership isn't actively investing in it. It's better to be intentional with culture than let a poor work culture run the organization.
So, how do organizations measure culture? Quantum Workplace research shows employees feel workplace culture the strongest in their organization's mission and values statement, recognition and celebrations, and approach to employee performance. Leadership can't fix what they don't know. It's not enough to base decisions on gut instincts. By getting employee feedback, organizations can gauge whether the decisions they've made regarding things like recognition and performance are working and take the first step in creating a culture that engages employees.
Gathering employee feedback at different points during the employee journey provides insights into what is causing turnover and what changes might improve culture and increase employee engagement. Organizations then discover what drives and sustains employees for not only a better work experience but in pursuit of meeting business objectives.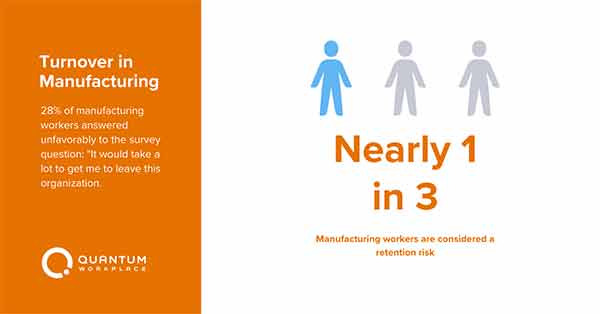 Understand
28% of manufacturing workers are considered a retention risk, according to Quantum Workplace research. Why? Because of unclear communication about changes in the organization, lack of career growth and development, and little recognition for employee work.
Understanding employee perceptions, especially before they exit the organization, is the key to making changes to decrease turnover, increase employee engagement, and create an employee-centric workplace culture. Often the most challenging business problems are tied to misunderstood people challenges. Listening to employees creates clarity and transparency into what is going on and aligns the entire organization on the path forward.
It's not enough to look at employee feedback in a silo. Organizations need to connect employee feedback to other metrics like turnover rate, productivity, employee absenteeism, and employee health. Analyzing the data uncovers concerns or issues organizations had no idea were barriers to their business goals. It also helps create a strategy to increase positive perceptions of working in manufacturing, change the narrative to attract new workers, be the best manufacturer to work for, and keep the great employees you already have.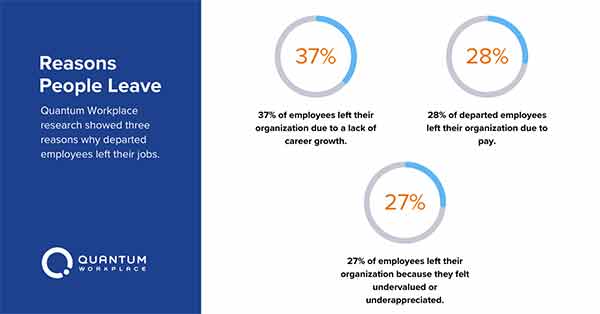 Act
The best cultures are aimed at improving employee engagement for better performance and achieving goals. This of course requires organizations to get employee feedback.
But it's not enough to ask employees for their opinions. Saying the organization is listening is one thing. Organizations have to act on the feedback. Employees develop trust in leadership when they do what they say they're going to. Employees need to see that providing feedback leads to positive change. Organizations need to take the feedback and make strategic changes to improve the employee experience.
Don't forget to communicate the purpose behind the changes made. Understanding the "why" behind decision making builds a connection of trust and respect between leadership and employees and lets employees know their voices are valued. Leadership is viewed as more approachable with an open-door policy and willingness to respond to critical feedback.
Here's five actions manufacturers can take immediately to create an engaging culture:
Create avenues for employees to provide feedback throughout the employee journey.
Make management and HR teams approachable and open to listening to ideas and concerns.
Encourage innovation from employee ideas.
Celebrate your employees for the great work they do and their creative ideas.
Communicate changes emphasizing the connection to employee feedback.
As everyone gets on board for Manufacturing 4.0, employee feedback will need to be a part of workplace culture.
Creating a culture that includes open and honest feedback from employees gives the organization information to better the employee experience. Listening to employees helps them connect what they are hearing to actions that matter, leading to higher engagement. Engaged employees are less likely to leave the organization and more likely to perform better. Engaged employees will fuel a culture of innovative ideas and efficient processes. And the engaging culture created can help recruit the workforce needed to keep up with future demand.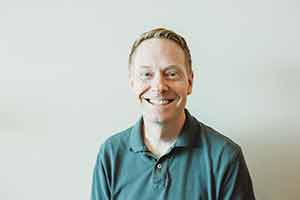 As an Insights Analyst at Quantum Workplace, Todd coaches organizational leaders on engagement and performance solutions, paired with best practices to help managers drive employee engagement. He's passionate about fostering good in organizations through data, storytelling, and utilizing existing potential within the organization that provides realistic solutions to drive business and employee success.