Best practices to help prepare and protect your employees, buildings, equipment, and inventory throughout tornado and flood season.
While many businesses use National Preparedness Month (September) to evaluate emergency response plans, most of the country is subject to severe weather throughout spring (March–June). The central United States—from the upper Midwest to the South—is often subject to particularly dangerous weather-related threats. Tornadoes and flash floods strike without notice, and businesses without a severe weather preparedness plan risk the safety of their employees, buildings, equipment, and inventory.
As a national safety consultant at Sentry Insurance, my colleagues and I help businesses across the country plan for all types of extreme weather. We've compiled the following recommendations to help businesses plan for tornadoes and floods.
Have a plan in place
The first step in developing a severe weather emergency response plan is thoroughly assessing all aspects of your business and the risks it faces.
Major risks: Know the types of severe weather you're likely to face, and the responses you'll need to prepare. It's important to know ahead of time if your facility is in area of particular risk, such as in a flood plain, or near a body of water that may fill quickly.


Facilities: Knowing all the details of your facility and its surroundings is critical in developing an adequate emergency response. Designate in advance which areas can and should be used for sheltering in place, if sheltering in place is appropriate, as well as which doors (or windows) are best suited for an evacuation.


Protocols and procedures: Your employees' safety should always be top priority. Consider what systems are in place to immediately notify employees in the event of an emergency, and make sure they're trained to respond. Work with local emergency response officials to conduct regular emergency and evacuation drills, particularly around peak weather seasons.


Tools on hand: Be sure to keep essential resources accessible.



Weather radios with battery backup will keep you informed when severe weather is headed your way, and up to date if you experience an outage.
Backup generators can help ensure continuity of power for critical equipment.
Keep emergency supplies of water, non-perishable food, and first aid items, as first responders may take longer to respond if the whole community is in crisis.
While a general emergency response plan is necessary for all weather-related events, flooding—including flash floods—and tornadoes each require their own unique considerations. If your business is at risk for either, it's important to develop a plan.
Tornado response
To effectively prepare for a tornado, you and your employees should know when a tornado is coming and where to go.
Know the difference between a tornado watch and warning:



A tornado watch is issued when conditions are favorable for a tornado. Prepare to take shelter and stay tuned to radio, television, and online weather resources for additional information.
A tornado warning is issued when a tornado has been sighted in the area or is indicated by radar. Take shelter immediately.
Know your community's tornado warning system:
Make sure you and your employees are aware of its signal.



Designate a shelter: Identify and label shelter areas in your facility. Avoid building sections with flat, wide-span roof designs. When a tornado warning is issued, take shelter immediately—underground structures are ideal. If an underground shelter isn't available, consider:

Small interior rooms or hallways, without windows, on the lowest floor
Windowless rooms constructed with reinforced concrete, brick, or block
Protected areas away from doors and windows
Flood response
Flooding can last for days or even weeks. Flash flooding, which occurs within four to eight hours after severe rain, can be particularly dangerous, as it may impact areas that haven't seen heavy rain (e.g., if your business is downriver or at lower elevation from where the rain hit).
Be proactive: If your business is at high risk for flooding, plan for water diversion tactics. Maintain a sump pump with battery backup and ensure its functionality throughout the year.


Move to higher ground: Have a safe plan for evacuation that doesn't require employees to drive or walk through flooded areas.


Evaluate your jobsite afterward: Be aware of puddles and muddy areas—they can be deeper than they appear. Ensure there are no downed power lines in the area, or any gas lines or other utilities that may have been damaged. If so, notify employees, keep them a safe distance away, and immediately communicate the issue to your local utility company.
Recovery
No matter what threats you face, minimizing the weather's impact on your business continuity is another critical component of emergency planning. Once inclement weather has run its course and employees are safe, check your facility for damage, and document with photos and written descriptions. Planning for potential setbacks before severe spring conditions hit is the best way for any business to weather the storm. For recommendations unique to your business, consult local experts to find a plan that fits best.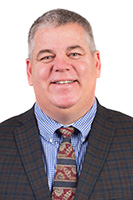 Jon Stinson is a senior safety consultant with Sentry Insurance. Sentry provides insurance and retirement products to manufacturers and businesses. You can reach Jon at jon.stinson@sentry.com or visit sentry.com.