February 12, 2018
By: Alan Mindlin, Technical Manager at The Morey Corporation
For better or worse, the internet of things (IoT) and product lifecycle management (PLM) markets share a similar fate. According to an October 2017 report, the global IoT market in product lifecycle and asset management will experience a compound annual growth rate of almost 20 percent until 2021. And as new innovations — such as cloud computing and augmented reality — continue to mature, the two markets are also poised to have an increasingly significant impact on one another.
From limited data access to the absence of information sharing across different systems, sensors and machines, learn how shortcomings within the PLM market could prevent the industrial IoT (IIoT) from realizing its full potential.
The Evolution of PLM
Data and product development often go hand in hand. To help navigate an information-rich design process, product data management (PDM) technologies made their manufacturing industry debut in the mid-1990s. Not only did such applications help maintain models, notes and instructions from every phase of the product lifecycle, but they also paved the way for greater productivity as well as improved regulatory compliance.
As more businesses looked to outsource manufacturing years later, PDM gave way to collaborative product commerce (CPC). Spurred on by the advent of the internet, these newly developed applications drove communication with suppliers and customers — regardless of their location. The technology that powered such collaboration, however, soon became widely available. To help build upon this web-centric approach, manufacturers turned toward yet another software solution — PLM. Through consolidated data-sharing systems as well as improved communication, PLM can optimize each stage of the product life cycle.
Diving into the IIoT
Whether it's hospitality or financial services, the IoT has made its mark on virtually every industry — and the industrial sector is no different. New capabilities — such as predictive analysis and real-time data collection — have been made possible by the IIoT. Instead of guessing when a piece of equipment might require maintenance, manufacturers can now leverage data gathered by the IIoT to enhance risk management along with safety compliance.
Perhaps even more importantly, data silos that plague industrial efficiency may soon become a thing of the past. By aggregating data from every connected device within a manufacturing plant, the IIoT can provide executives with the insight needed to increase efficiency and ultimately make better business decisions. Such progress, however, is far from a sure thing. Challenges posed by PLM could stop the IIoT in its tracks.
Clamping down on data
Data helps drive decisions. The more widely available it is, the better chance manufacturers have of making the right call and preventing problems later on. If, for example, a device's usage rate and repair history is made available, manufacturers could prepare for potential issues long before they become a reality. Unfortunately, getting hold of such data is often easier said than done.
All too often, valuable device data is confined to the engineering process by PLM. Although it can help guide product development, the impact of such information could be even greater. From maintenance to improvement, data compiled by the IIoT has the power to influence every aspect of the product life cycle. Whether or not that happens, however, may depend upon accessibility. PLM continues to place product information out of reach for most manufacturers. And until that changes, data might not make the difference it could.
Spreading the data love
The only thing harder than unlocking data? Sharing it.
While manufacturers typically struggle to free up data, distributing it across the value chain could prove just as challenging thanks to PLM. Though just a temporary solution, giant spreadsheets of data routinely serve as the extent of many companies' efforts to disseminate important information. Considering the rapid growth of the IIoT, that needs to change sooner rather than later.
As connected systems, machines and sensors become increasingly common within the industrial sector, manufacturers have the opportunity to efficiently share data and address challenges like never before. Sharing may be designed into solutions or built in as they evolve. Local storage at the sensor or intermediate nodes, data transport and centralized, easy-to-query databases need to replace spreadsheets that have stunted data sharing for far too long.
When it comes to the IIoT, data rules the day. Connectivity between different devices helps facilitate information sharing across every part of a manufacturing plant. To ensure this opportunity for increased visibility, transparency and efficiency remains within reach, manufacturers must continue to combat some of the challenges that accompany PLM.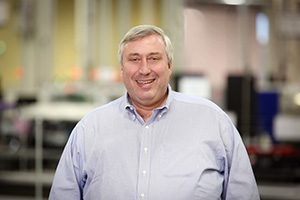 About the Author
Alan Mindlin is a Technical Manager at Morey Corporation, focusing on new business development and new customer acquisition. He does so by leading strong product design teams, creating state-of-the-art solutions and using best-in-class manufacturing facilities.
Alan has nearly 40 years of engineering expertise, having worked with Bell Laboratories in the U.S., Europe and Asia, and as a consultant for startups. He also has a bachelor's degree in electrical engineering and a master's degree in marketing and operations from Washington University in St. Louis, as well as a master's degree in electrical engineering from Purdue University.