In the fight to stay competitive, manufacturers will look to AI technologies to fuel a successful operational transformation.
by Kendra DeKeyrel, VP, Asset Management Products Leader, IBM Software
With industry 4.0 in full force, manufacturers are pressured to stay competitive. Over the past year, there has been a massive industry-wide shift in the adoption of AI technology to keep up with the demand from customers. We've already seen one-third of IT professionals surveyed globally say their business is now using AI, with 43% saying their company accelerated their AI rollout. By utilizing AI, manufacturers can achieve greater operational efficiency and resilience – while generating cost savings and aiding customer growth, retention, and acquisition. This year, AI-powered solutions will become even more mainstream in manufacturing because they provide a way to meet 3 critical goals within the workplace: achieving higher-value work, increasing overall equipment effectiveness (OEE), and creating a more sustainable approach.
Achieving higher-value work
Achieving higher-value work starts with the acceptance of AI across the organization. It's common that employees are likely to challenge the idea of opting for new technologies that add overhead – this means that AI advances must be easier to use and provide a shorter time to value than existing tools.
Many new innovations are evolving around robotic AI-powered autonomous systems that use mobility and computer vision to perform more ad hoc tasks. For instance, a robot can easily communicate with machines on the shop floor to gather more information or perform basic operational tasks. This creates more time for employees to focus on higher-value tasks like having conversations with customers, solving problems, and making decisions.
We've also seen manufacturers begin to embrace IT/OT convergence to enable employees to do their jobs more efficiently. Manufacturers understand that connected manufacturing assets (IoT) are now part of the end-to-end IT systems. Rapid improvement to these end-to-end systems while minimizing service disruptions is at the very heart of business competitiveness. Manufacturing IT/OT convergence enables more direct control and complete monitoring, with easier analysis of data from these complex systems, from anywhere in the world. This propels workers to do their jobs more efficiently and improves decision-making, as organizations have access to real-time insights that converged data provides.
Service management tools like IBM Control Desk for Maximo, add-on to Maximo Asset Management can be used to improve support of IT/OT convergence making It possible to dramatically improve Key Performance Indicators (KPIs) in service delivery, asset utilization, and rate of change across the enterprise.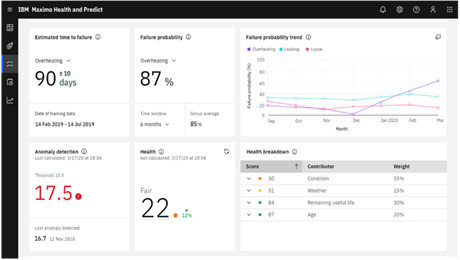 Increasing OEE
Asset-intensive industries like manufacturing can benefit from equipment utilization solutions built with AI-powered automation, machine learning, and other intelligent capabilities to help organizations understand when and how these assets are being used. This information can help companies optimize the quality and utilization of assets to increase production and reduce operations costs. Equipment upkeep is one of the most important things for manufacturers to stay on top of. Using AI can significantly drive up OEE via predictive maintenance for manufacturers. This KPI metric attempts to measure how well machines are operating, with end-to-end production time and quality as factors in the equation. For example, AI can be used to identify bottlenecks in machinery preventing a potential domino effect of ongoing challenges which can cause significant downtime.
Creating a more sustainable approach
As we know, sustainability is certainly not a new concept, but it is a critical imperative for today's business operations across all industries. More companies are striving to strengthen their brand by building a sustainable business model that is built on public trust. AI-powered capabilities are critical for building a more efficient, sustainable model for manufacturers. Sustainable manufacturing goes beyond positioning your business as "green", but rather using these efforts to provide significant results while enhancing employee, community, and product safety.
As mentioned, using AI for predictive maintenance can help streamline the production time and the quality of machines – in turn, extending the lives of machines by years and reducing C02 emissions. Having a sustainable facility is just as important as having sustainable asset management. In a manufacturing facility, you can manage and monitor the assets within each structure such as HVAC systems, elevators, exit signs, etc. With the use of AI-driven insights here, you can perform predictive instead of reactive maintenance and reduce both the energy used and the overall carbon footprint of your portfolio.
With the right technology, manufacturers are even able to create digital versions of their facility that can mirror and monitor building systems and troubleshoot problems before wasting resources on unnecessary or inaccurate repairs. AI will not only streamline success for manufacturers but will also showcase the role that technology plays in creating a more sustainable planet.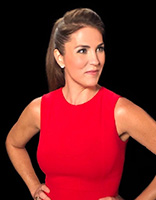 With 20+ years at IBM, Kendra is an expert at understanding how technology helps organizations solve critical business problems. As the VP for the Asset Management products, she focuses on bringing AI and IoT technologies together to deliver greater value and insights to IBM customers.