January 3, 2019
YouTube may have started out in 2005 as a place on the internet to share funny or shocking videos, but today it's one of the premiere advertising platforms in the world—particularly through marketing on YouTube influencer videos.
If you haven't experienced the phenomenon that is YouTube influencer marketing, here's what you need to know: Adults and kids are making millions of dollars recording themselves playing with toys, putting on makeup, and evaluating products that they buy from well-known brands in exchange for fans and cash. Two of the most successful genres of YouTube influencer videos are "unboxing videos" and "haul videos," which are uploaded in the thousands and have total views in the billions for some of the world's top influencers.
To understand this modern-day marketing phenomenon better, Shorr Packaging Corp. recently analyzed 3,000 most recently uploaded "haul" and "unbox" videos on YouTube, looking specifically at what these types of videos focus on, in terms of product categories and brands.
Here's a brief summary of their most intriguing finds.
What Are Haul Videos?
A haul video is one in which a YouTuber discusses a number of products that they have recently purchased on a shopping spree that they call a "haul." In their analysis, Shorr determined that clothing haul videos were the most common (coming in at 59% of the total haul videos) but beauty and makeup, groceries, toys, books, music, comics, pet supplies, craft supplies and jewelry are also popular.
In addition to content, Shorr also looked at what the top brand mentions were in these haul videos, which included some of the biggest retailers in the world. By far, the most mentioned brand in the slew of haul videos they analyzed was Dollar Tree, which had 26% of the mentions. Other top brand mentions were Zara, Trader Joe's, Costco, Forever 21, Walmart, TJ Maxx, Target, H&M, Sephora and Brandy Melville.

What Are Unboxing Videos?
An unboxing video is similar to a haul video in which a YouTuber is discussing product, but this type of video is one in which they open a package with a product in it and then proceed to their review or actually use the product. The most common category of unboxing videos is toys (which comprises about 29% of the total unboxing videos), but phones, computers, tablets, gaming consoles, cameras, auto parts, food, makeup and smartwatches are also popular.
The top brand mentions in these videos are a wide variety, but the biggest portion is Ali Express, which is a Chinese online retail service, which had 21% of the mentions. Other top brand mentions were Samsung, Apple, Google, Amazon, Sony, Lego, Xbox, Disney and Nike.
Who Are The Influencers?
So, who exactly are these influencers—and just how many video views and subscribers are we talking about here?
According to the analysis, a typical hauler has two million total views on their videos and about 21,000 subscribers, earning them less than $6,000 per year. However, 3% of haulers have over 100 million video views and more than 1 million subscribers per channel and 54% of haulers have between 1 million and 100 million video views. Unboxers, on average, are significantly less popular than haulers, with about 1,500 total views and 40 subscribers and typically do not make any money off these videos.

How Much Money Is Made?
YouTube influencers upload these unboxing and haul videos for more reasons than just the likes and the comments—they also have the promise of getting paid. But how much exactly?
According to 2018 SocialBlade data, about 40% of haulers make between $1,000–$10,000 every year, 3% make over $100,000, and only 15% aren't earning anything. For unboxers, the climb is a little steeper: the majority (64%) earn nothing on their videos and only 18% are making as little as $1 to $1,000. At the very top of the pay scale, however, it's similar to haulers—with 1% earning between $50,000–$100,000 and 2% earning over $100,000 per year.
Though these videos vary widely on what products they review, Shorr's main finding was that unboxing or haul videos rarely had negative impressions of the products or brands. They also suggested there is opportunity for brands to work with "nanoinfluencers," or YouTubers who have less than 10,000 subscribers (but who still have a solid following). These influencers have a built-in authenticity that you don't see with the bigger YouTube personalities, who have sponsors and millions of fans. Brands can get more bang for their buck using these lesser-known personalities and aggregate influence that is more genuine than with the bigger stars.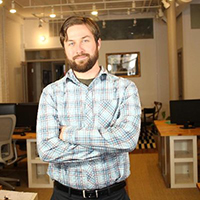 About the Author
Matt Zajechowski is Senior Content Strategist and Researcher at Digital Third Coast. He loves all things content, emerging trends and fascinating new research. Connect with him on Twitter and Linkedin.
Contact:
matt@digitalthirdcoast.net
Phone: 248-632-0200