Unanticipated geo-political and economic uncertainty coming out of the first quarter of 2017 have the potential to create formidable headwinds for deal makers for the balance of 2017.
Key trends/highlights
Deal value decreased 13% from $26.0 billion in Q4 16 to $22.5 billion in Q1 17. Deal volume decreased from 68 deals to 57 deals, a 16% decrease, over the same period.
Megadeal (deals greater than $1 billion) volume increased from six to seven deals when comparing Q4 16 to Q1 17, while disclosed value of megadeals decreased from $14.4 billion to $12.3 billion, a 15% decrease, over the same period.
Industrial machinery continues to lead the M&A activity with a total deal value of $11.1 billion, representing 49% and 35% of deal value and volume for Q1 17, respectively. The rubber and plastic products category registered the highest growth over Q4 16 by both value and volume, driven primarily by BWAY Corp's acquisition of Mauser Group for $2.3 billion.
The Asia and Oceania region remains as the top contributor to M&A activity, and accounted for 42% and 60% of deal value and volume in Q1 17. UK & Eurozone was the only region with growth in Q1 17 vs. Q4 16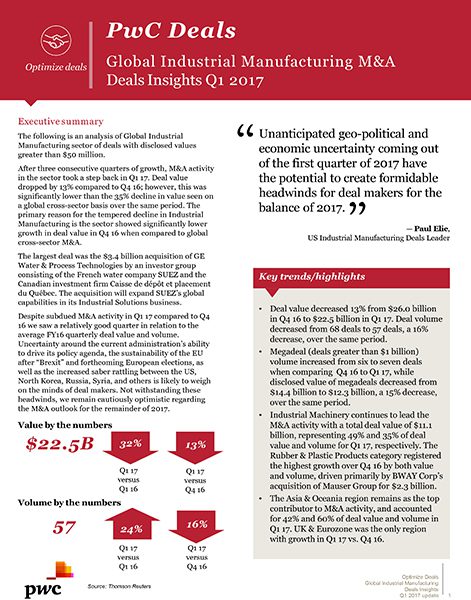 Global Industrial Manufacturing M&A Deals Insights Q1 2017
PwC's full report and additional information on the top 10 deals announced for the year, their regional and subsector analyses, and the outlook for this sector.