Exact Metrology is excited to announce their upcoming Technology Fair in Moline, Illinois and Brookfield, Wisconsin.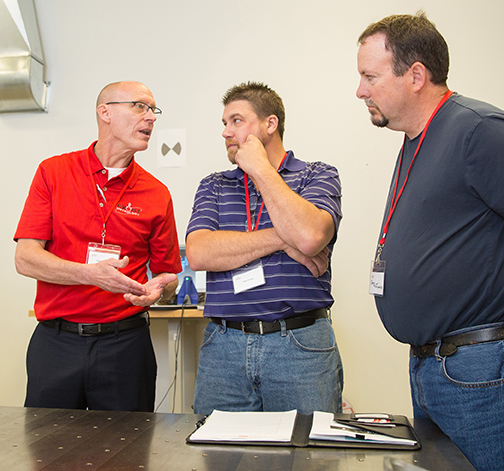 Exact Metrology: A Division of In-Place Machining Company, a comprehensive 3D metrology service provider and hardware sales company, is excited to announce their upcoming Technology Fair in Moline, Illinois and Brookfield, Wisconsin. Both events give visitors the opportunity to witness 3D scanning demonstrations, discuss industry improvements and much more.
Topics covered will include methods of data capture, the latest advancements in articulated arm technology, new developments in Polyworks2022® and Design X™ 2022, as well as reverse engineering. Attendees will also have the opportunity to chat with representatives from Exact Metrology's parent company, In-Place Machining Company and its sister division, OASIS Alignment Services.
The Absolute Arm from Hexagon Metrology, which will be displayed at both fairs, has an IP54 protection rating. This is a market first for portable measuring arms and it comes with an environment-related improvement that sees the system's maximum operating temperature increased to 45°C. There are also improvements to the functionality of the Absolute Arm wrist display, now upgraded to a touchscreen, and the RDS software that drives it. With the CP-W Wireless Pack, also IP54 rated, every Absolute Arm boasts full-speed performance all of the time, even when high-speed scanning over a wireless connection.
Polyworks2022® digital platform now facilitates multipiece inspection when CAD data isn't available and introduces a universal data hub. Digital connectivity is improved with the deployment of global metadata management strategies and the programming of alerts that automatically detect failing dimensions. The collaboration between probing operators and measurement hardware has reached a higher level with mixed reality display technology that enhances the operators' perception of 3D metrology. Lastly, the software released an API to query data from its data management solution and inject it into third-party software applications
Geomagic® Design X™ combines robust 3D scan processing with complete CAD design functionality. New and enhanced features are Selective Surfacing, separate meshes, updated files I/O, etc. Selective Surfacing features simplify the hybrid modeling process, providing easy workflows for traditionally difficult parts. Separate meshes is a new function that easily separates a multibody mesh object into independent entities for improved handling of additive files and assemblies. File import capabilities have been updated, providing the latest connectivity to scanning devices and updated LiveTransfer to CAD compatibility.
A breakout session will be hosted by Tec-Ease. Based in Fredonia, New York, the company provides high quality products and training for the manufacturing industry in the areas of Geometric Dimensioning and Tolerencing (GD&T), Print Reading and Tolerance Stack-Ups. Their session will cover the foundations of GD&T, why it's important and use of envelopes in GD&T. There will also be a breakout session from Innovmetric to discuss updates in Polyworks2022® and one from 3D Systems, concerning updates for Geomagic® Design X™.
Brookfield's Technology Fair is scheduled on June 15, between 9 am and 3 pm CST. The Moline Technology Fair will take place the following week, June 23 at the same time.
Free admission and refreshments/lunch are included for both.
Sign up for either or both of these by clicking:
Brookfield: https://www.eventbrite.com/e/exact-metrology-brookfield-wi-open-house-2022-tickets-318851612757
Moline: https://www.eventbrite.com/e/exact-metrology-moline-il-open-house-2022-tickets-319868213437
In-Place Machining Company: On-Site Machining Solutions In-Place, Any Place in the World.
In-Place Machining Company, with facilities in Wisconsin, Washington, Virginia, Ohio, and Ontario, Canada, is the premier provider of high-precision engineered on-site machining, metrology, and large scale cutting & drilling services for a wide range of renewable energy, aerospace, industrial, and military customers throughout the world.
Exact Metrology: A Division of In-Place Machining Company, is ISO9001, AS9100 Certified as well as ITAR Registered.
Exact Metrology: A Division of In-Place Machining Company, with facilities in Cincinnati, Ohio, Moline, Illinois and Milwaukee, Wisconsin, plus affiliated offices throughout the country, is a comprehensive metrology services provider, offering customers 3D and CT scanning, reverse engineering, quality inspection, product development and 2D drawings. The company also provides turnkey metrology solutions, including equipment sales and lease/rental arrangements.
OASIS Alignment Services: A Division of In-Place Machining Company
OASIS Alignment Services: A Division of In-Place Machining Company, provides 3-Dimensional Metrology Services, Precision Alignment Inspections and Diagnostics and Mechanical Services across a wide range of industries including aerospace, automotive, power generation, shipbuilding, pulp and paper, converting, printing, plastics, textiles and more. OASIS has completed thousands of successful projects since its inception in 1982 and continues to set industry standards in alignment procedures, specialized tooling and reporting techniques. OASIS operates service centers in New Hampshire, North Carolina, Florida, Ohio, Wisconsin, California, Washington, and Ontario and Québec, Canada. For more visit www.oasisalignment.com
For more information, please contact:
Exact Metrology: A Division of In-Place Machining Company
Kelly Baldasare
11575 Goldcoast Drive
Cincinnati, OH 45249
Local: 513-831-6620
Toll Free: 866-722-2600
www.exactmetrology.com
kellyb@exactmetrology.com