Volume 11
| Issue 5
| Year 2008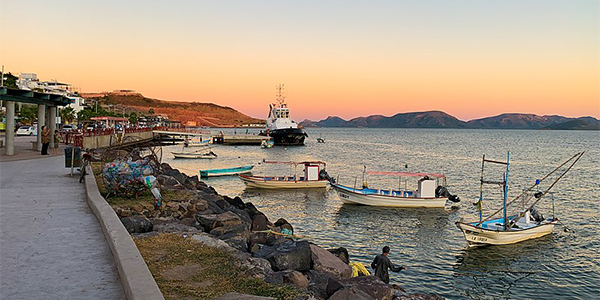 Quick! What's closer to New York, Atlanta, Chicago, and Washington, D.C. – Los Angeles, or Mexico's Pacific coast? On first glance, it might look like six of one, half-dozen of another. Shipping products bound for the East Coast though ports on the United States' West Coast would seem like a no-brainer: no customs, no borders, no problem. Except, it's not quite that simple. thanks to the eastward curve of the continent's western edge, Mexican ports south of L.A. and San Diego are actually about a third closer to the East Coast. And since the North American Free Trade Agreement (NAFTA) went into effect in 1994, borders and customs have ceased to mean much when it comes to trade.
Suddenly, a transportation corridor between Mexico's West Coast and the United States' east doesn't seem like a bad idea, especially considering how swamped the industrial ports are in southern and central California. Now, the corridor is on its way, and one big player will be the Mexican port of Topolobampo. Though it's not one of Mexico's busier ports, Topolobampo is moving on up with aggressive expansion projects, and a new role as the termination point for a trade corridor connecting Asia and the East Coast of the United States could put it on the map in a big way.
SPECS
Topolobampo is located next to the eponymous city, on a jutting fist of man-made land surrounded by shallow sand flats. The navigation canal leading to the port is, at 22 km, the longest in Mexico. The port originally was founded as a launch point for the agricultural goods – mainly corn – produced in Sinaloa state, and it also served as a docking point for ships carrying the copious amounts of fertilizer required by the regions farmers.
Like all ports in Mexico, it is administered by a private concessionaire of the government, Administración Portuario Integral de Topolobampo, or API. Today, though it remains a relatively small port, Topolobampo is an important link between Sinaloa and the Baja Peninsula.
GATEWAY TO BAJA
One of the principle businesses of the port these days is ferry service. A ferry with the capacity to carry 2 km worth of cargo and 1,000 passengers makes one round trip every 24 hours. Destination: Baja, Calif.
In January, a second ferry came on line, although this one will be a much faster catamaran. The catamaran is smaller, with capacity for only 24 tractor trailers, 50 tourism cars, and about 250 passengers. But it's also twice as fast, and able to make two round trips per day to the Baja Califoria port of La Paz.
The new ferry is just the tip of API's aggressive plan to expand Topolobampo's capacity and make it a crucial port regionally. "We're going to grow a lot," said Carlos Solis, API's sales manager.
TOP TRAFFIC
Cargo remains the most important part of the port's business, and that segment is set to grow by 100 percent. At the moment, the port has a total of eight docks. Six of those docks are concessioned out for the exclusive use of private companies – one to Cementos de Mexico, one to Petróleos de Mexico, one to fertilizer company PROPETOPO, one to the catamaran, and two others for various shipping and fishing activities.
Of the docks API operates, one is 240 meters long and used for the loading and unloading of general purpose cargo, including containers but only as long as the ship itself has a crane. Another, smaller dock is used for the same general purposes.
Topolobampo deals with more than four million tons of cargo annually, Solis said, with a little less than 5,000 containers passing through the port as part of that. The port took an important new step in October when it began shipping out iron ore. The first shipment of 42,000 tons, with destination being China, left port last year.
With 20 million proven reserves around Topolobampo, the shipping of iron ore will become an important segment of port traffic, Solis said. The plan, for the moment, is to ship out two million tons annually. "We're taking that out of a single mine, but there are many other mines," Solis said. "So it's very probable that we will move about three million tons per year."
Some coal extraction projects are also projected, Solis said.
IMPORTANT PLANS
But that's only part of the growth Topolobampo expects to see in the coming years. At the root of potential growth are geographic location and geopolitical reality. With ports in California swamped and trade with Asia becoming ever more important, the East Coast of the United States needs a faster way to receive shipped goods. U.S. and Mexican officials are looking to Topolobampo.
It will be a complex and expensive process, but the idea is to construct a shipping corridor – possibly including rail and highways – from Topolobampo across Chihuahua and Sinaloa with the final destination of Dallas, Texas. Solis said the port is a full 30 percent closer to cities like Chicago and New York, and with NAFTA in place, it makes perfect sense.
The federal government is in talks with local and state governments, as well as private contractors and the state railroad, to seeabout making this dream a reality.
DEEPER AND WIDER
API, however, isn't waiting around. The port administrator is already putting into action a plan to almost double the port's capacity. With construction already started, API is filling in 36 hectares of the shallow bay that surrounds its terminals, which will add important space that can be used for a variety of projects.
The plan at the moment is to build six more docks, at 300 meters each. One of those docks could be a dedicated container dock to speed up loading and unloading of that crucial traffic. That terminal would also have refrigeration capacity.
Another specialized part of the new expansion would include a facility dedicated to mineral traffic, like the iron ore that the port is shipping out at the moment. In addition, to get all those big Asian boats in and out of the port, the project plans to widen and deepen the navigation canal.
Right now, only one boat at a time can pass through, but Solis said the planned expansion of the canal will allow two-way traffic. Meanwhile, the first phase of the expansion will also deepen the canal, from 12 to 14.5 meters, and the second phase will deepen it again to 16 meters.
INVESTMENT
All this will take a rather large amount of investment. Solis said API is putting up $5.5 million to get the construction started, and that the port has plans to invest an annual $3.7 million to keep the expansion moving and for regular infrastructure adjustments.
At the same time, the port will welcome private investment, Solis said. And there will be lots of opportunity for that. With such a big project and such big-picture plans, Topolobampo is on the map, more than ever before.