April 11, 2018
By John Graff, Xplore Technologies
Risk is running rampant in the manufacturing sector today: The risk of investing too much on advanced technologies that may never deliver operational efficiency gains. The risk of investing too little on technology and lagging behind competitors in operational efficiency gains. The risk of investing in the right technologies, but not properly applying them across the many business functions that would benefit most from greater workflow automation and mobilization.
Indeed, risk management is a priority for every industry executive today, especially when it comes to the implementation of what are so often considered "disruptive" technologies. So is the reduction of wasteful technology spend. Fortunately, these are priorities shared by many technology solution providers that are partnering with companies like yours to digitalize business processes and facilitate the transition to paperless factories.
It is evident as Industry 4.0 approaches that data is often the gatekeeper to most efficiency gains. However, as most manufacturing industry leaders now recognize, mobile devices are the key to capitalizing on the data generated by the Industrial Internet of Things. Every single worker, regardless of title or skill level, requires a certain level of functional knowledge to be effective at their job. That means that even taskmasters need access to a reliable source of aggregated information, and they need a way to clearly see how the information should be applied to their specific needs in real-time, at all times. Paper is not reliable, and is out of date as soon as you hit "print", thus the aggressive investments towards creating paperless manufacturing environments. At the same time, the business systems being used to aggregate and disseminate the data for that paperless operation – the ERP, WMS, TMS, etc. – also require a reliable source of accurate information to be truly effective at disseminating knowledge back to your internal and external stakeholders.
Mobile computing technologies serve as that data conduit between front-line workers, back-office business systems and "middlemen" technologies, such as IoT devices and sensors. But, given their tight integration with so many lines of business, mobile computers have the ability to disrupt your operation if they are offline due to failure for any reason, such as when they are dropped or when they fail to operate in extreme temperatures. That leads to a lot of mobile technology-related waste: wasted time and money deploying tablets that are too fragile or can't scale; wasted productivity when workers lose a wireless signal (again) or have to find a workaround to connect with specialized equipment; wasted resources trying to deploy software or ancillary technology systems that ultimately prove incompatible.
That is why manufacturers need to assign more value to the ROI of rugged mobile computers, beyond their inherent physical durability. Yes, rugged computers are engineered from the inside out to work in any environment, regardless of the water, dust, temperature, shock or vibration hazards they encounter. Their overall longevity far exceeds a consumer-grade or pseudo-rugged device. The powerful processing, storage, communications, I/O, security, and scanning technologies built into rugged computers are also far superior than any other mobile device on the market. In fact, most non-rugged devices don't even offer an RFID reader, or True Serial port, as an option.
It does not matter if a rugged tablet, handheld, laptop or detachable 2-in-1 is the more functionally-appropriate device form factor for your factory and forklift workflow, a well-applied rugged mobility solution will always prove to be:
The most convenient and reliable way to import and export data between front-line and back-office information sources and give workers the tools to capitalize on the data. Since workers no longer have to leave their station to go to an office-based desktop or a siloed, system-specific computer in the middle of the shop floor to retrieve information, they gain the capacity to retrieve raw materials, perform quality checks, complete routine maintenance tasks and fulfill customer orders with greater haste and accuracy. And, you gain the visibility needed to inform strategic business decisions, pre-emptively address potential logistics issues and minimize a host of risk factors amidst ever-changing market conditions.
The most stable, scalable, and IT-favored foundation for a successful digital transformation. Rugged mobile computers are designed to interop with both your legacy and future IT systems. They will seamlessly connect with your IoT, augmented reality, and blockchain technologies, for example, to facilitate that completely automated information flow needed to flawlessly execute Just-In-Time production, fulfillment and distribution operations. And, they are easily upgradeable from both an OS and workflow software perspective so that you can continually refine your business processes – re-engineer back-end systems if needed – to take that next step towards greater efficiency gains.
In other words: Deploying a true rugged mobility solution is the most effective, and cost-effective, way to manage risk, reduce overall technology-related waste, whether you're taking the first step towards going paperless or accelerating towards a full-automated Industry 4.0 technology architecture.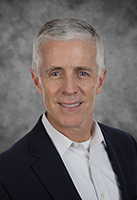 About the Author:
John Graff serves as the vice president of marketing at Xplore. He's responsible for the ideation and oversight of strategic, integrated communications and product marketing initiatives that drive increased brand awareness and widespread adoption of Xplore rugged tablets across the company's addressable markets.
Graff is a graduate of the University of Texas at Austin and holds Bachelor of Science in Electrical Engineering with a minor in Marketing and Business. He's also a science, technology, engineering, and math (STEM) evangelist and serves on the Past Presidents' Council of the Thinkery, Austin's Childrens Museum.