As project needs increase and the talent gap widens, employers will need project managers to fill critical roles to manage big initiatives.
By Joe Cahill, Project Management Institute
The Senate passed the Biden administration's bipartisan legislation that will fund $1.2 trillion to rebuild roads, repair bridges and upgrade infrastructure throughout the U.S., which will not only add economic growth, but also lower the national debt, according to a study from the University of Pennsylvania's Wharton School.
However, a critical question emerges: Who will manage these projects, from planning to completion?
There's no simple answer. The nation is already facing a significant shortage of project management professionals with the training and capabilities to steward key initiatives. Massive efforts like the U.S. infrastructure plan will amplify the disparity between available talent and the growing demand for project management skills.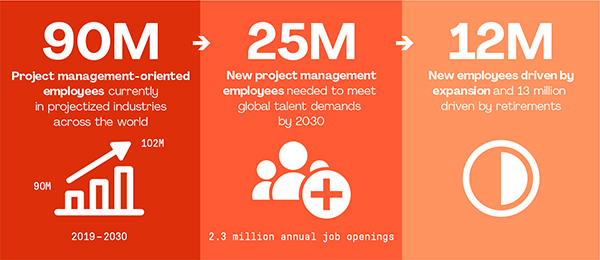 According to the 2021 Talent Gap report from Project Management Institute (PMI), the global economy needs 25 million new project professionals over the next 10 years – approximately 2.3 million new project managers annually. This opens up a host of new opportunities for all changemakers — those who, regardless of their role, are inspired and equipped to drive real, tangible change.
If the deficit in project management-oriented employment (PMOE) remains, the world could face a loss of up to $345.5 billion in global GDP over the next decade, as projects and their successful management are essential to industry and economic growth. According to the Talent Gap report, construction managers are projected to face a 2 percent increase as a top PMOE occupation in the U.S. between 2019 and 2030. Getting enough professionals in place to bridge the divide will be a difficult task for employers, who must overcome primary reasons for the shortage.
One is the considerable increase in the number of jobs requiring project management-oriented skills, especially in critical industries like utilities and construction/manufacturing, the latter of which is by far the largest field for PMOE, with more than 61 million positions projected to be needed. As workplace roles in these and other industries evolve to center on specific projects rather than static responsibilities, many jobs are becoming project-driven, resulting in greater demand for project management talent.
Another factor is the heightened need for project professionals in emerging and developing countries that are experiencing growing pains often associated with surging economies. And, globally, this need is exacerbated by the aging workforce exiting the field due to retirement.
Filling the void
Organizations and governments facing this predicament must recognize the need and move swiftly to address it through upskilling and reskilling. Many individuals already have the capabilities required to become effective project managers; they simply need the opportunity and training to make it happen. One way to encourage your workforce to consider these types of roles is to promote a culture of continual learning.
The most resilient and nimble organizations make employee capability-building a core focus for their training and development programs. As recently reported by McKinsey, nearly 80% of business leaders believe capability building to be "very" or "extremely" important to the growth of their organization. That means developing and promoting new types of learning initiatives that can equip employees with project management skills, such as collaboration, leadership, and mastering new ways of working.
Employees with the potential to be effective project managers may jump at the chance when considering the financial benefits of obtaining a job in this high-demand field. According to the Talent Gap report, in 2019, salaries for project management-related roles in the U.S. were, on average, 78 percent higher than all other jobs in project-heavy industries ($111,399 versus $62,572).
One of the industries with the largest number of project manager jobs is construction, and that need will continue to grow in light of the Biden administration's infrastructure plan. For example, those with the skills to handle the nuances of government contracts may be in higher demand. Similarly, as manufacturing plants continue to implement digital transformation initiatives and embrace such efficiency measures as artificial intelligence, the number of projects requiring expert stewardship will continue to rise.
To gain the knowledge and training necessary to be both effective and marketable as a project manager, many individuals take online courses from PMI that are designed to introduce them to or bolster their skills in project management. One example is Kickoff, a free go-to resource for those looking to quickly learn the basics of strategic project management. Additionally, professionals can visit the New Work Ecosystem resource hub to participate in interactive, instructor-led learning through SeminarsWorld, among other resources.
These resources are used by many individuals seeking to gain certification as a Project Management Professional (PMP)®. Considered the world's leading project management certification – with more than 1 million people certified – the PMP streamlines the hiring process by helping organizations find qualified people to work smarter and perform better.
While the PMOE talent gap is wide, many talented employees – already in your workforce – are available to productively manage your growing list of projects. Any individual who possesses project management skills can help steer change, and upskilling those with interest in and talent for project management can narrow the talent gap and help you succeed in today's project-centric world.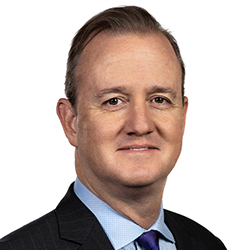 About the Author
As Chief Customer Officer (CCO), Joe Cahill is responsible for all of PMI's Global Customer Group. He oversees the Global Customer Engagement Team, the Global Customer Experience Team and PMI's eight geographic regions. Joe previously held the positions of COO, Interim CEO and SVP of Finance and Administration in his time with PMI.
Joe has over 20 years of senior leadership experience including digital transformation, strategic planning, enterprise system implementation and new business development. Across technology, manufacturing and energy sectors, he has effectively helped build companies and lead change in large organizations. Joe also serves as a UN Global Compact Network USA board member, representing NGOs, to help drive initiatives that further UNGC's mission and purpose.