August 7, 2019
By Steve Dowse, SVP of Product Management, Blume Global
For more than two years we've been living under the threat of new tariffs — with duties that have been levied, threatened and retaliated. While there has been much written about the impact of these duties on consumers and manufacturers; today we'll look at some strategies to mitigate their impact on supply chains.
Tariffs are a tax on imports paid to the U.S. government by the companies importing the goods. They have been levied against goods coming in from China, the European Union, Canada and Mexico — with a particular focus on steel and aluminum from most countries, and electronics from China.
Beyond those already levied, the persistent threat of additional tariffs — such as those announced, and then subsequently cancelled, for Mexican imports — has created an environment of uncertainty that challenges even the most resilient supply chains, with companies seeking to mitigate risk through strategic procurement and alternate sourcing.
Regardless of your strategy, your supply chain will be impacted. In this era of global integration, the measures implemented on a single country or industry will have broad effects on additional countries and sectors. Even before these trade disputes, companies have sought to build more resilient supply chains, by diversifying suppliers and increasing digitization.
The most prominent effect was felt at the end of last year, when the threat of early-2019 tariffs on goods imported from China drove a buying binge of "unprecedented volumes" of U.S. imports — in an effort to beat impending duties — that put pressure on all parts of the supply chain, in particular the ports. In response to such events, supply chain executives have adopted various strategies to navigate the effects of tariffs on their businesses:
Buy ahead: Essentially "stocking up" from non-tariffed sources in advance of the duties going into effect. This "pull-forward" tactic has ramifications — specifically, after you buy them, the goods need to go … somewhere. At the end of last year, importers bringing goods into the U.S. in advance of impending tariffs caused historic clogging of Southern California's ports, pushing drayage drivers and warehouse capacities (and costs) to the limit.
Source alternatively: Procurement departments are examining products and materials to determine tariff exposure — and seeking substitutes. Procurement must know who supplies its suppliers. Only then can it anticipate any disruptions or surcharges and put backup suppliers in place. Diversifying sourcing strategy is another tactic being leveraged to limit exposure to any single market.
Raise prices: Someone has to pay the tariffs — so in the absence of alternative sourcing, the decision comes down to absorbing the cost or passing it on to retailers and consumers through higher prices.
Embrace technology: A digitized supply chain can help anticipate disruptions and ultimately, optimize operations. Real-time analysis of integrated data spanning customers, partners and suppliers will lead to outcomes that better match supply and demand while containing costs. For example, supply-chain visibility is critical to stay ahead of sourcing and logistics challenges from tariffs. Visibility would empower a company to anticipate potential logistics delays at ports from pre-tariff traffic, and make alternate arrangements if delays would impact deadlines. AI and machine learning can power optimization to minimize costs, maximize capacity and increase agility — and anticipate potential tariff impacts while recommending potential solutions.
In this era of global trade unrest, strategies that utilize real-time data analysis and AI-powered optimization can support the sourcing and inventory management required to help obviate the impact of tariffs.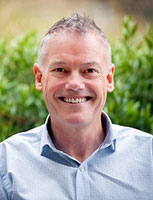 Steve has over 30 years of IT experience within global transportation and logistics. Before joining Blume, he served as CTO for IAS, guiding its technology strategy. As CIO at Transamerica Leasing, he positioned the company as a recognized leader in delivering e-commerce solutions. Prior to Transamerica, Steve was Group IT Director for a major UK-based equipment lessor and, earlier, managed systems for a leading international oilfield exploration service company.