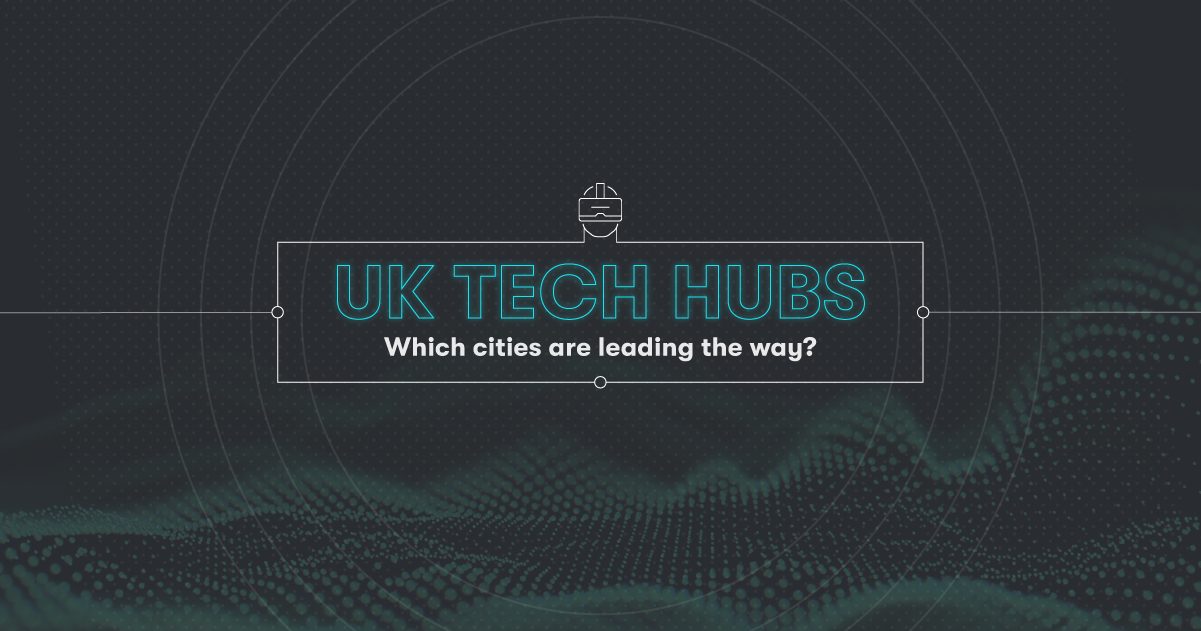 March 1, 2019
The UK is one of the best locations in Europe to start a career in tech, demonstrating unprecedented levels of talent, ambition and overall investment, which has seen a cohort of billion-dollar businesses start up in the country. According to research by London & Partners, the UK is the leading European destination for Silicon Valley investors. But where exactly in the UK is the best location to pursue a career in tech and is it near to where you live?
As the technology sector is expanding 2.6 times faster than the rest of the UK economy and is worth nearly £184 billion, cities across the UK are emerging as major tech hubs, leading the way in research about Artificial Intelligence (AI), Internet of Things (IoT), Data, Virtual Reality and Manufacturing. From Brighton to Edinburgh, these cities are pushing advancements in technology, which as a result is transforming our lives and relationship with tech, and paving the way to a tech future. With employment in digital tech increasing rapidly, rising by 13.2% between 2014 and 2017, could you imagine yourself moving to a new city to pursue a career in tech? As tech spreads across more industries, it is likely that new jobs will emerge and will vary dramatically, making the sector one of the most varied and exciting to watch out for.
After analysing which cities are excelling in a variety of technological fields, the UK Tech Innovation Index reveals the UK top 10 tech hubs.
| | | | |
| --- | --- | --- | --- |
| # | City | Best Field | Score |
| 1 | London | Artificial Intelligence | 42.1 |
| 2 | Edinburgh | Internet of things | 6.3 |
| 3 | Manchester | Internet of things | 4.9 |
| 4 | Glasgow | Artificial Intelligence | 3.8 |
| 5 | Brighton | Data | 3.2 |
| 6 | Cambridge | Manufacturing | 3.1 |
| 7 | Birmingham | Manufacturing | 3.0 |
| 8 | Milton Keynes | Data | 2.8 |
| 9 | Oxford | Virtual Reality | 2.8 |
| 10 | Nottingham | Artificial Intelligence | 2.7 |
It comes as no surprise that London ranks as the top UK city for tech, specialising in artificial intelligence in particular. London is not only the UK's top city for technology but also one of the leading cities in the world, rankingsecond after Silicon Valley. Based on Sonovate's 50 Hottest UK AI companies in London, some of the businesses with the highest amount of funding include:
Both the UK and London, in particular, are home to many tech unicorn companies, which are businesses valued at more than $1 billion. Holding 37% of Europe's total unicorn companies, they have a combined total of $23 billion. Benevolent AI is one of these tech unicorn companies, with offices in Belgium, London and New York. The start-up uses AI to develop new medicines for diseases such as Parkinson's Disease and Motor Neuron Disease and is an example of how exciting it is to start a career in tech in the UK's capital.
Cambridge is also a top UK destination for tech companies, with many businesses having research centres there, such as Benevolent AI itself. Whilst Cambridge itself ranks 6th in the index, it is the key centre for high-value manufacturing, where employment in this area is up to 30 times higher than the national average.
Scotland emerges as a pivotal tech hub with two of its cities appearing in the top 5 of the index. Edinburgh is the UK's second top tech hub after London, recognised for its developments in the Internet of Things (IoT). Last year, Scotland was set to have the most advanced IoT system in all of the UK as part of a £6m project, which was funded both publicly and privately, with the Scottish Government contributing £2.7m. These developments are reflected in the Index results, which show Glasgow as the 4th UK Tech Hub, which specialises in AI.
Brighton is another tech city you could relocate to, particularly if you want to enjoy a creative coastal location. Leading in Big Data, Brighton was also named as the UK's most entrepreneurial city the country's startup capital by Lloyds Bank, seeing an impressive £574 million turnover from businesses in 2017.
With these cities leading the way in five key areas of technology, will you be relocating to pursue a career in tech?
About RS Components
RS Components is the leading global distributor of electronic, electrical & industrial components for engineers, and has been supporting and inspiring generations of engineers since 1937.