Volume 20
| Issue 2
| Year 2017
Click here to read the complete illustrated article as originally published or scroll down to read the text article.
As President Trump rolls out his trade policies, it's the ideal time for a wholesale reconsideration and reframing of our trade law enforcement. Today's efforts are fragmented, ineffective and extremely damaging, specifically to the industrial metals supply chain.
Current trade law enforcement focuses on single issues and single products. While these mechanisms are important, they ignore the dynamics of the global economy and the ease with which violators defy and circumvent potential penalties. The World Trade Organization (WTO) acts slowly and seems powerless to stop the most active trade law violators, led by China. By the time a tariff or fine is levied, the offending product has usually been substituted for another, been transshipped through a cooperating country not subject to the tariff, or been replaced by a product not subject to a penalty but fabricated from the same raw material.
This circumvention of international laws and agreements is standard practice in today's fast moving global economy. If China is slapped with a tough tariff because it is dumping unfinished steel into the United States, it will routinely reroute that same steel through, say Vietnam, and bring it into the United States as Vietnamese steel. Alternatively, it will fabricate the part that was to be made here from that steel and dump the part at below market prices into the United States.
This contempt for trade law robs the United States of its ability to produce steel and aluminum and manufacture products from those metals at globally competitive prices. This is having a serious impact on our economy and metals industries. The industrial metals supply chain, including mills, distribution service centers, fabricators and processors, supports nearly 2.5 mil lion American jobs, paying an average salary of $60,000 a year. It is responsible for more than $500 billion in economic activity annually, approximately 3.5 percent of U.S. gross domestic product.
Still, while the rest of the U.S. economy has gradually clawed its way out of the last recession, the industrial metals supply chain has not. At the end of last year, steel shipments through service centers were still down by about 34 percent from pre-recession levels. Aluminum shipments were off 23 percent and stainless steel shipments remained 15 percent lower than pre-recession levels.
There is little doubt that fragmented trade policy and enforcement have played a part in this decline. There is not a strong, closely coordinated and broadly targeted monitoring and enforcement effort. The U.S. needs to crack down on the consistent and disastrous dumping that is destroying the ability of our mills to stay globally competitive. But when a tariff is rightfully levied on a single raw steel product, at one end of our supply chain, that action ripples through the entire chain making it difficult for downstream fabricators and processors to compete effectively on finished products.
The existing trade enforcement program is blind to this ripple effect. But that can and must change. Not by eliminating rightfully levied tariffs, but by implementing a reformed and more integrated and broadly focused enforcement program. That program would carefully monitor both the raw material and the products made from those materials as they come into this country.
The country must have a healthy domestic source of supply, but just as important, it must have a healthy source of demand. Free and fair trade policy can only be meaningful if it applies across the industrial metals supply chain.
The time for this discussion is now. President Trump and his trade triumvirate—Wilbur Ross, Peter Navarro and Robert Lighthizer have the opportunity to remake and revive our trade enforcement with an integrated strategy that considers the entire supply chain. It is a strategy that should have three guiding principles.
First, aggressively target countries that violate trade laws. Second, consider the impact a discrete enforcement action can have up and down the entire industrial metals supply chain and ensure relief is extended to the downstream components. Third, the enforcement effort must ensure far better coordination and collaboration among the 20 agencies and departments listed by the Office of the U.S. Trade Representative as trade enforcement, monitoring, funding and supervisory entities. This tangle of government offices must be unwound and integrated so key players are systematically talking with one another, and focusing on the integrity of the entire supply chain.
As the administration develops its trade and enforcement policy, we at the Metals Service Center Institute look forward to working with the President and his team to bring new, high-impact solutions to the U.S. metals industry. America must hold our trading partners accountable and develop effective policies to curtail dumping, stop the constructing of excess metals production that leads to global overcapacity, impose effective penalties, and monitor trade law enforcement from raw materials to finished products up and down the entire industrial metals supply chain.
If we could accomplish this, we would truly level the global playing field, improve productivity and profitability, and create and maintain well-paying manufacturing jobs that are the backbone of the United States.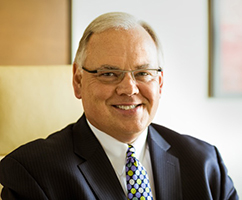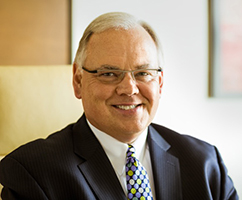 M. ROBERT WEIDNER, III CAE
President and Chief Executive Officer – Metals Service Center Institute
Bob Weidner is President and CEO of the Metals Service Center Institute, a $10 million, century-old trade association representing producers and distributors of aluminum, carbon and stainless steel. Since joining the association in 2001, he has fiercely advocated for North American manufacturing and the use of industrial metals.
Under his leadership, MSCI successfully completed a turnaround strategy, grew its revenue from $4 million to $10 million, and transformed its membership – nearly 60% of members at year-end, 2015, weren't members at year-end, 2001.
This makeover included a merger with the former National Association of Aluminum Distributors and expansion of membership category definitions. MSCI launched numerous new proprietary products and services including: an executive education program at the Olin Business School at Washington University in St. Louis, several quantitative and analytical tools, and a partnership with the National Safety Council. MSCI is an active member of several Coalitions advocating on behalf of manufacturing and free enterprise. Working with its 30 chapters, MSCI engages in grass roots advocacy and has a joint scholarship program, which has granted nearly $5 million to nearly 2,500 children of member company families.
Weidner is an active leader within several business and association communities:
Member (invitation only), U.S. Chamber of Commerce's Association Committee of 100.
Past Chair (2009) of the National Association of Wholesaler-Distributors' (NAW) Association Executives Council. From 2008 – 2010 he was a director on NAW's board.
Past Chair (2011) of the National Association of Manufacturers' (NAM) Council of Manufacturing Associations. From 2010 – 2012 he was a director on NAM's board. Weidner was awarded the prestigious Council's 2014 Leadership Award for extraordinary and exemplary leadership in advocating on behalf of U.S. manufacturing.
Vice- Chair (2015-2016) of the American Society of Association Executives' Key Industry Advisory Council.
Member, Olin Business School's National Advisory Council.
Chair (2014 – 2015) Associated Luxury Hotels International's Industry Advisory Council.
Weidner holds an M.B.A. in finance and accounting from the University of Notre Dame and a B.A. in political science from Northwestern University. He also has successfully completed the Professional Accounting Program at Northwestern University's Kellogg Graduate School of Management. Weidner is a graduate of Culver Military Academy and a past director of the Culver Legion Board of Directors. He and his wife, Kathy, reside in Lake Barrington, IL, and have three children: Lauren, Robert and Matthew.