Video marketing is one of the best ways to promote your business. This guide will explain how to start harnessing video effectively.
Whether it's crafting SEO-friendly blog content or going the traditional route with print advertisements, there are many different marketing methods available to businesses. No matter what budget or resources they have available, it's possible to put together an effective promotional strategy.
With that said, there's one marketing technique that comfortably sits above the rest: video content.
According to research by Jeff Bullas, video produces 1200% more shares on social media than both links and text posts combined. Add to the fact 85% of people desire brands to provide more video content, and it is clear your business cannot afford to avoid this advertising tactic.
Yet video marketing is not something you can jump into without adequate planning. There are various steps you need to take before being able to produce professional, engaging, and informative video content.
This guide will help you get started.
Define your goals
Before anything, you must define the goals you hope to achieve with your video marketing strategy. By setting measurable objectives, you have a greater idea about the type of videos you will create and the required budget to make everything a reality.
Here are a few examples of video goals:
Brand awareness: How many views do you hope your videos will gain?
Conversion rate: You're producing videos to ultimately increase sales and boost your ROI. As a result, a business will track how much impact videos played in influencing sales and conversion rates.
Viewer engagement: This is typically the amount of time a viewer will watch your video on average. Whether you're producing a 30-second ad or a ten-minute product overview, you will want to know how engaged a consumer is when watching.
When setting any goals, ensure they're easy to measure and realistic to achieve.
Formulating a budget
Once your goals are in place, it's about understanding the type of budget you will need for your video marketing venture.
Fortunately, most modern smartphones have a camera powerful enough for creating professional videos. Yet this is only the start. There are other pieces of equipment, such as a high-quality microphone and lighting, which are also necessary. Then you also have to factor in video editing software. Oh, and you may have to hire an employee or outsource the video production work to a specialist agency.
It all quickly adds up.
If you're like most small or medium-sized businesses, your budget will already be stretched to its limit. However, there are various ways to gain financing if required. Going to the bank is the traditional route, but this sometimes isn't a feasible option. In this case, one alternative choice is to use your car for a logbook loan. For example, with loanonyourcar.com, you can generate a substantial amount of money within an hour – and there's no credit check or confusing hoops to jump through.
Choose your video style
You have your goals. You have the equipment. Now it's time to create your videos.
This is an aspect that can go in many different directions. Why? Well, there are several video styles you can decide to choose from. The flexibility of video also means you're not restricted to any one form – you can mix and match in whatever way you desire.
Here are a few examples:
Vlog
Talking head
Interview
Animated
Text overlay
360-degree
Live streaming
Virtual reality (VR)
Of course, some styles work better with certain video types than others. Some styles are also a better fit for specific industries. For instance, a law firm is unlikely to make use of animated style videos.
Choose your platforms
Once the videos have been produced, you need to pick the platforms for your videos. Some businesses will decide to only upload their video content onto their website, whereas others will craft it specifically for social media.
In an ideal world, you should try and post your video content across multiple platforms. As an example, you may decide to upload your full video to YouTube. You then have the option of taking snippets from the video and posting these to Twitter, Facebook, Instagram, etc. This can maximize brand reach while simply recycling content across various mediums.
Stick to a schedule
Now that your video marketing campaign is underway, you must stick to it. Posting the odd video here and there isn't going to help build your brand's presence. You should utilize an upload schedule – preferably one full video a week, at least – to ensure a regular flow of content for your business.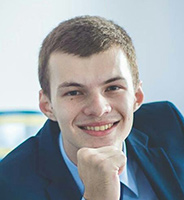 James Daniels is a freelance writer, business enthusiast, a bit of a tech buff, and an overall geek. He is also an avid reader, who can while away hours reading and knowing about the latest gadgets and tech, whilst offering views and opinions on these topics.