New infrastructure spending to create more than 100,000 jobs by end of 2021 and generate over $27 billion in output during 2022-2024.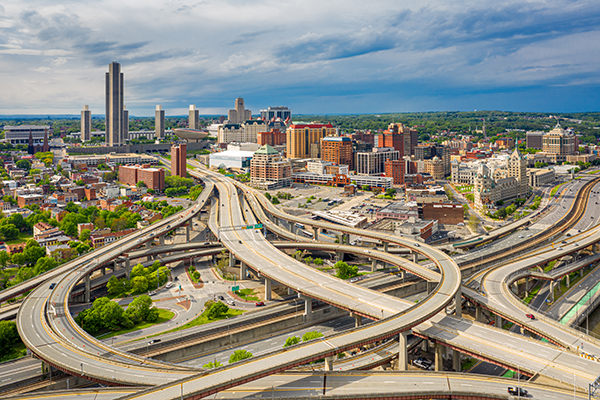 President Biden just signed the much anticipated infrastructure bill, formally called Investing in a New Vision for the Environment and Surface Transportation in America, aka, INVEST in America Act. According to a study commissioned by the Association of Equipment Manufacturers (AEM), the North American-based international trade group representing off-road equipment manufacturers and suppliers, this could mean 500,000 new U.S. manufacturing jobs by 2024. More than 100,000 high-skilled family-sustaining equipment manufacturing jobs in rural areas are expected to arrive by the end of this year, paying an average annual income of $88,000, 35 percent above the current national average.
According to Kip Eideberg, AEM senior vice president of government and industry relations, "The bipartisan infrastructure framework… is vital for the 2.8 million men and women of the equipment manufacturing industry…The data shows that it would also create nearly 500,000 new manufacturing jobs overall, generate over $2 billion in new federal, state, and local tax revenue from the equipment manufacturing industry, and result in an additional $27 billion in overall economic output."
The infrastructure bill is expected to help both state and local governments as well as manufacturers recover from the challenges imposed by the COVID-19 pandemic (some 578,000 manufacturing jobs were lost in 2020), while at the same time rebuild the nation's transportation, water, energy and communications systems.
Let's take a quick look at some equipment manufacturers featured in Industry Today over the years that stand to benefit from the new infrastructure bill.
Komatsu
Komatsu America Corporation makes heavy equipment for mining, forestry, construction, materials handling and energy applications. From our Haul of Fame profile:
The trend in the industry continues to move toward electric drive for off-highway mining trucks…The market agrees with Komatsu that it's the most efficient, cost-effective style of truck for the mining environment. Every other mining truck manufacturer makes electric drive trucks, but Komatsu is the biggest and leads the sector.
Komatsu believes that win-win solutions best serve their customers and their supplier base. Komatsu maintains close relationships with all of its suppliers across the production chain. The approach is in keeping with the company's continuous improvement philosophy.
The latest example of both trending electrification and working with suppliers is the recently announced collaboration between Komatsu and Proterra Inc. According to a company press release, "Proterra will supply its H Series battery system technology to Komatsu for the development of battery-electric LHDs, drills and bolters for underground hard rock mining…Komatsu plans to utilize Proterra's high-performance battery systems for the development of prototype machines this year before the expected commencement of commercial production in 2022."
You can expect that wherever infrastructure is repaired or built, some kind of electric-powered equipment is in use, and possibly supplied by Komatsu and its partners.
Hitachi Construction Machinery
A part of the Hitachi Group, Hitachi Construction Machinery manufactures and markets a variety of construction equipment, including excavators, loaders and dump trucks. From our The Long Haul profile:
Innovation is at the very root of the company, founded in 1931 as Euclid Road Machinery, which decided to tackle a problem that was vexing construction engineers: how to carry heavy loads over rough terrain. Efforts to modify existing truck models by reinforcing the frame or installing special axles did not work. So Euclid designed its own rear-dump hauling units with a capacity of seven cubic yards and named it "Trac-Truk," apparently because of the unique tire tracks on the rear wheels. The innovation made Euclid the leading name in dump trucks to this day, so much so that off-highway trucks were once referred to simply as "Eucs."
According to a company press release, "Hitachi Construction Machinery has rapidly expanded… by shifting from a business model centered on Japanese exports to a focus on local production, sales, and services."
This local business model is likely to benefit with the stimulus provided by the infrastructure bill and new projects for the construction industry.
Precision Pipeline
Precision Pipeline constructs liquid and gas transmission pipelines. Thanks to its partnerships with five other specialty divisions, the company offers "soup to nuts" services encompassing construction, drilling, engineering and dewatering. From our Follow the Piper coverage:
Self-described as "the next generation" pipeline contractor, Precision Pipeline LLC provides access to energy-generating resources nearly as old as the world itself. The company provides state-of-the-art infrastructure for natural gas and petroleum pipelines. Boasting extensive experience in the interstate pipeline industry – the company's activities include the construction and maintenance of pipelines – Precision Pipeline has an enormous footprint throughout North America.
Needless to say, a company that by its very nature embodies infrastructure is likely to see some benefits from the Invest in America act.
Uponor
Pipes of a different kind come from Uponor, a global pioneer in intelligent plumbing and climate solutions for residential, commercial and construction uses. From Pipe Excellence:
[Uponor] is one of the only companies whose pressurized systems are entirely PEX based…PEX, or crosslinked polyethylene, is a flexible, durable piping product that… makes installation easy and long-term stability a guarantee. The best part about the Uponor system is its unique ProPEX® connections. To make a ProPEX fitting, the pipe is expanded with an expansion tool before a fitting is inserted into the expanded pipe. As the flexible pipe contracts around the fitting, it creates a connection with a high degree of integrity.
Case in point is a recent project involving the Wilshire Grand Center in Los Angeles, Calif., the 10th tallest building in the United States and the tallest building west of the Mississippi. Uponor contributed 100,000 feet of PEX tubing in a concrete thermal cooling system used to keep an even temperature and prevent cracking as concrete slab cured.
With the expectation of a lot of concrete getting poured for infrastructure revitalization, Uponor is certainly a potential participant.
Industry Today Covers Infrastructure
Of course, even with a signed bill and funds for new and repaired infrastructure about to be distributed, much remains to be seen. You can depend on us at Industry Today to provide ongoing coverage about the latest infrastructure developments relevant to the needs and interests of our readers and sponsors.