By: Tanja Rueckert
There is a technology that is likely to completely disrupt the way industry is run today and that is especially true for businesses that still rely heavily on physical documentation. For example ocean shipping. Their procedures are quite complex and it's not uncommon to still see physical documents stamped for approval, or PDF'ed for custom officers. Paper-based originals are shipped by express service providers from A to B – domestic and internationally and this process has a significant cost factor. This means printed documents are still handled manually, which creates opportunity for some serious efficiency gains.
The speed of technology advancement and adoption is starting to strain existing processes. Many industry leaders are integrating connected technologies across their supply chains, for benefits such as predictive maintenance, more effective tracking, or streamlined and efficient distribution networks. However, while greater connectivity creates great possibilities, it also comes with its challenges.
Emerging technologies often advance in parallel, as breakthroughs for one technology are often not possible without gains in another. This is currently happening within IoT, as another emerging technology – blockchain has the potential to bring the much-needed speed, security and transparency of transactions across connected device networks, it is a disruptive technology that will change business models.
At its core, blockchain is based on a distributed ledger, creating a complete and accurate recording of transactional data that cannot be copied or altered. It is an ideal solution to ensure accuracy and security for ocean shipping as it is the foundation for building transactional applications that establishes trust and transparency, while also streamlining business processes across company boundaries. Global trade carried out by ocean shipping relies on a web of disparate systems across freight forwarders, customer brokers, port authorities, ocean carriers and trucking companies. Imagine if we could digitize the process to collaborate across companies and authorities, reduce the paperwork, streamline cross boarder movements, and reduce fraud and errors? Blockchain has the potential to do just this. It can also help enable the management and tracking of shipping containers across the world. This tracking provides real-time information on the container and enables stakeholders to make smarter decisions.
Blockchain records cannot be deleted or altered, creating a much-needed level of "peace of mind" for many stakeholders and while what is included in each transaction is kept private, everyone participating in blockchain can see the transactions and blocks within the chain. This is crucial for the remote management of assets that does not rely on a single transaction point.
With all the new emerging technologies like blockchain, no one company can do it alone, it's important to create networks of co-innovation partners to better understand potential use cases, barriers and best practices. This allows developers and engineers to collaborate on features and specific use cases, including IoT, and validate applications and business value proposition with real customer requirements.
At SAP, we recently developed our own network of partners to join us in our Blockchain development, including Capgemini, Deloitte, Grain Corp., HCL Technologies, HERE, Moog, NetApp, PeerNova, and Natura Cosmetics. We see these partnerships as true opportunities for value creation in the blockchain space. Working with them will enable us to accelerate time to market and adoption of blockchain use cases across our user base.
Emerging technologies such as IoT cannot advance without support from other technologies such as Blockchain. When they work together, each technology can maximize its true potential, like the above ocean shipping example.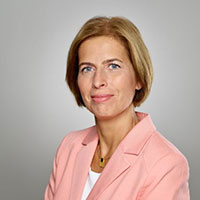 Tanja Rueckert
President, IoT and Digital Supply Chain, SAP
Dr. Tanja Rueckert has end-to-end responsibility for all SAP solutions and go-to-market in the areas of manufacturing, supply chain management, connected logistics, asset management, and the Internet of Things (IoT) and Industry 4.0.
Supporting customers to accelerate the digital transformation of their business models, processes, and assets is at the core of Tanja's organizational charter. She is responsible for driving a compelling portfolio of innovative solutions that are aimed at turning connected things into outcomes and creating new business value. She manages a global team with main hubs in the United States, China, India, and Germany.
Tanja joined SAP in 1997 and has worked on many strategic customer projects, held leadership roles in management, and was the COO of HR and Products & Innovation board areas. She is also vice chair at the Industrial Internet Consortium, a board member at Muenchner Kreis, and a council member at Karlsruhe Institute of Technology.
She holds doctorates in chemistry from the University of Wüerzburg, Swansea University, and the University of Regensburg. Tanja splits her time between Silicon Valley and SAP's headquarters in Walldorf, Germany, and she speaks English, Spanish, and German.