Volume 10
| Issue 3
| Year 2007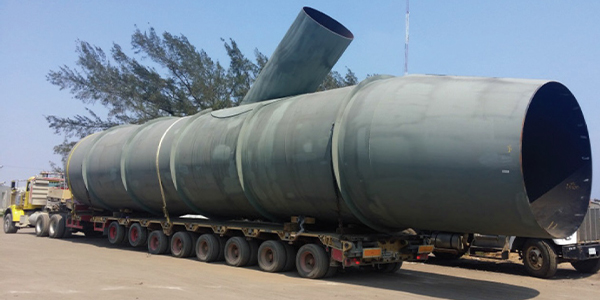 The Protexa Group has been responsible for some incredible things in Mexico. As it has grown alongside the country's state petroleum company, Petróleos (Pemex), it has, over the years, adapted itself to provide a dizzying array of industrial services and products that founder Humberto Lobo Villarreal probably never dreamed of when he started up Protexa as a family-operated roofing materials business in 1945.
The Protexa Group now builds offshore drilling platforms and operates a fleet of exploration vessels. It exports fiberglass cloth and coal tar all over the world. It operates Mexico's largest fleet of Bell 412 industrial all-purpose helicopters. It lays underwater pipe and services oil refineries both in Mexico and abroad.
It all speaks to the Protexa Group's impressive ambition, its daring to try new things and learn to do them better. And perhaps nothing illustrates that daring better than the onshore construction division of the Protexa Group. Since it first started building pipelines in 1950, the onshore construction division has taken the aggressive approach of forming strategic alliances to learn new segments of the construction business. It dared to take on projects as various as major dams, public transportation systems, highways, and natural gas pipelines. Today, that leaves the onshore construction division of the Protexa Group with a wealth of experience, and ready to collect on its daring investments of the past.
At home and abroad
The Protexa Group began its first construction projects in 1950, when it started laying oil pipelines for Pemex. Pemex and other Mexican public works projects have always been mainstay clients for the onshore construction division. But in addition to that, in 1966 – not long after it began doing domestic construction – the onshore construction division won its first international contract: building the Caldas oil pipeline in Colombia for Petroquimica Colombiana del Pacifico. That contract was the start of a pattern of internationalization in the division – today, Protexa has laid more than 10,000 miles of pipe in Mexico and Latin America.
Since that first contract in 1966, Protexa has worked in almost every country in Latin America. In addition to remaining in Colombia all throughout the war there Protexa constructed a natural gas pipeline in Peru. It worked on projects in Brazil and Bolivia, as well as in Central America and Argentina.
Normally, said Hector Chávez, director of Protexa's onshore construction division, the company sought out partners for its international projects. "That's how we do it, in respect to our strategy," he said. "When we go to a country, we always look to associate with local companies to better develop the projects and so they can help us in our relations with the customer."
Learning along the way
Historically, however, that's not the only thing these strategic partnerships have helped with. Both at home and abroad, as Protexa began to win more and more diverse types of projects, it looked for partners that could show it the ropes. For example, when it set out to build the hydroelectric dam in Zimapan, Hidalgo, it did it in partnership with Italian firm Impregilo. The next dam Protexa constructed – "El Cuchillo" in Nuevo Leon, Mexico – it built on its own.
Other important partners have included McDermott International and Texaco Inc.
"The majority of the time, when we start businesses in which we are not experts, normally we associate ourselves, form a joint venture, with a company that has the expertise," Chávez explained. Proceeding in this fashion, Protexa's onshore construction division has racked up an impressive diversity in its own construction expertise, and now has building dams, highways, bridges, docks, pipelines, railways, oil refineries, tunnels, spillways, and public transportation systems. The company has worked on numerous onshore oil and gas drilling projects, with 155,000 miles drilled, up to an average of 4.5 miles depth for oil and 24,850 miles drilled, up to an average of 2.5 miles in depth for non-associated natural gas.
Some of the bigger projects Protexa has taken on include Monterrey's first mass-transit rail line. Protexa also constructed the highways connecting Monterrey with Laredo and Reynosa, and the beltway periférico that rings Monterrey. Some of the projects, Chávez said, have been a bit strange, like when Protexa took over operations on a foundry in Monterrey that was going out of business and was a big local employer. Another time, Protexa took over operating a Pemex refinery that was inefficient and polluting the surrounding area.
"They're very strange and sporadic projects, and well, we dare to do it," Chávez said. "We do the training, and we get them done." Along the way, the onshore construction division has also picked up ISO: 9000 certification, and devotes a department of employees to maintaining it. "There are bidding processes in which very few bidders participate because it's required that they have the ISO: 9000 certification," Chávez said. "It's something important, because it's not so easy to get this certification," and it gives the company an image of order and quality.
Political perils
Despite all that experience, things have been a little slow for the onshore construction division of Protexa in the last few years, Chávez said. That's one of the hazards of making a business out of bidding for, in large part, government contracts: if there are no contracts, there is no business.
"You don't maintain constant growth," Chávez said. "There will be periods in which you have a lot of work, and others in which you have very little work."
He continued: "(Carlos) Salinas (de Gortari, president of Mexico from 1988 to 1994) came and built thousands of kilometers of highways. We had a lot of work in highway construction. Then that trend was gone, and they didn't build more."
Salinas didn't just build highways. He also built dams and many other public works and infrastructure projects, which made his presidency a booming time for Protexa. But the slow times are easily weathered. Like most construction companies, Protexa's onshore construction division is a sprawling company that exists mostly on paper. It has four principle locations from which it manages operations: Villahermosa, Tabasco; Reynosa, Tamaulipas; Monterrey; and Mexico City.
With this setup, investment is pegged mainly to upcoming projects, so even without steady growth, Protexa does not have an expensive infrastructure to maintain. The best-case scenario, however, is steady growth and steady investment in new projects. Chávez said he's expecting both in the near future.
Boom-times ahead
New business for Protexa's onshore construction division will be coming from two directions. First, the Mexican government is expected to start extensively funding infrastructure improvement projects in Mexico, especially in the waterworks and wastewater treatment plants, both of which are areas where Protexa has considerable experience. Based on that, Chávez said, the onshore construction division is expecting to see annual growth of 25 percent during the next 10 or so years.
Another area in which the onshore construction division is looking to drum up more business is the international scene. This year, Protexa's engineers will be back in Colombia working on a highway project – this time not as the students, but as the advisors to one of Colombia's own heavy construction outfits. Chávez sees other areas of important growth in natural gas pipelines, especially in Bolivia. Protexa will soon begin work on a refinery in Costa Rica, as well as a methanol plant in Peru.
Positioned for success
The Protexa Group's onshore construction division finds itself in an advantageous position today. Although it is among the five largest construction companies in Mexico and has to compete with other domestic behemoths, Protexa can say it has a much broader range of experience to offer customers. Chávez pointed out that while Protexa was taking on various projects like Monterrey's first metro line and just about any other public works project that came down the pike, stayed cautiously in familiar territory.
"The owners have been very daring, in truth," Chávez said. "We are, in fact, one of the few construction companies that have chosen to participate in every area of construction." That daring has always been something that defined the Protexa Group as a whole, and especially in the onshore construction division. It's bound to pay off in the years ahead.