The pandemic exposed where industry was lagging digital transformation and accelerated the adoption of digital technologies in other areas.
Before COVID-19, last minute shopping for common household items like toilet paper and Lysol was something we wouldn't think twice about. The pandemic quickly turned those items into rare commodities as on-the-shelf supplies disappeared. Suddenly, the importance of just in time manufacturing and supply chain limitations took center stage.
The manufacturing industry in general has been hampered in adopting digital technologies at scale due to legacy and disparate systems. However, they do recognize that data from these systems if leveraged in can inform and improve production. As such, at the beginning of the year we watched many organizations scramble to modernize information flows, infrastructure and applications. The urgency around digital transformations that bring up-to-date, accessible and accurate data was universally felt.
Those businesses that had started using data to drive real-time operational and tactical decisions around people, assets and resources soon realized the need to create a longer term and sustainable operational model. As we look to 2021, it's essential to take inventory of lessons learned in 2020 and what it means for manufacturing, knowing that digital transformation projects are accelerating.
Humans Remain the Decision-Makers
The rapid rise of digital transformation this year raised concerns that manufacturers may soon become too automated – too reliant on technology at the detriment to workers. Our customer SDI, a digital supply chain company, is a great example of finding the right balance. SDI has created a long-term data analytics platform that transformed previously siloed data into actionable, data-driven insights. This effort ultimately supports SDI in its mission to help manufacturers safely and efficiently produce their products and bring them to market.
We did this by automating many of their existing processes, going as far as using robots to gather data from key sources like the Bureau of Labor statistics. However, SDI was cautious not to automate all of its processes, even with a pipeline of clean, real-time data.
John Delligatti, director of Digital Strategy at SDI, says: "You still want a human there guiding the process when a factory goes down half a world away. This strategy actually makes colleagues less susceptible to job loss because of how it highlights their personal attributes, knowledge of the industry, and relationships with clients. All it means is they now work more efficiently by not wasting time on busywork, doing menial tasks."
In fact, being able to operate a BI platform opens an employee up to new professional opportunities. Especially during times of crisis, these are skills that allow a person to work remotely. This brings us to our next lesson from 2020: data-driven organizations make data and data skills accessible to their employees.
Data Literacy is Essential to becoming Data-Driven
Following the shift to remote work in 2020, more data is being generated by businesses than ever before. This now enables decisions at every level of an organization can be informed by data. Once harnessed, organizations can generate impactful insights that can transform decision-making. However, as data is democratized, is essential to remember the importance of spreading data skills through data literacy on the path to creating a data-driven organization in 2021.
This year we worked with healthcare company Novartis, which manufactures diagnostics, vaccines and drugs for patients worldwide to further their goal of democratizing data alongside increasing data literacy. Through both guided and self-service analytics, we provided a foundation for developing data literacy skills and enabled 40,000 of their employees to make data-driven decisions to reduce manufacturing costs and improve sales. As digital technologies continue to be deployed more broadly across organizations, data literacy continues to be an essential skill for all workers, and organizations already reskilling employees will have the advantage.
The Intersection of IoT and AI Enables "Pre-Action"
In 2020, we saw many manufacturers in reactive mode when it came to fixing supply chain issues. Companies can better handle future events, like a natural disaster or pandemic, by being "pre-active"– that is, to both prepare and act. This means preparing scenarios and having up-to-date data with triggers acting at the speed of business.
The Internet of Things (IoT) is opening the door for real-time data-driven communication between equipment and assets within manufacturing and refinement processes. This offers greater control and faster reaction times over the machinery, reducing waste and enhancing efficiency. And the vast amounts of data generated are becoming a prime source for artificial intelligence (AI) applications and machine learning efforts. Machine learning is ideally suited for automatically identifying patterns and detecting anomalies in the vast torrent of data from IoT sensors.
Digitally transformed manufacturers using these technologies benefit from the combined use of IoT, data, analytics and AI in various ways. The first is predictive maintenance. Being able to predict when equipment will need maintenance helps with scheduling and eliminates the crippling costs of unplanned downtime, which can run in the millions. Additionally, embedded IoT sensors provide manufacturers and service delivery systems a real-time window into device performance updates to refine processes and improve their products and services. Finally, data can help mitigate real risks related to physical accidents and injuries within manufacturing plants, as well as potential cyberattacks on these high-value systems. By monitoring for abnormalities, these technologies provide an "always on" service that is key to maintaining business and consumer continuity.
These examples are just some of the ways that show how data is changing manufacturing and resource management environments today. As we introduce more sensors into every work stream, the possibilities of what data can uncover can be truly revolutionary.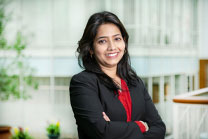 Poornima Ramaswamy is Executive Vice President of Strategic Clients at Qlik. She leads Qlik's Strategic Client Advisory Team, a multi-disciplinary team that blends sales, value engineering and consulting services. Her team designs and executes transformational strategies for large enterprise customers to maximize the value of their overall investments in data and in Qlik's data integration and analytics platforms.