Three principles that future Chief Supply Chain Officers can implement to deliver value across their organizations.
By Carly Guenther, managing director, supply chain & operations, Accenture
An inability to keep toilet paper on the shelves in March 2020 was just the beginning of an ongoing breakdown of global supply chains over the past year. The pandemic highlighted the sheer fragility and complexity of a vast network of supply players and gave rise to one of the C-suite's most important roles: the Chief Supply Chain Officer (CSCO).
CSCOs have become integral across executive leadership teams, responding to ongoing crises during the pandemic as they've worked to control one of the most important elements of their businesses: product development and distribution. As a result, companies are prioritizing restructuring their supply chains and swiftly reinventing their approaches to production, according to Accenture's Business Futures report. Adding further complexity for CSCOs is the purpose-driven consumer with quickly evolving needs.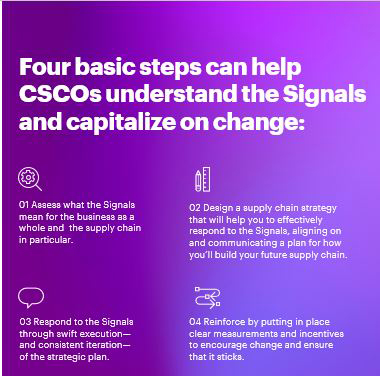 Principle 1: Deliver despite setbacks
As many Americans grappled with a shortage of toilet paper at the beginning of the pandemic, questions were raised as to how this could have happened nationwide. Additionally, why did it take so long for other hot pandemic items – from bikes to webcams – to be fulfilled? The pandemic affected supply chains two-fold. Health and safety concerns, differing national regulations and responses to COVID-19, and a heightened proclivity for online shopping tested the physical constraints of supply chains and caused bottlenecks, longer supply chains, and a widened geographic distribution of consumers. On top of this, consumer expectations shifted as people demanded the same experiences they have grown accustomed to from in-store shopping and became more purpose-driven, as recent research found that 67% of young adults expect brands to be environmentally-friendly
It turns out that many leaders saw visibility into weak areas of their supply chains as a good thing. It has given organizations the chance to break the physical limitations of their supply chains, specifically, to decouple their supply chains from the constraints of distance, ground infrastructure, and packaging and inventory waste. This allows CSCOs to deliver despite setbacks typically caused by disrupted supply chains because they will have increased flexibility to adapt to changing conditions. In fact, 91% of CSCOs agree that breaking the limits of their supply chains is important to their organization's success, including finding solutions to complex and unreliable supply issues.
Principle 2: Prepare for a future crisis
The pandemic had a profound impact on livelihoods, economic stability, and the health and wellness of billions. With the information the world has now, how might companies have better prepared themselves for a global crisis that buckled supply chains?
It should come as no surprise that 83% of CSCOs believe that learning from the future is important for their organization's success. This means fully utilizing the data we have today to provide the best insight for tomorrow. With increased data sharing and collection capabilities, it's up to organizations to invest in technologies that can harness information to predict trends and inform decisions. Those surveyed in the Business Futures report noted that they will do this by capturing new data sets and using innovative analytic approaches grounded in artificial intelligence (AI) to better predict and respond to future events. Nearly half (47%) of CSCOs surveyed believe they'll gain complete confidence in their ability to foresee supply chain bottlenecks within a few years and more than half (52%) say the same about process and equipment failure.
Principle 3: Customers set the agenda
The phrase "the customer is king" has just taken new meaning. Now, no longer are they "always right", but customer expectations set supply chain agendas. But with a range of demands and needs, what supply area should a CSCO invest in?
The answer is not to simply address one demand, but account for the myriad of needs of every customer across multiple supply areas. According to the survey, 84% of CSCOs are prioritizing quality first, 80% for reliability, 79% for sustainability, 78% for speed, as well as experience/personalization to ensure consumer expectations are met.
Organizations that are closest to meeting customer expectations are approaching order fulfilment holistically, making interventions across their supply chains and moving to decentralized networks. Off-White's flagship store in Miami is one such example of leveraging flexibility to fulfill the modern consumer. Opened in August 2020, it's designed with adaptation in mind, accommodating everything from a runway show to a concert, café, and fulfillment center to allow customers to engage with the brand in meaningful ways. The future of supply infrastructure will be built on this foundation of flexibility—assets designed for adaptable, multi-purpose use.
Keeping focused in a future frenzy of supply and demand
It's been said that the only "constant is change." But in today's world, this change can be anticipated and predicted like never before. A wealth of customer data, analytics, and growing transparency in the global supply chain is allowing business leaders greater leverage and control over their enterprises. CSCOs and C-suite leaders must be prepared for this new era of supply and demand to mitigate future risk and capture growth.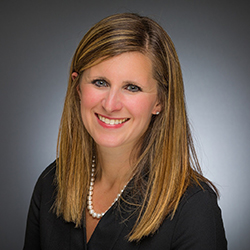 About the Author
Carly Guenther is a leader in Accenture's global supply chain and operations practice, helping companies around the world reconfigure their supply chains to be more digital, more resilient, more intelligence-led and more customer-centric. With more than 16 years' experience in the field, Carly offers deep expertise on integrating new digital technologies to increase efficiency, boost profitability and drive growth.