If one were to scan the myriad of think-pieces and articles on what trends are most prevalent in the manufacturing industry of 2019/2020, a common theme emerges: Intelligent Technology is the future. Plainly put, we're looking at a paradigm shift from the more task driven workforce of today equipped with mobile scanners and computers to a more diverse spread of robotic automation, employees interacting with and managing connected machines/sensors, and big data platforms to tie it all together. Unfortunately, this sleek operational vision of the manufacturing future – and the growth and digital transformation it promises – faces significant barriers to actualization that are all too…..well, human.
According to a recent report by VDC Research, manufacturing organizations display a low degree of technological adaptability and innovation when compared to other industries, notably retailers. The two primary bottlenecks indicated in this study are:
40.2% cited a lack of executive support
A close second at 35.4%, was organizational decision making
It's an age-old story and a bit of a self-fulfilling prophecy:
Executive decision makers seek to keep operational costs down to satisfy a technologically-conservative corporate culture.
This operational focus limits their scope of 'acceptable' solutions, opting for more tried and true technology, and they miss out on rapid advances in networked devices/sensors, automation and the Internet of Things (IoT).
Because of this narrower view, the lag in building the capabilities to adopt the technology when it is 'ready'.
This, in turn, impacts their growth compared with more innovative competitors.
Organizational decision makers increasingly view technology as a necessity, as opposed to an enabler of growth and fail to optimize the technologies they have deployed.
And, the cycle repeats to diminishing returns on technology and receding readiness for the rapidly-advancing pace of technology.
It's a tough cycle for manufacturers to break, but not an impossible one. The study found that a whopping 85.4% of manufacturers cite Managed Mobile Services (MMS) as their most actively used current technology, yet only 7.5% felt that their MMS was optimized. Looking forward, only 5.6% of them believe it will be their most impactful over the next 5 to 10 years. Contrast this to Innovators in general, who leverage MMS as a means to agilely implement technology – while they deploy MMS at the same rate they are XX% optimized,
Meanwhile, almost 50% of manufacturing information technology (IT) decision makers believe that factory floor workforces will shrink by over 10% in the next 5 to 10 years. This line of thinking, however, fails to account for the fact that mobile solutions by frontline factory workers will shift from the "handheld" tasks of today to more advanced and administrative functions such as equipment inspections, maintenance and more technologically-oriented tasks. Consequently, this fuels a low rate of "mobile maturity" among manufacturers. Manufacturing IT decision makers seem to realize that emerging technologies can't be avoided, but they don't know how to respond effectively or proactively. Even if they did, they lack the organizational support to implement bolder more innovative strategies to prepare against these inevitable tech-led disruptions. How, then, can they break this cycle?
The answer may be hiding in plain sight. The very same workforce that they believe will be greatly impacted by the imminent disruption of artificial intelligence (AI) and robotic automation is a resource that can evolve to equip their businesses for agile responses to tech-led disruption. If these decision makers are able to effectively leverage their mobile technology deployments to break the barriers of widespread user adoption and equip their frontline workers to be part of these paradigm shifts, they can position themselves as flexible, innovative entities that can balance existing IT costs with future strategic objectives.
It all starts, however, with focus on that end user. The focus has to lie in how well organizations are able to support and empower that very same end user. To that end, organizations must reprioritize their ability to support and optimize new technologies like automation and IoT ahead of diving in and deploying these technologies. One surveyed IT Operations Manager of a building materials manufacturing operations furthers this point. "We are just scratching the surface of full optimization," he said. "The real payoff will be when we can use it to make decisions. Right now, we are collecting a lot more data than we are using, but it will come."
That brings us to a harsh truth: Manufacturers are among the least equipped to offer this end user IT support internally and develop insights and guidance to enhance future deployments. This lack of "maturity" – i.e. robust support for innovative tech deployments – often leads to endless pilots and projects that don't deliver expected results, that reinforce the lack of organization support referenced at the beginning of this article. It's clear that effective decision makers will increasingly need to outsource their support of these emerging technologies to dedicated partners who can free them to respond in a much more agile manner. Managed services for mobile and emerging technologies are the missing link between current organizational resistance to change and preparedness against imminent tech-driven disruption.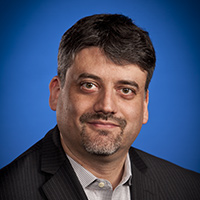 Marco Nielsen, VP of Managed Mobility at Stratix:
Marco has more than 20 years of cross-functional experience in systems architecture, operating systems, hardware and communications for large enterprises. Marco brings extensive experience, leadership and expertise to the development and execution of enterprise mobility initiatives for Stratix. He creates enterprise mobile strategies that align with clients' objectives to assure that device deployments deliver business value.