Arguably one of the first industries to truly embrace data and everything that it offers was manufacturing. As with almost every other sector, manufacturing is undergoing major transformation. And for good reason. The very nature of manufacturing and its logistics-heavy functionality makes it ideal for data-driven technologies such as deep learning, robotics, 3D printing, and automation. These technologies will enhance and completely reinvent traditional manufacturing processes, allowing businesses to adapt and meet the growing demands of clients and consumers.
For any product-focused company, its success is rooted in manufacturing. Without efficient and reliable production, there will be nothing to sell. In our very own factories, we've seen the impact data-driven technologies can have in driving efficiency and opening new opportunities.
Practicing what we preach
As a data company, Seagate understands the value data holds. We not only look to support businesses on their digital transformation journeys but push forward on our own journey too. There are several layers of complexity when designing, building, and testing hard drives. Testing of the drives must be rigorous to ensure no errors or defects occur, while maintaining a production schedule that needs to be 24/7. One other challenge, too, that is unique to hard drives, is transducers. Seagate produces such a vast quantity of these components that inspection by human eye is near impossible.
Therefore, we set out to create a solution to a two-fold issue: processing huge volumes of quality data, while meeting the demands of a strict 24/7 production schedule. Our smart manufacturing platform leverages machine learning and deep neural networks to analyze data in real-time. This created an AI system that has trained itself to identify product defects faster than a human ever could. We can now resolve problems in the manufacturing process before they happen, preventing anomalies out of production. In one project deploying AI this way, at a factory in Thailand, engineers estimate a 20% reduction in cleanroom investments, a 10% reduction in manufacturing throughput time, and up to a 300% return on investment.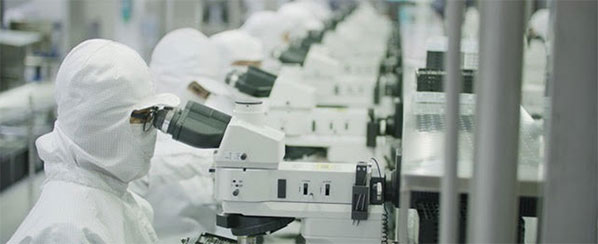 Manufacturing out in front
DATCON (DATa readiness CONdition), an index that evaluates management, usage and monetization of data to help inform today's business leaders on their level of data-readiness, created by IDC and Seagate, found that manufacturing is leading the way. Manufacturers around the world are experimenting with data to improve their production processes and grow their business.
One example is BMW, an early adopter of data utilization. BMW uses big data to identify vulnerabilities on the production line, allowing them to spot weaknesses and error patterns before vehicles actually go into production. This helps to protect brand reputation and, ultimately, save lives.
Manufacturing is an industry that is, and has been for some time, ambitious in its evolution. Data will play a crucial role in this evolution, providing capabilities for the industry to capitalize on the huge growth opportunities.
The data landscape in manufacturing
According to IDC and Seagate, the manufacturing datasphere—Seagate's name for the amount of data being created, captured, or replicated across the globe—is growing at a rate of 30% per year on average. To put this in perspective, the manufacturing datasphere is twice as large as the healthcare, media and entertainment, and financial services combined.
Now, cloud technology remains the number one investment priority for the manufacturing sector, because it enables businesses to break down internal silos, share data among teams, and use that data to gain insights on efficiency savings with analytics. Cloud technology can also bring new levels of data accessibility that, in turn, will help drive new AI services.
Rising to the challenge
Manufacturing is accustomed to handling large amounts of data, but the industry's latest challenge is maintaining efficiency, while adhering to increasingly strict data security regulations. By 2025, Seagate and IDC predict that 82% of manufacturing data will require some level of security protection, and 43% of manufacturing data will be "real-time"—largely generated by Internet of Things (IoT) devices. While real-time data opens up a host of opportunities, it also places greater pressure on the infrastructure to provide live updates on any potential security issues.
To manage this effectively, businesses need to move quickly and decisively to invest in their internal platforms and systems, to ensure it is effectively integrated. This involves three key steps: securing data access, understanding analysis and reporting requirements, and integrating operational and business processes.
Data security is hugely important. Consumers now interact with data more than ever before and are beginning to understand the impact it has on all aspects of their lives. Manufacturers must understand the access rights attached to data, secure access to the data they have the rights to, and make sure these rights are distributed across the organization accordingly.
What's next for manufacturing?
The manufacturing sector's long heritage of embracing technology means it is now seen as a leader in digital transformation and prepared for future disruptions. Data-driven, smart manufacturing will help the sector develop improvements in efficiency and product quality, while keeping costs low. And last but not least, the long-term goal for manufacturers is to integrate their operational data and business processes.
Using their data smartly, manufacturers will be able to create new, more efficient processes. This puts them in an excellent position to unlock new revenue streams and put their resources to work for them in a smarter and more agile way.
Rags Srinivasan is a Senior Director at Seagate Technology. Based in Silicon Valley, he has experience with storage systems and solutions for enterprise and cloud data centers. Rags is currently focused on defining data management for Edge, IoT, and Artificial Intelligence.