August 8, 2019
With the talent gap widening and the pace of digital transformation accelerating, it has become mission critical for manufacturers to attract, develop and retain skilled workers. From the back office to the plant floor, driving manufacturing innovation and ROI starts with optimizing your greatest asset: your people.
But with a serious employee engagement crisis to contend with, manufacturers have their work cut out for them when it comes to creating a competitive advantage through talent.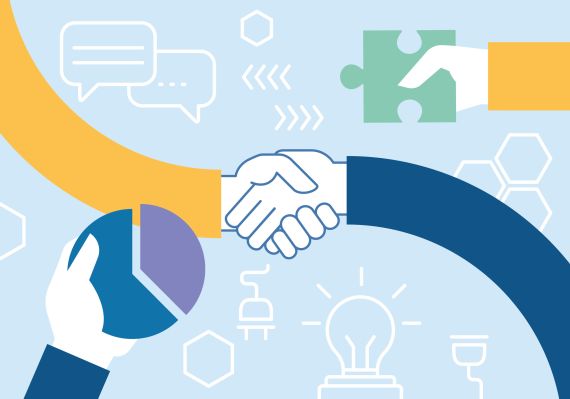 Solving Manufacturing's Employee Engagement Problem
Companies with engaged employees outperform those without them by 202 percent, while also experiencing lower absenteeism, reduced turnover, and 70 percent fewer safety incidents. But despite the clear business value of employee engagement, manufacturing workers remain the least engaged occupation, with three-quarters of employees disengaged.
By investing in employee growth and development, manufacturers can engage employees to drive productivity, retention and profitability. And in the age of digital transformation, the right technology can play a starring role in helping manufacturers tackle the industry's crippling employee engagement problem.
Using Technology to Move the Needle on Engagement
By leveraging talent management technology, manufacturers can empower employees to increase their knowledge, develop their skills and enhance their performance on an ongoing basis—not just once or twice a year.
Here are four ways manufacturers can utilize a talent development platform to upskill and engage employees:
Create a Culture of Continuous Learning
Learning and development isn't a once-in-a-while activity. It's an ongoing, business-critical effort for improving employee engagement and performance. By creating a culture of continuous learning, manufacturers can move beyond compliance-based training to deliver learning that actually engages employees—and translates into improved productivity.Manufacturers should evaluate internal skill gaps and then create training content and development opportunities that will foster those desired skills. Having customized onboarding plans for different roles can also help ramp employees up quickly and efficiently. And a learning management system (LMS) with informal learning, content curation and social collaboration capabilities empowers employees to drive their own development experience.
Shift to Ongoing Performance Management
There was a time when the foundation of performance management was the annual appraisal. But times have changed—and so should manufacturers' approach to employee performance. Prioritizing coaching for growth over "managing" performance can improve engagement and help employees perform to their full potential.By swapping out or supplementing the annual performance review with regular check-ins, multi-directional feedback, and integrated development, managers and employees can have impactful discussions that actually improve performance. With the help of performance management technology, organizations can put real-time feedback and continuous coaching at the heart of their talent management processes—without it becoming a burdensome task.
Drive Organizational Goal Alignment and Accountability
Everybody wants to know their work matters. Linking individual goals to higher-level organizational objectives gives every employee context for their work, helping drive employee engagement. With a talent development platform, manufacturers can align individual, team and business goals, keeping people accountable and working toward a common purpose.Achieving goal alignment and being able to cascade the impact of learning and development through a system where the managers and team members can all see it means everyone pulls together for shared outcomes. By connecting learning activities to employee performance reviews, managers have full visibility into an employee's overall growth plan—from goal setting to competencies to learning activities.
Build Competency-Based Talent Pools
Effective succession planning is critical for today's manufacturers amid an ever-growing skills shortage. To create a more highly-skilled and engaged workforce—while also ensuring employees have the skills they need to thrive in future roles—manufacturers must build targeted and purposeful development plans.A talent development platform allows manufacturers to create customized, competency-based talent pools and assign unique performance criteria to each pool. Production operators need different skills and competencies than employees in the back office, so being able to build out different performance and review processes for each talent pool is essential. It allows every employee to understand their specific performance objectives and how they are being evaluated, resulting in higher engagement.
How Symmons Created a Culture of Continuous Development
Symmons Industries—a premier manufacturer of commercial and residential plumbing products—is one company rethinking traditional practices for keeping a manufacturing workforce engaged and productive.
In looking at its talent matrix, the company recognized that it had a varied range of talent pools, each with their own unique learning and development needs—but all needing to be aligned to Symmons' overall business goals.
By implementing a hyper-connected talent development environment with robust learning and performance capabilities, the organization has created a continuous development culture that enables its people to learn new skills and grow their careers—while also enabling the company to rapidly adapt to changing market needs and pressures.
Transforming the Employee Experience with Technology
Today's competitive manufacturing environment requires a high-performance workforce that is skilled, engaged and accountable. It's why one study found that best-in-class manufacturing organizations—those with a strong focus on talent management, including the use of automated solutions—are better able to address compliance, create time and cost savings, and drive productivity through stronger employee engagement.
By moving from a mindset of one-and-done training—and leveraging talent development technology to help facilitate a development-focused culture—manufacturers can overcome the industry's employee engagement crisis to stay competitive and achieve the results that matter to their business.

Anita Bowness
Principal Product Manager, Customer Success
Saba Software
As the Principal Product Manager, Customer Success in Saba's Strategic Services group, Anita draws on over 20 years' experience in consulting and professional services to help HR leaders recruit, engage, develop and retain their talent. Anita has been published in HR Daily Advisor and HRO Today, featured in an interview on BBC Capital and presented at DisruptHR Ottawa, Saba Insight and Halogen TalentSpace Live. Although she's worked with hundreds of organizations from IT to healthcare, Anita never loses sight of what HR is really about: people. Anita loves helping organizations manage performance so people are more engaged, happier and productive.