How a global file system can help manufacturers simplify data management, maximize remote user productivity and reduce storage costs.
By Saimon Michelson, Field CTO, North America at CTERA
Manufacturers' digital workflows generate huge volumes of unstructured data – PLM files, IoT-generated data, 3D modeling and operational files – that can no longer be efficiently managed by traditional file storage architectures.
Moreover, in most large organizations, productivity and time-to-market require efficient collaboration between hundreds of design, engineering and operations professionals spread across dozens (and sometimes hundreds) of remote sites and facilities.
The need for efficient distributed operations has never been more acute than during the COVID-19 crisis, where social distancing and work-from-home (WFH) for non-frontline employees has become the norm.
To thrive in this new business reality, manufacturers need to revamp their existing data infrastructures. This means finding ways to simplify data management and minimize storage costs, while meeting the file performance requirements of remote office (manufacturing facilities, product design locations) and WFH users.
Reducing Costs Without Impairing User Productivity
To meet these challenges, manufacturing IT departments are looking for data storage and management technologies that harness cloud economics without compromising the productivity of remote users.
The "must-have" requirements for such a data management solution include the following:
Elastic cloud storage – Field results show that using elastic cloud object storage for large design and media files can reduce storage costs by as much as 80%. Capacity can be expanded as needed without IT having to purchase and install new servers.
"Local" high-speed performance via caching – Cloud storage cannot come at the expense of user experience. Remote access and file operations on mega-sized CAD files (SolidWorks, AutoCAD), for example, can take minutes or hours using popular cloud-based file sharing tools. To ensure fast file access for remote users wherever they are, frequently used files should be cached locally, with "cold" files being tiered to cloud object storage.
Data privacy and protection – Regardless of user location and the devices they're using, strong access control and policy enforcement are crucial. In this context, the solution should include audit trails, data encryption and private cloud deployment options. To protect data and ensure business continuity in the event of a ransomware attack or other disaster, it's important to minimize recovery point exposure (RPO) using techniques like incremental file versioning and frequent sync intervals.
Multi-site collaboration – Real-time collaboration among distributed teams accelerates workflows and improves user productivity at remote offices or at home. Multiple users should be able to edit, collaborate, and share files across offices, as well as share blueprints, photos and specs with clients. These capabilities allow project teams to tap into expert resources from any location as needed for optimal project output.
Hybrid Cloud Infrastructure for Remote Work Enablement
A global file system built on hybrid cloud infrastructure is perfectly suited to meet the data management challenges of distributed manufacturing environments. This two-tier IT architecture marries low-cost cloud object storage with high-performance edge filers at remote sites and offices. Manufacturers get the best of both worlds – elastic scalability and infinite storage capacity without sacrificing performance and user experience at the edge.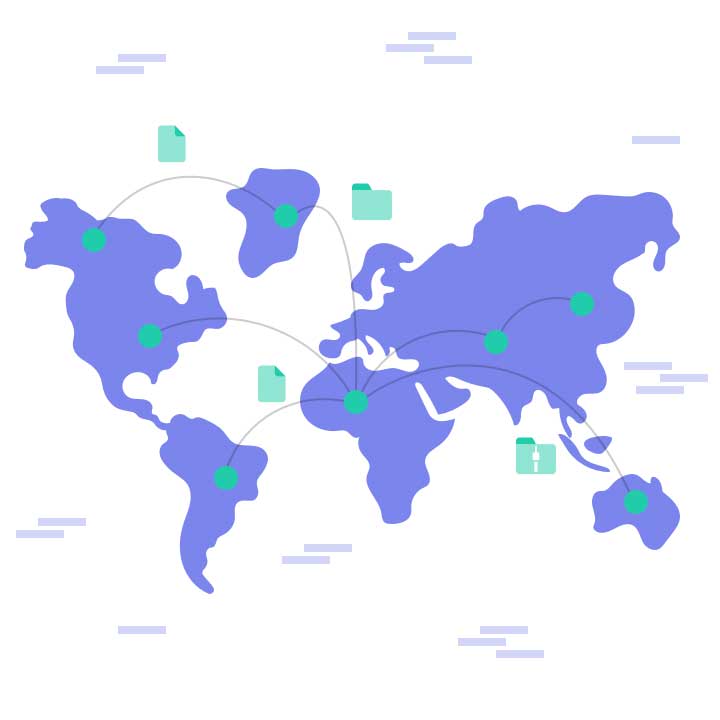 Moreover, the hybrid model facilitates manufacturers' necessary transition to remote work models. Files are stored in a single global namespace in the cloud and made available to remote locations using caching and other tools that connect the edge (e.g., remote offices, home users) to the private or public cloud. WFH users can access the corporate file system with their existing applications and file sharing protocols, while enjoying an "office-like" experience.
From a security standpoint, users can access any file from any location subject to their access rights. Administrators define "zones" which set the unique privileges of each site. These zones can range from a specific folder to the entire corporate file system.
Another advantage of these global file sharing capabilities is that they enable manufacturers to leverage "follow the sun" production models, where engineering and design projects are conducted 24×7 by local teams around the world.
Globalize Your Data Infrastructure
Facing complex and urgent IT challenges – such as explosive data growth, business continuity planning and the need to support remote work models – many manufacturers have realized that it's time to replace their standalone NAS appliances with a modern cloud-based file services platform.
By combining the benefits of edge and cloud storage, the global file system enables manufacturing firms to reduce storage costs and simplify IT data management. At the same time, such a solution enables distributed users to benefit from real-time file access, multi-site collaboration and local performance from any remote site or home office.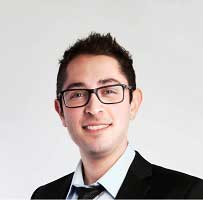 About the author:
With over 10 years of experience in IT, storage and cloud solutions, Saimon Michelson currently serves as CTERA's Field CTO in North America. He has previously held several positions within the company, including product management, sales engineering and software development. Earlier in his career, he designed software solutions for the recruitment arm of the Israel Defense Forces. He holds a BSc in Mathematics and Computer Science from Tel-Aviv University.
Contact:
Saimon@ctera.com
www.ctera.com