Find the 7 essential steps you need to take to make your manufacturing business a success here.
Starting any kind of business comes with challenges, but when you're trying to develop a manufacturing company there are certain tasks you'll need to complete to make it work. Creating products on a large scale and to a high standard is a very demanding task, and it takes a lot of patience, hard work, and expertise to pull it off successfully. If you have previously worked in manufacturing and are interested in starting a company of your own, or have never worked in this business before but want to provide the same service, here are seven tasks you will need to do to get started.
1. Educate Yourself
If you have no prior knowledge of manufacturing, the first step is to educate yourself. Without the right understanding of the business you're more likely to fail, so consider enrolling onto an educational course, teaching yourself the trade at home, or getting some work experience before you start developing your business plans. It's also worth considering what kind of manufacturing you intend to do, and how well you understand the industry you intend to supply for. There's a lot to choose from, so think carefully about this.
2. Find Your Market
Any business plan requires thorough market research and you'll have to do the same. As briefly mentioned above, manufacturing can cover a wide range of industries, from cars, furniture, and toys to pharmaceuticals. To find the right market for your company, you should look into an industry that you have some professional knowledge of, as this will help you to develop your plans and approach clients with more confidence and competence. You should also consider where there is a gap in the manufacturing market too, as trying to set up a new company that is competing with hundreds of more established ones offering the same services could lead to a tough start for you. Set your company apart from the others.
3. Find a Workspace
As a start-up company, you might not need a huge space at first, but you'll certainly need to find one that is big enough for your equipment, for a team of people to work in, and to store your products and materials. A large workshop or warehouse is ideal for this kind of work. As your business grows, you can upgrade to an even bigger space or factory to produce your products on an even bigger scale. But to begin with, keep your business overheads lower with an adequate space until your profits increase.
4. Invest in the Right Equipment
You can't manufacture anything without the right equipment, and what you need will be dependent on the industry you have chosen to supply to. For example, if you're making furniture, you will need tools such as a circular saw, a power jointer, planers, power drills, and chisels (and those are just the basics). The number of tools and your specific equipment needs will all depend on the size of your business operation and you will need to make sure you're factoring that into your budget.
5. Source the Best Materials
Your next job is to source and consider your materials. It's important to shop around for the best deals and the best suppliers to make sure you're getting your money's worth. While you'll be thinking about the best price for your business, don't forget that quality is everything. The better the materials you have, the better your products will be, and the happier your customers will be as a result. Look for experienced and reliable sources such as this experienced strip steel supplier to get the right materials for your company.
6. Think About Distribution
As a manufacturer, it's your responsibility to get your products sent to your clients as part of your order fulfillment. This is where you will need to consider your distribution options. Are you going to do this yourself, or will you outsource this task to a separate company? There are pros and cons to both options, but it will come down to your budget and what is more realistic for your company to manage. If you're sending products overseas to clients, this will be a slightly more complicated process and you may well have to use a distributor.
7. Stay Relevant
Finally, make sure you're keeping up to date with industry news and trends to make sure your company is staying relevant. There will always be a need for manufacturers in society, but that doesn't mean your business is guaranteed to last. Like anything, you need to keep up with the changes and be innovative to stay relevant and be a leader in your industry.
If you're interested in starting a manufacturing business, consider the points above to prepare you.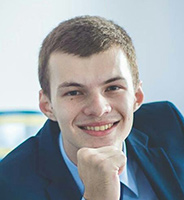 James Daniels is a freelance writer, business enthusiast, a bit of a tech buff, and an overall geek. He is also an avid reader, who can while away hours reading and knowing about the latest gadgets and tech, whilst offering views and opinions on these topics.