Blockchain technology is increasingly used in a variety of business verticals leading to efficiency gains and reduced operational costs.
Bitcoin had less value than a penny in 2010. A decade later, it has been more than USD 20,000 and early investors are swimming in cash. The excitement around bitcoin has also put blockchain — the main technology behind the cryptocurrency — into the spotlight.
According to Gartner, "60% of CIOs expect to adopt blockchain technologies in the next three years. So no matter what your occupation or industry, there is a use case for blockchain and a rising interest in its adoption.
In this article, we'll walk you through the major blockchain trends and statistics that hold great promise for the future of blockchain technology.
What is Blockchain?
Blockchain is a shared ledger that can record transactions and track assets in a network. Since the ledger is distributed across every corner of the network, it keeps the chain secure. The records are shielded by strong cryptography. So they can be neither destroyed nor cloned — an attribute called "immutability."
The assets can be anything tangible (a car, a house, etc.) or intangible (patents, copyrights, etc.). Anything that has value can be traded by using a blockchain network, leading to cost savings and risk-minimization.
So any industry seeking a permanent record of all transactions and trust among all the parties involved in those transactions has a potential use-case for blockchain technology.
Top Blockchain Trends
New blockchain innovations are steadily making their way in the market, offering larger use cases and applications of the technology. The following blockchain trends capture how this technology continues to ignite transformative reforms to multiple industries.
Global Spending on Blockchain to reach $19 billion by 2024
According to a forecast, global spending on blockchain solutions is expected to touch $19 billion by 2024. However, Gartner states that blockchain's value-addition to business will be much higher — $176 billion by 2025 and $3.1 trillion by 2030.

This prediction can be attributed to the simple fact that blockchain heavily reduces the resources and time required to verify transactions.
Blockchain will streamline travel and transportation
Blockchain has optimized operations in industries such as airline, ride-hailing, and car leasing, especially the verification and payment procedures. Hotels have taken note too, using blockchain in a wide range of applications including inventory tracking and loyalty programs.

Although the hospitality and mobility industries have had a bad year due to Covid-19, they can retain their previous status once again with the help of blockchain and other technologies.
Blockchain will improve healthcare
Programs to use blockchain in the healthcare industry are already underway, and their total cost is expected to reach $5.61 billion by 2025, as per a report by Bank for International Settlements.

Using blockchain technology to handle medical records and point-of-care genomics can make a big difference in data management and distribution. This is significant because miscommunication among medical professionals costs the healthcare industry $11 billion a year, as found in a study by Ponemon Institute.
Blockchain will find the finance industry as its biggest advocate
Not surprisingly, cryptocurrencies have been the most prevalent use case for blockchain. Consequently, the finance industry is adopting the technology at a rapid pace.

By 2018, almost 90% of the banks in the Europe and US had initiated projects associated with blockchain. In addition, accountants are making use of blockchain technology in bookkeeping.
Furthermore, Accenture has found that blockchain adoption can lead to cost savings of $7 billion for the insurance industry, $12 billion for banking, and $4 billion for capital markets companies.
This is because conventional trade operations can be slow and clunky. In contrast, blockchain technology helps all the parties involved in a transaction be on the same page and access the same information.
Blockchain will reform the construction industry
Blockchain will play a big role in the construction industry, thanks to its fast and secure transactions, along with assistance in progress monitoring and accurate cost forecasting.
The construction industry has been struggling with productivity issues for the last few years. 75% of capital projects run over their budgets, as revealed in a 2018 UK study by the Institution of Civil Engineers. The US has a similar story, with 59.2% of construction companies shutting down in the first five years.
Blockchain's potential to solve these problems has been supported by plenty of experts. For example, a 2017 McKinsey report mentioned that blockchain can increase the construction industry's productivity by 9%.
Final Thoughts
So what is the future of blockchain? As you can see, blockchain technology has been growing steadily over the years. Despite several controversies and uncertainties, it is only getting more prominent in a wide range of industries.
As popular as Bitcoin is, it still hasn't gone mainstream to the same level as, say, credit cards and online banking. It takes an immense amount of resources and lacks the potential for scalability.
However, these blockchain statistics show that not everything needs to appeal to the masses to be successful. Technologies that establish a niche for themselves also can also perform just as well. And that's exactly the path that blockchain is taking for the future.
Due to its potential for saving billions in infrastructure expenses, every industry associated with any type of transaction is exploring how it can benefit from blockchain.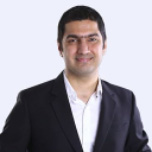 About The Author
Hitesh Sahni is a content strategy consultant, editor, and founder of Smemark, an upscale studio helping brands with superior content writing and marketing. Get his 5 essential templates & worksheets to kickstart content creation for free.