Volume 20
| Issue 5
| Year 2017
Click here to read the complete illustrated article as originally published or scroll down to read the text article.
Over the past decade, our nation's automotive industry has demonstrated its ability to rebuild—developing great cars that save consumers money at the pump, bringing back jobs and manufacturing, all the while meeting world leading fuel economy and greenhouse gas standards. What many don't realize is that these gains depend on investment and innovation being made by autoworkers and manufacturers who are building advanced cleaner technology throughout the U.S.
The BlueGreen Alliance recently released an interactive map that shows the reach of clean and efficient automotive investment in America, highlighting advanced vehicle, components and materials facilities, and jobs. The map provides users a local-level, state-by-state, plant-by-plant view of the innovation that is taking place across the industry. This includes manufacturers creating more efficient engines and transmissions, advanced batteries and electronics, lighter, stronger materials, and numerous other components and technologies used in vehicles of every type— from compact cars, to SUVs, to trucks.
Standards Help Drive Innovation and Investment
October marked the five-year anniversary of the finalization of the current fuel economy and GHG standards. During this time, new vehicles have become dramatically more fuel-efficient while U.S. automakers have returned to profitability, global competitiveness and growth. In fact, the standards have served as a model for achieving greenhouse gas reductions while promoting economic growth.
In 2015, the industry experienced record sales showing strong consumer support for these innovative, clean technologies, which save drivers billions at the pump. Facilities nationwide are developing and manufacturing the newest types of components, materials and technologies that make our vehicles more fuel efficient than ever. This ongoing innovation and investment in advanced, clean, and fuel-efficient vehicle technology, integration and manufacturing in the U.S. have played a critical role in the economic gains made by this industry and will continue to be vital in sustaining this progress in the future.
Clean Vehicle Suppliers Expanding Across the U.S.
A dynamic growing supplier sector has helped boost jobs in the industry and has aided in a gradual recovery of U.S. manufacturing as a whole. Manufacturing the advanced clean technology that is used in so many cars today is an important driver of recovery and jobs in many states.
The interactive map was released as a follow-up to a report that the BlueGreen Alliance released in May with the Natural Resources Defense Council. That report, titled Supplying Ingenuity II: U.S. Suppliers of Key Clean, Fuel- Efficient Vehicle Technologies, found more than 1,200 factories and engineering facilities across 48 states building the technology that directly contributes to increasing fuel efficiency in today's vehicles. Our analysis also found over 288,000 workers are employed engineering and building clean vehicle components.
As the number of workers building these innovative technologies increases nationwide, our report and interactive map also provide a snapshot of each state. For example, in Michigan and Indiana alone, clean and fuel-efficient technology manufacturing employs more than 100,000 people. The analysis found that seven additional states—Ohio, Tennessee, Kentucky, California, Alabama, North Carolina and South Carolina— each have 10,000 or more people building fuel- efficient technologies. In fact, half of all states count fuel-efficient technology jobs in the thousands.
Not only are these technologies expanding in every region, but innovation is also taking place across all major types of technology. For example, Indiana has long been known as a leader in the manufacturing of heavy trucks, but now it's increasingly a home for innovation in hybrid and electric-drive technology. We are seeing steel mills in Ohio bringing back jobs developing and producing cutting-edge automotive materials, while Texas facilities are producing components that make our SUVs more fuel-efficient. In South Carolina, manufactures are building advanced gasoline engine technology and electric buses, while auto assembly is growing in California.
Job Growth in the Clean Vehicle Manufacturing Sector
The growth in the number of facilities working on fuel-efficient technologies has been substantial over the past several years. Compared to a 2011 analysis, the May report found two and a half times as many facilities and almost twice as many jobs connected to clean and fuel-efficient vehicle manufacturing. Both reports showed that firms are continuing to develop new technologies and materials, reinforcing a larger trend within the industry in which innovation and recovery throughout the supply chain have been key to overall industry growth and competitiveness.
The report also put a spotlight on the progress that has occurred since the 2008-2009 recession. Since that time, the auto industry has brought back more than 300,000 manufacturing jobs while meeting emissions standards and leading in innovation.
In 2017, total employment in auto and parts manufacturing reached close to one million, while employment at dealers reached over two million—its highest level ever. These jobs in turn support millions more throughout the economy. While the automotive industry has yet to bring back the hundreds of thousands of jobs lost in the decade before the recession, the past eight years represent the first period of sustained growth in auto manufacturing, or U.S. manufacturing as a whole, since 1999. Job growth in the vehicles sector has been a key driver of the gradual recovery of this nation's manufacturing sector.
Future Innovation and Job Growth
Together, the map and the report help illustrate the significant innovation and growth that has occurred as a result of the effort to make our cars, trucks and SUVs cleaner than ever. Despite the progress that has been made, vehicle fuel economy and greenhouse gas standards are currently under debate, putting innovation and job growth at risk. Keeping fuel economy standards strong will be vital to continuing this growth, and to ensuring that the U.S. remains a world leader in developing – and manufacturing – the next generation of clean vehicles.
Simply put, long-term, common-sense standards have been essential to providing the certainty and level playing field needed for investment in the that are transforming today's cars, and remain essential to ensuring future investment in emerging technologies and jobs in America. Remaining a leader on strong fuel economy standards will be critical to building on the momentum of the past decade and continuing it into the next.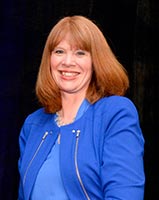 Kim Glas is the Executive Director of the BlueGreen Alliance, a national partnership of labor unions and environmental organizations dedicated to expanding the number and quality of jobs while growing a clean energy economy.
Over the past 15 years, Kim Glas has served in senior leadership positions in the Obama administration and the U.S. House of Representatives, most recently serving as the Deputy Assistant Secretary for Textiles, Consumer Goods, and Materials at the U.S. Department of Commerce. In that capacity, she worked to improve the domestic and international competitiveness of the broad product range of U.S. textiles, apparel, consumer goods, metals and mining, forest products, and chemicals and plastics manufacturing sectors and industries.
Prior to her service in the Obama administration, Ms. Glas served for 10 years on Capitol Hill, working extensively on manufacturing, trade, and economic policy issues for Congressman Mike Michaud from Maine and Congressman John LaFalce from New York. As Deputy Chief of Staff/Legislative Director for Congressman Mike Michaud, she led efforts in the House of Representatives to establish the House Trade Working Group, a bipartisan organization consisting of members of Congress, staff, labor, environment, and consumer groups that served as a key coalition in the House on trade and manufacturing issues.