September 11, 2019
Whether in the form of individual, short-occupancy desks or reserved office spaces, 'flexible space' is becoming increasingly popular, largely on account of its easy scalability, which offers convenience and low risks for businesses. While this is true for start-ups and small businesses, major corporates are also increasingly finding a role for this workspace option.
WeWork is now one of the leading collaborative space providers. It has more than 466,000 members and 485 locations globally, including an ever-growing range of sites across the Guangdong-Hong Kong-Macao Greater Bay Area (GBA). In an interview with HKTDC Research, Wei Jie, WeWork Managing Director, Strategic Partnership and Growth, described the company's approach to Greater China, which it views as an exciting market and an essential component of its global network.
While WeWork already has nine operating locations in Hong Kong, five in Shenzhen and one in Guangzhou, with the positive feedback and increasing demand from its members, the GBA could yet prove to be bigger still for WeWork, with its plans to develop further locations and expanded membership still evolving.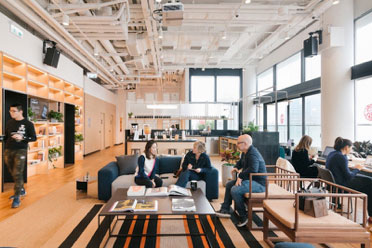 WeWork takes a localization strategy when entering new markets, including Greater China. As part of this localization strategy, WeWork offers a range of options to strengthen its partnership with local landlords, such as participating leases, profit sharing deals and management agreements. Such partnerships allow landlords to expand and diversify their tenant pool, as well as having a positive effect on rents and real estate values.
WeWork has achieved win-win partnerships with a number of landlords in mainland China, including the Fung Group, which owns the Li & Fung Plaza in Shanghai, and with the Sino-Ocean Group, a Beijing-based developer. According to Wei, Hong Kong landlords have become increasingly pragmatic and open to partner with WeWork, as was the case with the company's LKF Tower community in Central, where WeWork designs, builds and operates all the 17 office floors. Peterson Properties Company Limited, the developer of the LKF Tower, also partners with WeWork in Dublin and elsewhere in Ireland, which underlines the strength of the relationship between the two businesses.
Greater Bay Area "Ripple Effect"
WeWork's Greater China expansion has been swift, with more 70 locations operational in eight cities not long after the company first entered the market in 2016. Once established in Shanghai (where it has 37 locations), it swiftly opened nine locations in Hong Kong since 2016, followed by expansions to Beijing, Shenzhen, Guangzhou and other cities in mainland China. Wei said that other locations in Hong Kong, Shenzhen and Guangzhou will follow soon, with the company now researching local real estate conditions, business demand, amenities and infrastructure. There are already plans in place to add three further locations in Shenzhen, two in Guangzhou and at least three more in Hong Kong.
Wei said: "I see a ripple effect between Hong Kong, Shenzhen and Guangzhou, which will be very interesting for our business in the future. As we welcome more members to our Shenzhen community, for example, we expect to see a greater connectivity with our Hong Kong members, which will in turn also make our Hong Kong community more valuable, thus also attracting more members in Hong Kong. Members across these cities have a real need for not only the right office space but also, more importantly, for a community within which to grow their businesses."
Wei also predicted that the different types of business demands across these core GBA cities will help WeWork build a bigger community. Hong Kong's legal system, open business environment, IP protection, research and development and professional services, as well as its capital market advantages, for instance, will see mainland Chinese members requiring community contacts within the city. Shenzhen, home to what Wei sees as probably the world's largest and best-run supply chain center, will in turn attract Hong Kong-based investment through its members. The same trend will also see WeWork members from Hong Kong attracted to Guangzhou's highly diversified business and industrial opportunities.
Unleashing Business Potentials in GBA and Across the Globe
Wei views the interdependence of businesses in the cities across the GBA as a natural driver for WeWork, saying: "From my observations, many current mainland Chinese members, particularly those in Shenzhen and Guangzhou, want to expand their businesses in Hong Kong, tap the city's diverse talent pool and source financing there. Our multi-location business community means our enterprise members, regardless of size, can maintain their employees in multiple locations and multiple cities while remaining seamlessly connected."
Wei also believes Guangdong WeWork members will utilize its Hong Kong facilities in order to gain access to global opportunities. Expanding upon this, he said: "Many members are in the millennial age group and looking for the right collaborative, productivity and brain-storming opportunities, all of which they can find within the broader WeWork community, whether online through the WeWork app or offline through many of our spaces and community events. In short, they are interested in business opportunities with a human dimension."
Hong Kong companies are also benefiting from the access to different markets through the WeWork global network. Hong Kong-headquartered Macroview Telecom, a leading digital solutions and management services provider, for example, maintains teams in Hong Kong and in five other cities in mainland China, including Shenzhen and Guangzhou. The company uses WeWork locations as offices, as well as leveraging the WeWork app to connect and interact with other members around the globe.
WeWork membership also offers Macroview's employees global access to other markets for business trips and to explore potential business opportunities.
Moreover, as a technology enterprise, Macroview attaches high importance to talent recruitment, development and retention. In line with this, it has credited WeWork's open and modern spaces and energetic community for giving its employees an enjoyable work environment that allows them to become more efficient and feel a stronger sense of belonging.
In addition, the community activities and workshops at WeWork have encouraged employees to broaden their horizons after work. In fact, the Global Impact Report released by WeWork, stated that, compared to conventional offices, WeWork's unique community of creators significantly enhances the creativity and efficiency of employees, while also adding to their level of job satisfaction. Overall, 78% of enterprise members, which refers to member organizations with 500+ full-time employees, said that WeWork had helped them attract and retain talent.
Wei says success for WeWork's business lies in analyzing the market in the various constituent parts of the GBA, then tailoring its business strategies accordingly. Outlining the scale of WeWork's vision, he said: "We are not only targeting SMEs, start-ups and entrepreneurs, but also Fortune 500 companies, including those large ones operating in Asia, as well as the State-Owned Enterprises (SOEs) in mainland China. Global corporations such as HSBC, Standard Chartered Hong Kong and Deloitte Asia Pacific Blockchain Lab have already joined the WeWork community in Hong Kong."
"In Shanghai, one of our largest members is SAIC Shanghai Auto, which calls WeWork home and attracts and retains the kind of young talents who are motivated by a strong desire to achieve their aspirations and career goals, rather than just taking on any job in order to make a living," added Wei.
According to the Global Impact Report released by WeWork, more than one third of the Global Fortune 500 companies have now chosen to be part of the WeWork community. Through its extensive network and community resources, enterprises are gaining an in-depth understanding of the local market as they go global. Approximately 75% of WeWork's Top 100 enterprise member organizations have joined in multiple cities, while more than 67% of them have signed-up in more than one country, which highlights the benefit of having a global network. 49% of members also agreed that WeWork has played an active role in helping them tap into new markets.
Space-as-a-Service and Beyond
WeWork keeps track of the changing demands and expectations of its members via its proprietary WeWork Member's application, which allows its Community team to understand the conference room enquiries patterns, registration rates and preferences of attendees at WeWork events, as well as giving the team access to qualitative comments from members.
In order to create even higher added-value, WeWork is actively developing relationships with a variety of local partners, including many of the chambers of commerce that are active across the GBA. To date, it has agreed a strategic partnership with the American Chamber of Commerce (AMCHAM) in Hong Kong, with the two having undertaken a number of joint initiatives, such as pitching events and executive dinners with a focus on corporate innovation, all of which have proved hugely beneficial to participants from both parties.
In terms of its own growth, as of January this year, WeWork has been positioned as part of The We Company, the mothership operation of three businesses namely WeWork, WeLive and WeGrow. WeWork's mission is to create a world where people work to make a life, not just a living. WeLive's mission is to build a world where no one feels alone. Currently, it focuses on developing community-based apartment living in New York City and Washington D.C. With the mission to unleash everyone's superpowers, WeGrow manages a school in New York City and is dedicated to helping individuals fulfil their potential and live fulfilled lives.
Addressing the possibility of upgrading the company's current Greater China operations in light of the opportunities emerging from the GBA, Wei says: "The sky really is the limit. Our company's collaborative approach can play a significant role within the GBA as it looks to establish itself as the first physical platform dedicated to bringing people together on a global basis. Essentially, we are looking to create a community where everyone feels a sense of belonging, as when people are truly united, there is no limit on what they can achieve."
To learn more about the latest trends, challenges and opportunities of doing business in Asia, and where to get started, be sure to register for the upcoming Think Asia, Think Hong Kong symposium in downtown Los Angeles on Friday, September 20. Learn more at www.thinkasiathinkhk.com/2019.