Containers are now moving in and out of China at record speeds as shippers desperately source capacity.
Depot idle time of containers in China drop from 61 days in 2020 to 5 days in 2021
Containers piled up in depots at the United States, the United Kingdom, Africa and UAE
Hamburg: Container xChange, world's leading logistics technology company, in partnership with Fraunhofer – Gesellschaft, world's leading applied research organization has released the findings of the second edition of its annual study 'Project C-TIMING'. One of the main highlights of the global research project is the staggering decline in the number of idle days a container spends in depots in China. The idle time nears zero in China while containers are spending 50 days and more in the United States and the United Kingdom.
The study reveals that China has the least number of container depot idle time globally, while the UK, the US and South Africa witnessed the most number of days a container spends in the depot.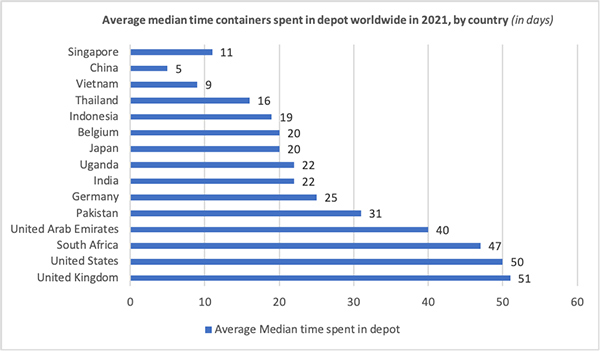 "The global shortage of containers and the demand spurt has resulted in falling depot dwell days, especially in China while the western countries are suffering from port delays and congestion. The outbreak and severity of Omicron and other variants will play an important role in defining the degree of disruptions into the new year 2022. What remains to be seen is how prepared the supply chain players are to face another year of unpredictability."
The average median time a container spends in depots in China has gone down from 61 days in 2020 to 5 days in 2021 which shows how bad the equipment shortage have been amidst the demand surge throughout the year. As soon as the container is unloaded, it is ready for a new move.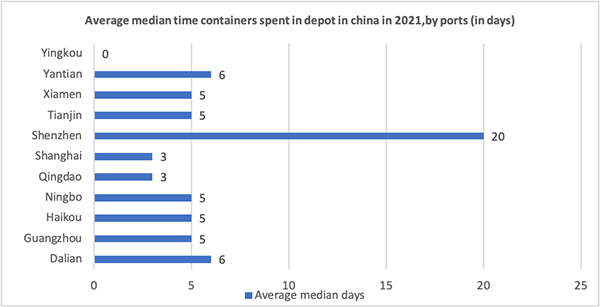 In the United States, while the global average container idle time is 50 days in 2021 from 66 days in 2020, the depots at Savannah and Houston are severely stacked up with containers spending more than 56 days on average after unloading, waiting for the next trip. The ports of LA, LB, on an average have 40 to 42 days of containers idle time.