Volume 22
| Issue 4
| Year 2019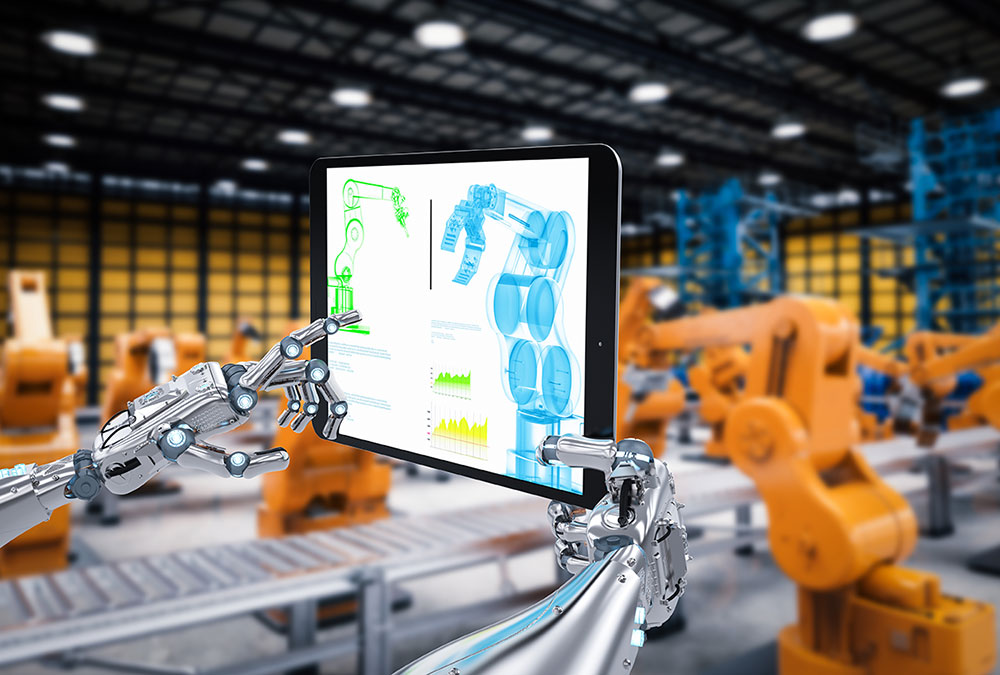 Click here to read the complete illustrated article as originally published or continue below to read the text article.
Smart factories are likely the future and could be a game changer of the US manufacturing industry. Combining digital technologies with automated solutions is likely to present new possibilities. A recent study by Deloitte and the Manufacturers' Alliance for Productivity and Innovation (MAPI) on Smart Factory highlights that more than 86 percent of surveyed manufacturers believe smart factory initiatives will be the main driver of manufacturing competitiveness. And, more than three-fourths of the manufacturers surveyed are highly optimistic about the benefits of smart factories, trust that smart factories will enhance agility, create just-in-time capabilities and will transform their production processes over the next five years.
In terms of benefits, surveyed adopters of smart factory initiatives are reportedly harvesting business gains of 10 to 12 percent in areas like production output, factory utilization, and labor productivity. While most manufacturers seem aware of possible risks from smart factory initiatives – categorized by respondents as primarily operational and financial – most of those surveyed believe the benefits far outweigh the risks. Also, respondents stated that many potential risks can be mitigated through thoughtful stakeholder selection, an efficient change management strategy, measurable proofs-of-concept, and incremental investments.
Figure 1: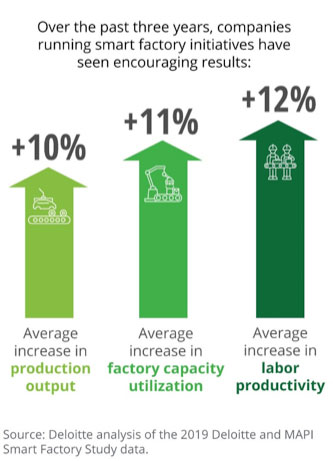 Aside from these more obvious benefits, smart factories seem to present a unique potential to ignite stalled labor productivity – an issue which seems to be troubling much of the US manufacturing industry since 2010. Smart factory initiatives could lead manufacturers to see initial labor productivity gains of four percent – a significant improvement over the historical (2007- 18) rate of 0.7%. For manufacturers who are looking to capitalize on these gains, they should act. Many of those who have made investments over the past three years are already seeing measurable results. Manufacturers who launch smart factory initiatives today could surpass traditional manufacturers in labor productivity by as much as 30 percent net gains in 2030, and they could experience similar outcomes related to profits and investment potential.
Figure 2 – Sidebar of Use cases
Smart factory adoption is progressing, but adoption is not linear. Most manufacturers, on average, are running three use cases and are piloting five others in their smart factory initiatives. The study defines a use case as a combination of advanced technologies applied to specific business processes/operations. The Sidebar includes the twelve smart factory use cases the study highlighted. As described above, there is a direct connection between smart factory use cases and the business value companies are seeing. It's apparent that implementing smart factory initiatives is paying off for early adopters. The study identifies three distinct cohorts of adopters of smart factory initiatives – Trailblazers, Explorers, and Followers – distinguished by adoption maturity, investment dedicated towards smart factory, on-going use cases, and benefits observed (see figure 3).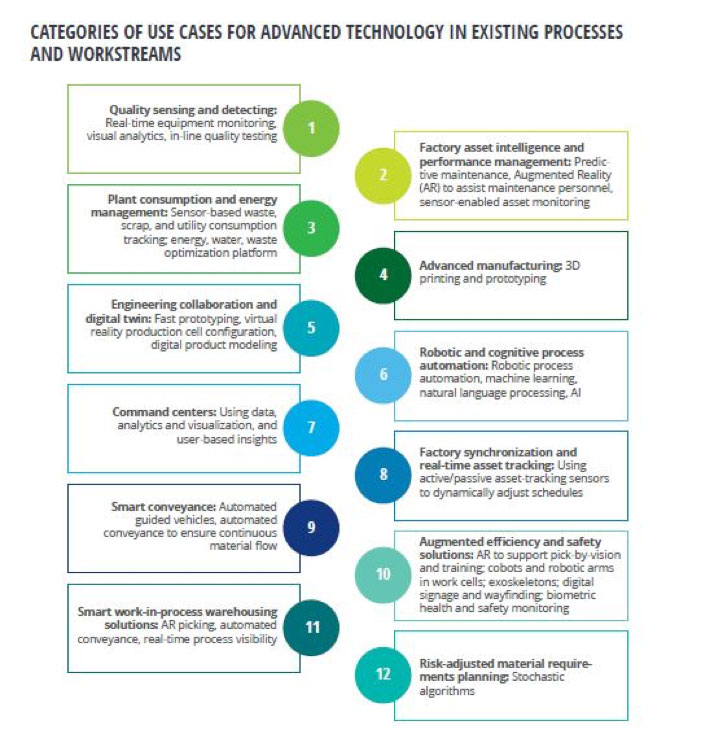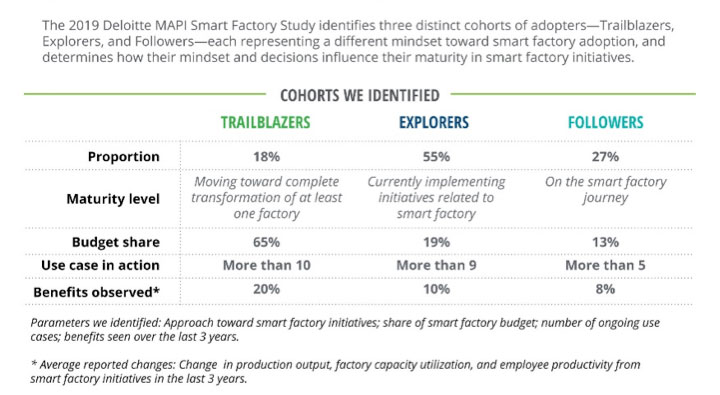 Trailblazers are leading the pack
Pioneering the adoption of smart factory, Trailblazers are "the first to innovate." Respondents have allocated 65 percent of their factory budget toward smart factory initiatives, emphasizing their dedication. These investments are reportedly facilitating better results on key indicators like productivity and output. And, because smart factory transformation is a multi-year effort, Trailblazers surveyed plan to increase their investments the following year, by an average of seven percent.
When we examine where smart factory initiatives are taking place, retrofitting existing facilities seems to be the go-to move. Fifty-six percent of respondents are retrofitting their existing factories and plants. Trailblazers are highly invested in fully automating their current factories. Respondents have already transformed 62 percent of their global factories with at least one smart production line.
Another area that sets Trailblazers apart from their peers is their appetite for smart factory use cases. Trailblazers not only invest in a higher number of use cases (10+ compared with the average of seven for their peer respondents), but they tend to be ahead of the curve in piloting some of the more complex smart factory use cases like advanced manufacturing and risk-adjusted MRP. Explorers stand close to Trailblazers in implementing multiple use cases, but they lag noticeably in their adoption of the more complex use cases. In contrast to both groups, Followers' investments in both the amount and type of use cases seems comparatively low.
Looking a layer deeper, smart factory transformation typically necessitates a broader technology foundation that can enable many of the advanced use cases. For example, cloud, networking, data and analytics, and sensors are all foundational technologies for smart factory initiatives. The study found these technologies are invested in most frequently by all respondents. And Trailblazers surveyed are taking this to the next level. They are much more open to experimenting with emerging technologies that support some of the more complex use cases. Technologies like blockchain, factory automation hardware, virtual reality, and vision system are all being actively tested by many Trailblazers. In contrast, nearly a quarter of Explorers surveyed and almost half of Followers have no plans to pilot or adopt these technologies.
Winning on the adoption pathway
Trailblazers have undoubtedly decoded the adoption curve – start small, fail fast, and apply learnings to the next round. However, there are some underlying approaches that seem to have helped trailblazers to manage the execution of their smart factory initiatives so effectively:
1. They choose the right leader and engage leadership early: Trailblazers often choose CTOs to lead smart factory initiatives. This could explain the faster pace at which trailblazers are implementing technology in the factory. Gaining buy-in from leaders early on, especially those in the C-suite, eases the pressure for support in the boardroom and influences further investment. Key stakeholders in Trailblazers' smart factory initiatives span technology, production, finance, and business. As such, they have representation for strategy, implementation, and operation of current initiatives, which can help create balanced decision making.
2. They believe they have a better talent pool: Trailblazers believe in their talent. Sixty-one percent of those surveyed agreed their organization has enough people with the skills and competencies to develop and execute an effective smart factory strategy. Ninety-one percent of trailblazers surveyed reported having a team of more than ten employees to run their smart factory initiatives, dedicating more than half of their time to smart factory initiatives. And to further develop competency in this core team, Trailblazer respondents are using third-party courses and partnerships with universities to build the new digital skills and capabilities needed for their smart factory transformation.
3. They are managing the change well: Trailblazers tend to set themselves apart by employing multiple approaches to manage the change that is part of smart factory transformation. In addition to building central teams, many also develop centers of excellence to coordinate and connect smart factory initiatives, and they often develop value targets and measurement plans to assess their progress. Followers typically only utilize a central team for change management efforts.
4. They are well connected – internally as well as externally: Trailblazers are building an ecosystem across their factory footprint. They connect up and down their value chains, from inside (engineering) out to suppliers and customers, demonstrating they understand the importance of a connected ecosystem to succeed with their smart factory initiatives.
Pathway to value realization
Trailblazers seem to have decoded the smart factory adoption curve, and are well along the pathway, but it is not too late for Explorers and Followers. Explorers and Followers can pick up their pace by considering the four steps mentioned above. These actions are not in any particular order and will likely appeal to companies based on the adoption pattern that most closely resembles their current approach to smart factory initiatives. The most important thing is to consider some sort of action toward smart factory transformation.
Whether manufacturers are just starting on their smart factory journey or well along the pathway like Trailblazers, there's no doubt that smart factory initiatives could have a significant role in future competitiveness. Manufacturers should launch these initiatives properly and set a team up for success. The right time to start this is now.
Editor's note: This article is a summary of the 2019 Deloitte and MAPI Smart Factory Study, "Manufacturing goes digital: Smart factories have the potential to spark labor productivity " To read the full report, visit www2.deloitte.com/insights.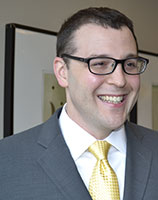 Ben Dollar
Ben Dollar is principal in the Global Supply Chain practice of Deloitte Consulting LLP. He specializes in large scale transformation enabled by digital technologies and focuses on driving adoption for sustain- able benefits. He has helped some of Deloitte's largest clients reduce costs and improve workforce productivity through advanced technologies. His industry focus is primarily on global industrial manufacturers. Connect with him on LinkedIn at https://www.linkedin.com/in/ben-dollar-1018aa/ or email: bdollar@deloitte.com
Paul Wellener
Paul Wellener is a vice chairman, Deloitte LLP, and the leader of the US Industrial Products & Construction practice with Deloitte Consulting LLP. He has more than three decades of experience in the industrial products and automotive sectors and has focused on helping organizations address major transformations. Wellener drives key sector industry initiatives to help companies adapt to an environment of rapid change and uncertainty— globalization, exponential technologies, the skills gap, and the evolution of Industry 4.0. Based in Cleveland, Wellener also serves as the managing principal of Northeast Ohio. Connect with him on LinkedIn at https://linkedin.com/in/pwellener/. or email: pwellener@deloitte.com