Aflex Hose, the world's leading manufacturer of flexible PTFE hoses, equips a fluid transfer line at a luxurious perfume manufacturer.
Aflex has been selected as the only technology that completely satisfies the application requirements.
Since 2004, the production site has specialised in the manufacturing and packaging of alcohol-based and alcohol-free perfumes, cosmetics and body milks, lotions and make-up removers. The cleaning process of the previous system was not done through CIP (Cleaning in Place), therefore new fluid transfer hoses were required in order to withstand 95% alcohol and steam at 7 bar working pressure. The existing silicone hoses supplied by a competitor also had a couple of limitations; they absorbed, leaked and internal parts degraded as a result of the SIP (Sterilisation in Place) system. Consequently, the perfume manufacturer decided to change supplier and has now been using Aflex's Bioflex Ultra products since 2018 in order to meet the ATEX and FDA certification requirements.
Low wear, long lifespan
Aflex Hose, part of the Watson Marlow Fluid Technology Group, suggested the Bioflex Ultra PTFE hose designed specifically for transferring fluids in biotechnology and pharmaceutical applications. The Bioflex Ultra was accepted due to a smooth PTFE Liner guaranteeing an excellent and uninterrupted flow rate in addition to being easily cleanable. It also offers excellent resistance to chemicals over a wide range of operating temperatures and greater flexibility which helps achieve better bend radiuses. Fitted with PTFE Lined sanitary Tri-Clamp fittings, the Bioflex Ultra hose is ATEX and FDA certified, unlike the existing competitor's products.
The perfume manufacturer was already familiar with the quality of the equipment supplied by the Watson-Marlow Fluid Technology Group; Certa 250 sinusoidal pumps and 701 peristaltic pumps with Q-clamp BioPure connectors were already in use in the production site for other applications. A successful one-month trial was performed with mascara which included daily cleaning of the hoses. The chosen solution demonstrated its effectiveness and ability to meet the application requirements.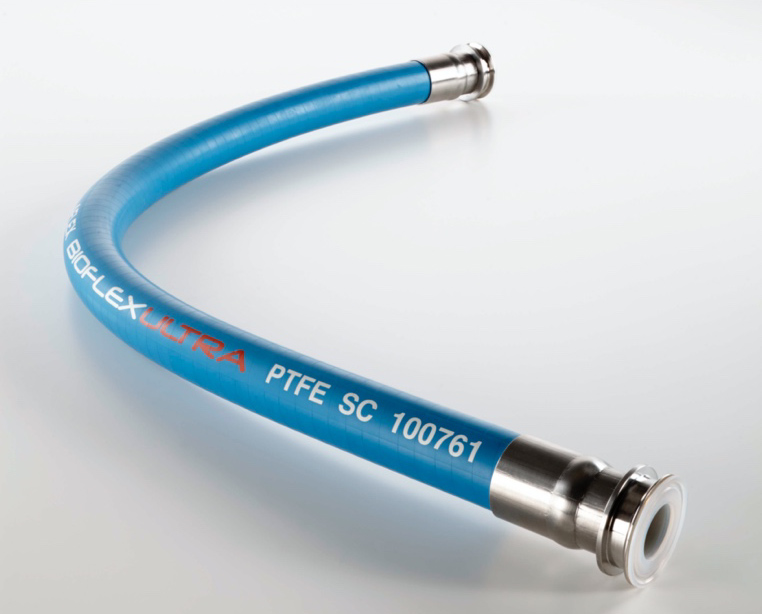 A patented PTFE design
Aflex Hose PTFE hoses are the result of a combination of expert engineering and knowledge of various materials and the Company is well recognised as a pioneer in this manufacturing field. Thanks to their patented PTFE lining, Bioflex Ultra hoses are extremely resistant to chemicals and steam and have none of the resistance problems found with competitors' hoses. Studies have shown that PTFE is superior to rubber, silicone and PVC in similar applications.
The Bioflex Ultra configuration selected by this customer is GP, AS, SS and RC, with PTFE-lined sanitary Tri-Clamps. The customer was made aware that some of the products being processed (such as face cream) were at risk of static electricity build-up and discharges, as well as potential hose failure due to the cleaning process. The PTFE lining recommended contained 2.5 % carbon, providing antistatic properties.
Thanks to their patented PTFE lining, Bioflex Ultra hoses can expand on the outside of a bend and compress on the inside of a bend. This helps to retain a smooth circular bore throughout the length of hose without deformation.
Aflex's unique Beaded PTFE-lined sanitary Tri-Clamp design also acts as a seal, without flow restriction or retention zone, eliminating the risk of contamination as the only material in contact with the process fluids is the PTFE.
The configuration offers a smooth PTFE Liner to ensure cleanliness, high performance, resistance to high pressures and temperatures ranging from -73 °C to 260 °C. It can be cleaned effectively and is steam-resistant whilst guaranteeing compliance with the highest hygiene standards.
The multiple-certified PTFE lining is reinforced with a helix spiral wire and braid, both made from 316 Stainless Steel, and then with an external blue EPDM rubber cover conform to the EN 16643 standard. The hoses are manufactured without using any adhesives between the different layers, avoiding any possibility of contamination. This structure makes the entire hose highly flexible and resistant to torsion, with a small bending radius and kink resistance. The supplied hoses were 10m long, with an internal diameter of 19 mm and needed to withstand a 16 bar working pressure (tested at 32 bar).
The perfume manufacturer selected Aflex's Bioflex Ultra technology because of these unique benefits which include a high level of certification, small bending radius, and 2-year warranty among others. Having been completely satisfied with the quality of these hoses, the customer has placed a repeat order for the same application at be beginning of 2020.
For more information visit: https://www.watson-marlow.com/us-en/range/aflex/hoses/bioflex-ultra/