Many factors today are driving organizations to move towards rugged 2-in-1 tablets and away from traditional laptops.
By: Kyp Walls, Tablet Portfolio Lifecycle Marketing Lead, Zebra Technologies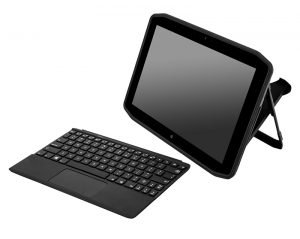 Rugged laptops are becoming a thing of the past as newer, innovative tablets including detachable 2-in-1 and slate form factors provide all the benefits of traditional laptops, but with fewer downsides. The latest data from IDC¹ projects that shipments of 2-in-1s will grow by more than 9 percent this year while traditional PCs will see a decline of nearly 3 percent.
Slate tablets (like the iPad) can only use an onscreen or external keyboard. The difficulties associated with typing on an onscreen keyboard were initially addressed by the development of external plug-in or wireless Bluetooth-enabled keyboards that would provide a similar laptop-like typing experience.
2-in-1 tablets, such as convertible tablets or detachable tablets, can be used with a keyboard that is permanently attached or attached with the option to remove as needed. The earliest 2-in-1 tablets were mostly convertible tablets. Those are now largely being replaced in rugged environments by detachable ones with clip-on keyboards that can act as laptops, convertible tablets, or detached slate tablets. The term 2-in-1 only started to be broadly used after the first detachable tablets came around.
The Rise of Detachables
The first rugged 2-in-1 tablet was a convertible that debuted around 2004. While that product was well-received for its flexibility, it lacked the ability to detach the keyboard resulting in a very thick and heavy tablet. Consumers and businesses wanted a tablet that could be used on its own and attach the keyboard only when extensive typing was required. For that reason, industry analysts started predicting detachable 2-in-1 tablets, instead of laptops or even convertibles, would be the portable computer of choice by 2012.
While it has taken much longer for that industry transition to come to fruition, the growth of detachable 2-in-1s is now estimated at a much higher rate than that of standard laptops. Rugged tablet units were forecasted by VDC² to grow by eight percent in 2019, while rugged detachable 2-in-1s were expected to grow by 24 percent! This compares to a rugged notebook decline of 1 percent YoY.
Detachable Benefits?
When heavy data input is not required, a detachable 2-in-1 can be used in place of a bulky laptop, making it easy to understand why the industry is moving away from laptops toward 2-in-1s.
While convertible 2-in-1s still exist in the market, given the availability of good detachable options, they have become less popular and are almost solely reserved for non-rugged use cases. Similarly, laptops lack the flexibility of a convertible tablet, offering just one way to work. Even convertibles are virtually always carried with the keyboard on the forearm, as if they were laptops.
Businesses previously chose rugged laptops over traditional tablets due to speed and connectivity options. Larger laptops, such as convertible tablets, could carry larger, more powerful processors and the batteries needed to keep them running for a full shift. They could also support greater connectivity options with more than a dozen ports, jacks, connectors, readers and radios, which early tablets couldn't support.
Today's advanced rugged tablet processors are so small and efficient that many match those offered in laptops with comparable battery life, despite being much lighter, thinner and easier to carry and use on the move. Many rugged tablets, like the Zebra L10 family, are available as detachable 2-in-1s and offer features like front- and rear-facing cameras, which are rarely found on larger, heavier laptops or even some convertible tablets.
From vegetation management for power companies to fire department inspections, work that needs to be completed on the move can be done with a rugged tablet while more text-intensive tasks can be completed with a compact keyboard that can easily travel with workers to their jobsite. The rugged laptop on the other hand is looking more like the product of the 1990s that it was designed to be.
To learn more about the adoption of 2-in-1 rugged tablets that help organizations tackle everyday tasks and enable their performance edge, please click here.
About Zebra Technologies
Zebra (NASDAQ: ZBRA) empowers the front line of business in retail/ecommerce, manufacturing, transportation and logistics, healthcare, public sector and other industries to achieve a performance edge. With more than 10,000 partners across 100 countries, we deliver industry-tailored, end-to-end solutions that intelligently connect people, assets and data to help our customers make business-critical decisions. Our market-leading solutions elevate the shopping experience, track and manage inventory as well as improve supply chain efficiency and patient care. In 2019, Zebra ranked #166 on Forbes' list of the World's Best Employers, and the company joined the S&P 500 Index. For more information, visit www.zebra.com or sign up for news alerts. Participate in our Your Edge blog and follow us on LinkedIn, Twitter and Facebook.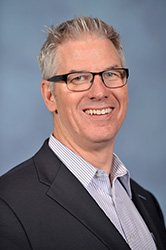 About the Writer
Kyp Walls is currently the Senior Product Advisor for Tablets at Zebra Technologies and has more than 25 years of experience working in the tablet and mobile computing space. He holds a BS and MBA from the University of Southern California.
¹ IDC Personal Computing Device Forecast, 2018-2022
² VDC Research's 2019 Enterprise Mobility Mobile Hardware Dataset